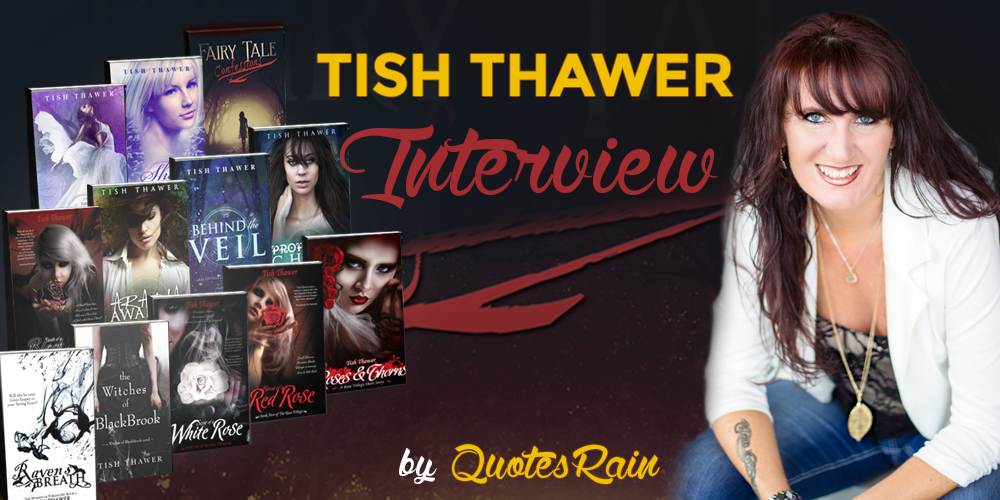 Short"SYNOPSIS" here on writing as your passion.
I'm Tish Thawer, author of the award winning The Witches of BlackBrook, The Rose Trilogy, The Ovialell series, and The Women of Purgatory trilogy. I have a passion for all things paranormal and an imagination that simply doesn't stop. It's been said my magical elements and detailed world-building are a welcome constant in each of my novels.
How long have you been writing and what inspired you to do it seriously?
Whether it was love poems, song lyrics, or a simple mantra phrase, I've been writing since I was a little girl. I didn't seriously consider it as a profession, however, until much later in life. I've been an online Librarian for the Amazon company, Shelfari, for over six years. Being surrounded by books on a daily basis led to the obvious conclusion...I needed to write one of my own. Not long after that I had a dream in which I received the titles of my first three books and the rest is history, lol.
When choosing a name for your characters, what do you consider about them that determines what you finally call them?
Sometimes a lot of research goes into my names; their country of origin, a hidden meaning, a specific characteristic, but at other times it simply boils down to what sounds right in the moment. It depends on the story.
What can you suggest to new authors to start their career?
Research, research, research. Learn the industry and your craft. Find professionals who can help you achieve your dream, and build a solid team you can count on for support.
Do you only concentrate on same genre in your writing and reading?
Mostly, yes. I tend to read and write Urban Fantasy and PNR, but I do venture out of the box occasionally and enjoy a good Sci-fi or Contemporary Romance. They say to write what you know, and since I've studied multiple religious theologies, mythologies, the supernatural, astrology and the like, it's only natural for me to want to include those things in my writing.
What do you do to get book reviews? What is the best review you ever got?
I send out ARC copies before my book's release, and participate in book review blog tours. After that, I sit back and hope those who read my books will leave a few words as they see fit. As for the 'best' review I ever got, it's hard to choose just one. I'm so very grateful for each and every person who takes the time to read and review any of my books, but I think the one that sticks with me the most is one of the first I ever received on my debut novel, Scent of a White Rose. Lori from Romancing the Darkside book blog summarized: "In Scent of a White Rose, Tish Thawer crafts a seductive vampire tale with her eloquent writing style and keen sense of romance that simply entrances! The story line of vampire guy falls in love with human girl might sound familiar, but don't let that deter you from getting your hands on this book. The author's take of the vampire myth is fresh, exciting and engaging. Scent of a White Rose has all the essential elements of a paranormal romance: a suspenseful plot that will keep you on edge, solid characters, a beautiful love story and a climactic ending that will leave you begging for more of Rose and Christian! A great beginning to a promising new series by a new and gifted author you won't want to miss.".... Yep! That one has stayed with me!
Do you have a trailer or do you intend to create one for your own book?
I do have a few trailers. Each book in The Rose Trilogy has one, as well as Aradia Awakens (Book #1 in the Ovialell series) and Raven's Breath (Book #1 in the Women of Purgatory trilogy).
Do you ever get writer's block?
Of course! I think we all struggle to continue a story when we're faced with any kind of hurdle, whether it's a busy schedule, the lack of flowing ideas, or a change in plot. I simply take breaks as I need them and return to the manuscript when inspiration strikes. I've learned to not force myself to write until I feel an undeniable desire to get words onto a page, and when that happens, it comes easy. Typing 93 wpm also helps. :)
Do you have a special time to write or how is your day structured?
I have to write when it's quiet, which means I mostly write in the wee hours of the morning before my family wakes or whenever I have a moment alone. I'll draw the blinds, lower the lights, and get in a few chapters whenever I can.
How do you promote your work? How Quotesrain help you in your book promotions and sales, would you like to refer this platform to your author friends?
I attend book events including RT, Penned Con, and multiple others throughout the year and am active on most social media sites. I do book blitzes for each release and offer sales on a regular basis. Ads for my books were recently featured in Glamour and Elle Magazines (UK). Quotes Rain has also made it easy to reach out to new fans and I would definitely refer the platform.
Would you like to share something with your readers and fans?
Thank you so very much! I don't write classics, but I do hope to deliver quick, entertaining stories with a hint of magic and whimsy that can transport you for at least a day or two. I strive to improve with each new book I write and am so grateful for your continued support.
Robin Geesman interview
Queen Anoshi interview