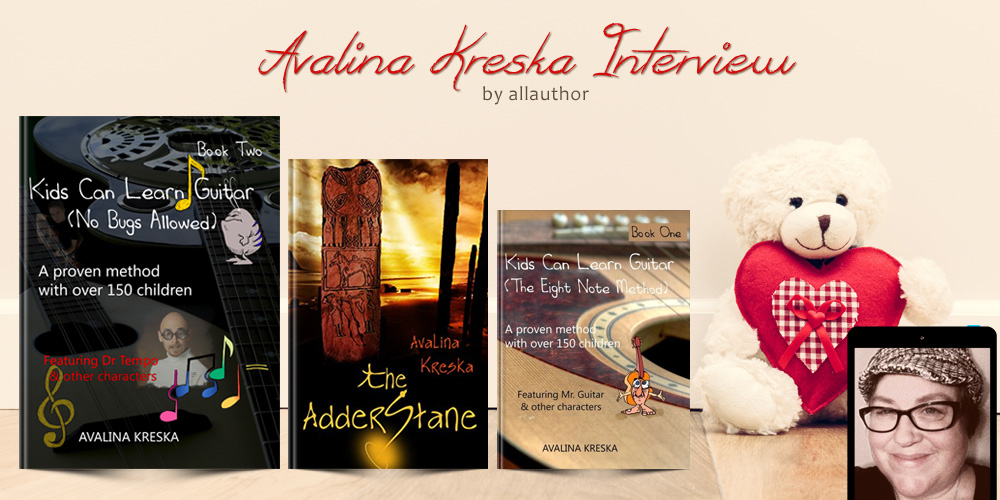 Have you always lived in the UK? What town/city did you grow up in?
I was born in Brighton on the south-east coast, I have always lived in the UK; especially near the sea.
As a child, what was one of your favourite places to go with your friends? Where do you usually hang out now, as an adult?
I wanted to visit places with trees, so in the summer holidays I would try and stay with family who lived in the countryside.
When did you first learn how to play the guitar? What kind of role has music played in your life?
I have played the guitar since the age of 8 - it was huge influence in my life. Growing up in the family home was abusive; physically and mentally - I used music as a coping mechanism (which would prove to be an issue much later in life). From an early age, I was writing songs but they weren't really appreciated until I had left home. I started teaching the guitar, vocals and bass in my twenties as a peripatetic teacher and in schools.
What are your goals with the Kids Can Learn Guitar books? How do you think music can help children not just with better neuro-motor coordination but also in terms of mentality?
My guitar teaching books were born out of frustration with the books that were on offer for tuition at the time. I wanted books that were logical; if you learn the note names and positions, it should be easy to then learn the same notes on the music staff. It is important for beginners to learn a song quite quickly, as this gives a sense of accomplishment. It is also crucial to know why you are doing something - I wanted to create a book so that children would be interested in all aspects of playing and creating music; also, so they could learn other instruments too.
Why do you write? What kind of stories stick out the most to you?
I started writing amusing comic books about our family pets for my young brother; little stories with pictures that he could read and enjoy. They got him through some tricky younger years. I had a long gap where I wasn't writing before taking it up again in 2012, writing flash fiction, poetry and comics (using Pixton software). I joined a group of flash fiction writers who held weekly competitions and offered friendly critique. From there, I attempted short stories but realised this format wasn't long enough to include the background psychological character information I enjoyed writing. I like unconventional, quirky stories: Adam Marek and Andrew Kaufman are two of my favourite short story writers.
Where does the book "The AdderStane" take place? Is the story based on any real like mystery?
My debut novel: 'The AdderStane' is based on the island of Fetlar in the Shetland Islands and was born out of a series of 'so-called' coincidences. In 2014, my husband and I completed an aerial survey of the island using a drone and a camera mounted on a kite. We were looking up place-names and their origins to accompany the video and photos and came across the word 'Papil'; thus started a journey that is still surprising me as I write the sequel. So much has been revealed to me. I managed to weave in aspects of island folklore into the tale and real events; because of this, I included a bibliography which is unusual for a work of fiction.
What makes your characters most real to you? If they were alive in real time, who do you think you'd get along the best and least with?
There is one character in The AdderStane who is intensely real to me (if you read it, you'll understand why!) but I really like the teenage characters and their struggle with the weird events that transpire. If they were alive in this world, I'd identify with Liam's obsessional qualities and would dislike Malcum the Postman, as his quest for top position in the community is abhorrent to me!
What is "Flash Fiction"? Whose idea was it to start the Flashdogs series?
Flash fiction varies in length-from 6 word stories, right up to 1,500 words, even then, that figure is not set in stone. It's a short, short story and a great art in itself! Mark King and David Shakes created The Flashdog worldwide group after taking part in a weekly flash fiction competition called 'Flash! Friday' (no longer in operation). They have published four flash fiction anthologies, and there have been other members, like me, who have gone on to become published authors. They still run a weekly competition for their members.
Who are some authors you had the chance to collaborate with while doing this series and what did you learn from the entire process?
Collaboration with The Flashdogs usually took the form of proofreading ready for publishing the anthologies, producing book cover art and publishing to Amazon, other than that, we are all separate contributing writers. I learnt so much from being involved, especially with such a broad talent I connected with every week in the competitions. Flash fiction (being so short) taught me to edit everything to death! I enjoy editing- which is just as well, because 'The AdderStane' has a lot of factual information packed in; I had to make it flow and feel natural whilst keeping the word count down.
What are some ways in which you hope to grow as a writer and how do you plan on doing so?
I plan to write screenplays or dramas. I enjoy writing dialogue and feel I would fit naturally into this role, especially as I enjoy editing. I think I have the skills to fit scripts to timing. I'm an avid film-watcher too, and have already written some short dramas based on my flash fiction and short stories; akin to the Black Mirror series created by Charlie Brooker. I fully intend to write The AdderStane screenplay once I have completed the two sequels. I might approach the BBC as they nurture new writers.
Do you have a separate website/blog for the songs you write? Have you ever recorded any of yous music?
I don't have a separate website or any website for my songs; I have recorded enough songs for an album but haven't found the time; fiction writing became forefront. I still have a recording studio set-up but my heart is not there presently. Sometimes when you look back on your old material, you can find that you've outgrown old works. I might return to it in the future. I have written and recorded a book trailer for The AdderStane; you can watch this video on my website.
Besides writing (both songs and books), what are some of your other hobbies? How do you spend a typical day?
A typical day for me is research, writing and gardening. Living on a peaceful island allows me the space to write without outside distractions; I can cut-off from social 'convention' which is very important on the road of self-discovery. I enjoy practising Qi Gong (a Chinese exercise) and Tai Chi. I plan to dramatise, read and record my stories using a massive library of sound effects I have access to.
My husband joins me in my study and research and we enjoy lively philosophic discussions. There's not enough hours in the day! But luckily, we both retired from 'work' in 2009, and live on a small pension, so we are free to pursue our desires as we wish.
When you write, do you feel more peaceful or energised?
When I write, I'm definitely off in another place, and the hours soon fly by. It is both energising and peaceful.
Share Avalina Kreska's interview
Phil Taylor interview
Sue Lilley interview