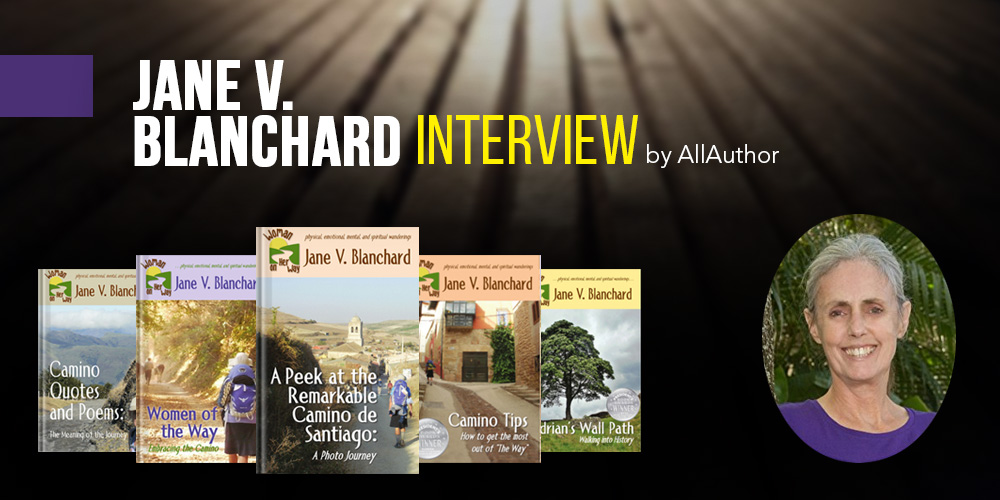 What has your life been like up till this point?
I have had an exciting life. After college, I lived in Madrid, Spain, for a year working as a tour guide. I married in 1974 and then moved to Winchendon, Massachusetts. There my husband and I lived in a tent until December while we hand built a log cabin. Several years later, we purchased a five-acre "gentleman's" farm and learned to live off the land. Those first five years of our marriage proved that we could overcome hardships and that we could depend on each other. Since retiring in 2010, we have hiked and biked throughout Europe. Some of the more famous trails that we walked include The Camino de Santiago in Spain; The Camino Portugués in Portugal; and Hadrian's Wall Path, The Ridgeway, and parts of the South West Coast Path in England. In my mind, there is no better way to see a country and learn about its people than on foot.
Does writing energize or exhaust you?
Writing helps me relive my adventures. It is a delight for me to write about what I have seen and done and I enthusiastically enjoy sharing theses experiences with my readers. While traveling, it takes effort to blog after a long's days hike, but I never begrudge the time I put into my writing.
How has your traveling experiences been an inspiration for your books?
I was so inspired by the women I met on the Camino de Santiago that I wrote my first book about them. Without my travels, there would be no books.
Do you view writing as a kind of spiritual practice?
Though writing is calming and centering, I do not see it as a kind of spiritual practice.
Do you plan your stories or go with the flow?
My books are about my journeys so I use the trip as my outline. However, I do plan the content I use to augment the story and the underlying themes.
Which book has had the most impact on you?
Writing my first book, Women of the Way: Embracing the Camino, started me on the path of "authorpreneurship" and, therefore, had the greatest impact on me. It taught me not only about writing but also about all that being an author encompasses: editing, publishing, marketing, promotion, web page design, etc. The learning curve is immense!
How do you break through writer's block?
I don't have trouble writing. The hard part is the long and tedious process of editing. What works best for me is setting the book aside for several months, a process my writer friend calls "baking." Once I revisit the book, my enthusiasm for completing it returns.
Do you have a "reader" in mind while writing?
Yes. I have two ideal readers. The first is someone who loves adventures but cannot have them. The second is a seasoned hiker who is looking for the next adventure. I picture them sitting across the table for me as I relate my story and I try to answer their questions as I go along.
What is the best review you have received?
It is difficult for me to pick one favorite review. The ones that I like best are from readers who tell me how the book has affected them.
What is the most difficult part of the writing process?
Finding my voice. I started my first book several times before becoming somewhat comfortable with my style. In each subsequent book, my voice is more pronounced. I find it scary to let people see the real me in print and I have to fight to overcome that fear.
If you could tell your younger writer self anything, what would it be?
I would tell my younger writer self to not publish a book before having it professionally edited and the cover professionally designed. Rushing the release can be very embarrassing.
What helps you grow as an author?
Reading books by different authors and in different genres helps me grow as a writer. It not only helps me improve my craft but it also helps me see the world and how I relate to it in different ways.
How will AllAuthor help you in your book promotion? Would you recommend this to your friends?
AllAuthor has a beautiful website that nicely displays my books. They make it easy to create an author's profile and to schedule tweets. I am surprised by how much promoting they do. They have several service plans and a Cover of the Month contest for books published within that month. If you haven't checked it out yet, do so.
Do you have a message for your readers?
There is no better way to thank an author than to write an honest review. It does not have to be lengthy; say what you liked or didn't about the book and why.
What message would you like to convey to aspiring writers?
Don't stop writing and don't forget that there is more to being an author than writing.
Share Jane V. Blanchard's interview
Shelly Alexander interview
William Irvine interview