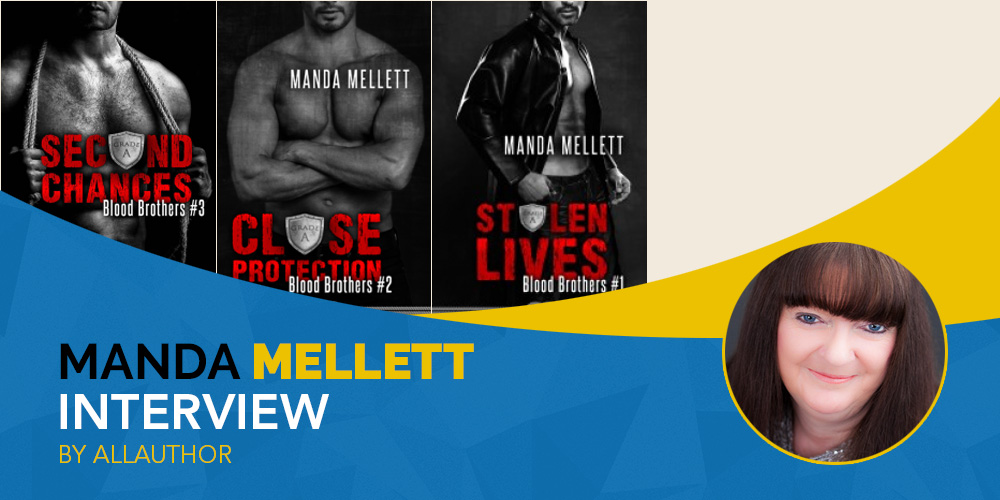 Where did you grow up? What is one thing that happened to you as a teen that really stands out to you?
I grew up in a seaside town in Kent, UK. I had what I'd consider to be a fairly normal childhood, which all blew up In my late teens. But the emotional upset and what I had to do to cope after my mother's death, my father's quick remarriage, my stepmother kicking me out of the house and my father subsequently dying just three years' later, have provided me with a wealth of experience to use to build my characters. I saw a lot of life in a very short time. A few times I've tried to use what happened as a character's back story, but it was so unlikely, it doesn't seem credible when written down.
When did you first start getting into writing stories about alpha males? Do you remember the first book about alpha males that you read that really impacted you?
I've written on and off all my life, starting out as a singer/songwriter, and then progressing to novels. Initially I wrote sci-fi and horror, but was too undisciplined to get published. I cringe at my efforts today. I stopped writing when my son was born, picking it up again when he left for University. I started a non-fiction book and got a publisher within 12 days of sending out my proposal. This was good experience of working with a publisher, editor and going through the proofing process. Once this was off my desk, I decided to turn my hand to fiction. My guilty pleasure had always been reading the odd Mills and Boon novel, so I first started to write in that vein. But I quickly found I wanted to develop my characters and make them more gritty, and was unable to restrict myself to 50,000 words. And so Stolen Lives and the Blood Brothers series was born, quickly followed by the Satan's Devils MC series.
Name one author you'd love to collaborate with.
Now that's a difficult one. I'm not good at collaborating. LOL. I like letting my characters develop and go off in their own directions, often in ways I haven't thought of. I think I'd be a really bad person for someone to work with, as I'd probably end up arguing about where the book was going as I hate writing to a plan.
What inspired you to create a disable female protagonist in your book "Turning Wheels"?
I wanted a different character, someone faced with more adversity than most. There are so many people who are physically challenged, and I don't think their needs are met by most books with their perfect female leads. So I wrote about Sophie who has more to overcome, and I thoroughly enjoyed watching her grow and regain her sense of self.
Who is your best friend? Have you ever modeled a character after him/her?
I have two best friends, my husband of twenty-nine years, and my gay son. They both are so supportive of my writing, but I haven't used them in my books.
What was your inspiration for your Blood Brothers series? What kind of research did you have to do for this book?
I'd always been fascinated by the allure of a desert sheikh, and the idea that by inventing the country of Amahad I could do what I want. If a sheikh wants to kidnap a woman, he can. And sheikhs have bodyguards, another good pool of alpha males. Blood Brothers was going to be a series of three books – I'm now writing number 5. While the country is fictional, I try to research many details such as Arab dress and food, climate, wildlife etc. Most of the research is done using online resources. As BDSM features heavily in these books I wouldn't want anyone to see my browsing history!
If one of your books were to be made into a movie, which book would you choose and why? And who would you cast as the main characters?
The Satan's Devil's series I'd love to see as movies – starting with Turning Wheels of course. I haven't thought about who I would cast.
In all your books, which was your favourite scene to write and why?
That's a hard question. I would have said the proposal scene in Stolen Lives as I cried every time I reread it. But then the last scene in Turning Wheels always makes me laugh. But that might now have been surpassed by the final scene in Drummer's Beat.
What is the biggest thing that people THINK they know about your genre (romance), that isn't so?
That the books are for women. My husband wasn't interested when I was writing Stolen Lives, but when it was published he read it on holiday. When he'd finished he immediately asked when the next one was coming out as he'd enjoyed it so much. I'm now working with male editors on the Satan's Devils series, and they're enjoying the books too. It certainly hasn't hurt their masculinity to read a romance.
Have you ever written a book you love but have not been able to get published?
Not one I love. I cringe if I look back at my failed efforts. But as an indie author I self-publish. Having worked with a publisher on a non-fiction book I decided I'd prefer to go it alone and be in charge of the whole process myself. I work with a cover designer, formatter, editor and proof reader and nothing is better than submitting for publication when it all comes together. If I was offered a publishing contract I doubt that I'd take it. In the last ten months I've published five books, and have a sixth coming out soon. I doubt I could do that with a publisher.
If you had the chance, which of your books would you like to live out?
Turning Wheels and the Satan's Devils MC series for sure.
Your books obviously feature a lot of strong, alpha males. Who were your role models for that?
Unfortunately they only exist in my imagination.
Are you currently working on anything?
The second in the Satan's Devils MC series, Drummer's Beat, is coming out on the 8th May. I'm currently working on the 5th book in the Blood Brothers series, Wild Horses. Next on the agenda is Slick Running, which will be the third MC book, which will be followed by Targeting Dart, the fourth. There may be another Blood Brothers in between. Writing is a full time job for me.
What marketing avenues have you found to work best for your genre? Has your experience with AllAuthor been helpful in this department and would you recommend this platform to your other author friends?
Yes, I'd recommend AllAuthor. I find Facebook the best place to advertise, but must admit, although my books are being very well received, as a new and independent author, getting my name known is the hardest part.
Share Manda Mellett's interview
Edmund Kelly interview
Willow Winters interview