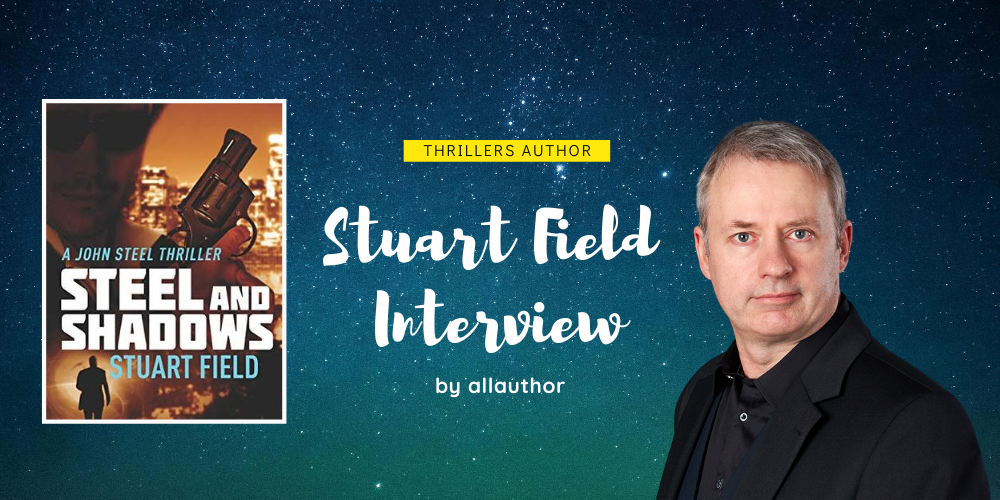 Born in the West Midlands, Great Britain, which is your favorite childhood memory?
I have lot's of great memories from my childhood. I think to go on holidays with my grandparents to Aberystwyth in Wales every Easter was some of my fondest memories. It is a difficult one to answer really.
Were you an avid reader as a child? Do you still read books?
Not really, I used to get cheap books from the local newsagents. I think I did most of my reading because of school, I was never a book worm, and sad to say I still have difficulty staying with a book. My brain won't let me relax; I'm afraid. It wants to write more than engaging in someone else's, but I do love audible copies of books because I listen to them when I'm driving, or when I'm cooking.
When and why did you decide to join the armed forces?
I had always wanted to, I think. My older brother had joined years before me, and when I left school, I was in a job that had no real prospects – even though it was a good job, loved it. But there was no future or adventure. I decided to join up one day after seeing people in the local pub, sorting through their loose change to see if they could afford the next drink. I wanted more out of life.
What motivated you to leave armed forces after 22 years of fun and adventure and start writing?
That wasn't my choice. I had done my 22 years' service, and it was the standard leaving period of my rank. But it worked out for the best in the end as it happened. The writing came later during the job that I had started once I had left the forces.
How did you begin writing the John Steel thriller series?
It was an idea I had one day when I was bored at work, we had a lot of time to think on weekends. Lol. I had an idea of a character; the story came later.
What inspired the story of the first book, Steel and Shadows?
I don't think I had an inspiration for it, it was just something that just popped in there. Hard to explain really, but thinking about it, that is how I get most of my story ideas now, they just come to me.
How did you come up with the character of Brian Armstrong in "Broken Steel"?
Brian Armstrong, like most of my characters, evolves as the story goes on. I never plot, I just let the ideas seep into the story. Which can be exciting and at the same time infuriating because you may have to go back to parts in the manuscript and adapt them to what you have just written. When I started writing Broken Steel, I had no idea what it was going to be about. All I had was a husband and wife having an argument in a restaurant, and she dies. That was all I had.
How do you make sure to draw young readers into your stories?
I think knowing how to draw in the audience is to be as excited about what you are writing as what they are reading. I write for me. It is selfish to say, but as long as I'm happy with the story and the way it is going, that is all I'm happy about. Now, I know a lot of people will think I'm very full of myself – but the truth is I'm not. I'm just true to the story, and as a writer, you have to be. If you worry about what people want, you can lose the style, and that is what people love or hate about writers' books. One brilliant author once said, "write the book that you have always wanted to read," and it is true. An avid reader would have read Lee Child, James Patterson, Michael Connelly, Anthony Horowitz and so on, which is excellent. Still, then they want to see their style in your books because Lee did this, and James did that. I believe a writer – unless he is writing Bond or Holmes etc. should remain in their way of doing things. Which I believe is more engaging for a reader than lots of murders and explosions. If you keep true to your writing, they will always come back.
Has your daughter read any of your books? How does she review your writing?
In truth, I don't think any of my family have read my books. Which, in truth, I can live with because they would be seeing a side of me they are not used to. I don't think any author who has someone close to them hasn't gotten those despairing looks of "Oh, God, he or she wrote this, but they were such a lovely child," lol. As a crime/ thriller novelist, we delve into a world that we hope will never happen, create people that should never walk this earth. And I'm okay with that, but it gets you funny looks at family reunions. Lol.
How does writing make you feel? When you're not writing, what does a normal day for you look like?
Truthfully, writing is the biggest pain in the butt a person could ever possibly go into. But it's great. I think, as a writer, you have to be nuts to start with. I mean, what sane person would willingly lock themselves away for months on end have a coffee addiction. Have rages of anger because their brain won't give up the goods. Get sleep deprivation because their brain keeps coming up with new ideas just before they are about to fall asleep. Have constant fear that the computer won't do something that will cause the machine to suddenly be reduced to scrap metal and plastic? However, there is nothing more satisfying than looking back a chapter and thing you have created something remarkable. To type in that last word after months of gruelling pain and sweat and tears and know it was possibly your best work yet. It is hard, but it is worth it. A typical day for me when I'm not writing? I do security, so I cannot talk about it…sorry.
How many unpublished and half-finished books do you have?
Unpublished – because I'm just about to edit them? – 2. Ideas that are good to go, just need writing? Of the John Steel series, I have 4. Standalone novels – 6.
What is the best writing tip you ever received and who gave it to you?
This is quite an unfair – but good question. I say that because authors are always giving each other advice. I go to crime festivals because the wealth of knowledge is there. I think the best advice I was ever given was by Rachel Amphlett years ago, who said: "Get your arse to crimefest."
What behind-the-scenes tidbit in your life would probably surprise your readers the most?
Something of interest to the readers? To be honest, there isn't that much to know. And as for a titbit? That is quite difficult. I'm a very quiet person and very reserved. Truth is I don't like talking about myself much, possibly because I feel there isn't that much to say. When I sit in a restaurant or cafe, I have to sit facing the door, preferably with my back against the wall. I always wear black or dark clothing; I can't listen to people eat – drives me nuts.
Which is the next book you are working on? When is it due for release?
At the moment I'm getting myself ready to start editing the next John Steel, which won't be out until next year. Next Chapter has gotten the manuscript of book 5 to look through. This is called Maltan Steel, time of this hitting the shelves I suspect will be next year. Blood and Steel, which is book 4, comes out in August.
How did you come to know about AllAuthor and what are your thoughts on this website?
I believe I found you guys on FB. A great site and you guys do an excellent job, thank you so much.
Share Stuart Field's interview
Maxine Sylvester interview
Stephanie Faye interview