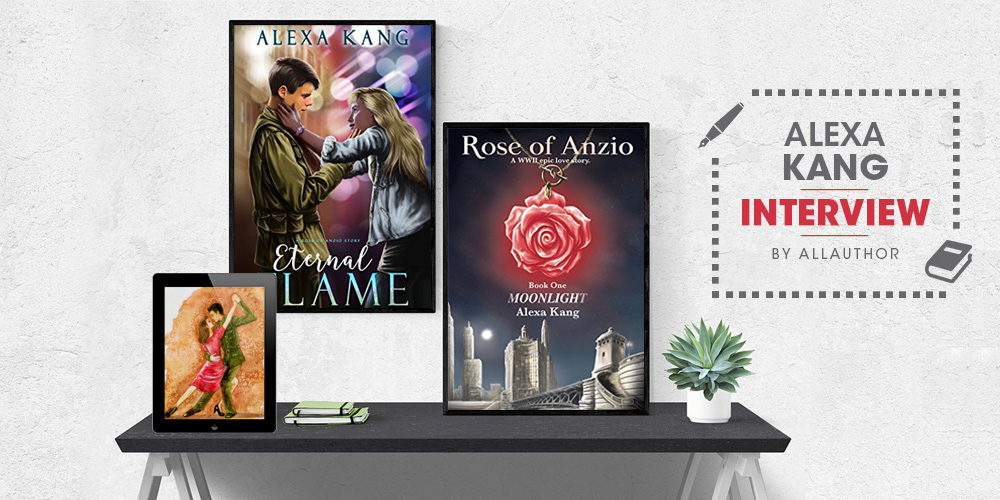 How would you describe your life growing up in New York City? When did you first start travelling and what's your favourite city that you've visited?
Growing up in NYC, I got to meet a lot of people from different walks of life. I didn't know it back then, but looking back, the experience became a very valuable resource for me as an author. I can draw on my experience to create interesting characters and write realistically about how people might act and behave in a given situation.
The first time I traveled alone was the summer after I graduated from high school. I won a scholarship to live with an Italian family in Verona for a month. As a writer, I feel like I'd come a full circle because a large part of my book series, "Rose of Anzio", was set in Italy. I am so glad to be able to pay tribute to Italy through my writing. Some of the scenes I'd written were adapted from my real life experience living in that country.
My favorite city to visit is Kyoto. That place is like heaven during the cherry blossom seasons. Gorgeous scenery, a lot of history, and incredible food. I never knew there could be so many ways of making delicious tofu. I highly recommend staying at a ryokan to enjoy a kaiseki dinner and a relaxing dip in an onsen. It was also interesting to see the girls and ladies in kimonos (and even a few men in Hakamas).
What is it about historical fiction that captured your interest? How do you stay true to the facts while building your own story?
I love how historical fiction can transport you back in time. When I write my stories, I feel like I'm living in two different time periods: the present and the past which I'm writing about. When I was writing "Rose of Anzio", the last US presidential campaign was in full swing, but the American presidents most often on my mind were Franklin Roosevelt and Eisenhower. My mind was immersed in those times. It's a very bizarre experience.
The Western countries' experience in WWII is very well documented, and it isn't difficult to search for details and information. For "Rose of Anzio", I read a lot of primary sources such as letters, memoirs, and diaries of soldiers. The national and military archives also have extensive information. YouTube is my go-to source for documentaries where I can see and hear directly how things happened.
Finding information has been much more difficult for my current series, "Shanghai Story". There aren't a lot of records preserved which documented what happened in China during WWII. Those that exist are often not available on the internet or not available in English. Luckily, I can read Chinese and have been able to find some of the information I needed on Chinese websites.
Readers usually don't realize how much research goes into writing a good historical fiction story. Often, it would take me hours to locate information and read about them just to be able to write a short description of a particular place. Other times, I would have to read the entire account of an army division's movements and battles in one region from multiple sources just to be able to write one paragraph that sets up a chapter.
What is your current day job? Have you ever considered retiring and becoming a full-time author? If so, why haven't you made the leap yet?
I prefer to keep my current day job separate from my author life. Let's just say I'm a slave to corporations like most people. Nothing too interesting. But unlike most writers who aspire to quit their jobs and work full-time, I actually like my job.
Besides writing, what are some of your simpler pleasures that you like to indulge in from time to time?
I really enjoy watching winter sports. I snowboard, so I love to watch snowboarding and skiing competitions on TV. I've been a long-time figure skating fan too, and have attended competitions live. I recently went to the Stars On Ice tour and saw all the US Olympic figure skaters perform. (Go Nathan Chen!)
What sparked the Rose of Anzio series? Why did you choose to set it during WWII?
"Rose of Anzio" and WWII were both accidents. I'm part of a cult following of the Japanese manga/anime series "Candy Candy", which was very popular in many parts of the world during the late 1970s and early 80s. I'd written some fanfics that were popular with the other fans. The last fanfic novella I wrote was fan-translated in French, Italian, and Spanish. After that, an idea came to me to write a story about the children of the main characters in "Candy Candy". These children don't exist in the original story, and are purely characters of my own imagination. Because "Candy Candy" ended in the mid-1920s, my fan sequel about their children would have to take place during WWII.
Initially, the prospect of writing this story really scared me. I wanted to write a love story. I hadn't planned on taking on a subject as complex as WWII. But I'm one of those writers who write because the characters are talking in my head. They won't leave me alone until the story gets written. Once Anthony and Tessa were born in my mind, I had no choice but to go ahead and put their story into words. "Rose of Anzio" was the end result.
Who were your inspirations for the characters Tessa and Anthony? Which character in this book do you relate the most to? Which character was the most complex to create and develop?
Tessa was my imagination of what the daughter of the two main characters in Candy Candy would be like. The main inspiration for her was Terry Grandchester, who would've been her father in "Candy Candy". She has many of his personality traits and all his unique temperaments. Anthony was inspired by the character Anthony Brown in "Candy Candy". He was the first love of Candy White, who would've been Tessa's mother. In "Candy Candy", Anthony Brown passed away at the young age of fifteen. My character, Anthony Ardley, was how I imagined Anthony Brown would be if he hadn't died.
All that said, the most popular character in the "Rose of Anzio" series is Jesse Garland, the medic who served with Anthony during the war. Jesse is entirely my own creation and came into the story in Book Two. He's extraordinarily handsome and complicated. He was the son of a high-class prostitute who grew up in luxury in New York City. He was brought up to be a con-man, and was intelligent enough to have learned all the arts and tricks of how to be a very good one. But how the world made him was not who he was inside. When he met Tessa, he felt love for the first time, and everything he knew about life came crumbling down. In the story, we get to see him transform. It was very satisfying for me to write a character like him.
What are the main themes in this series? What kind of message or idea are you trying to portray here?
The most important theme in this series for me is sacrifice. In researching for this story, I read so many stories and accounts of soldiers and folks who lived in this period. One thing that kept coming back to me was how much sacrifice people in that generation had made. It's hard for us and the generations after us to even begin to understand what that kind of sacrifice means. For all the problems we face, we do live in a relatively peaceful world. We can focus all our energies on ourselves. I hope that through my story, my readers can see how lucky and blessed we are today, and perhaps remember that sacrifice and honor are values we ought to cherish.
Do you think your writing has changed much from writing "Moonlight" to "Remembrance"? What are some things writing this series has taught you?
A lot! My writing skills matured significantly from when I first began writing "Moonlight" to when I ended the series with "Remembrance". By the time I wrote "Remembrance", I'd gotten very good at taking the readers into a scene as if they're there themselves and inside the characters' heads. In fact, a number of my readers have told me that they felt very close to the characters after they read the series.
One of the most important things I'd learned from writing this series was how to use actions to show descriptions. For example, instead of saying the woman was thin and has long blonde hair, you can make the story more active by saying her long blonde hair swayed against her slender back, or she ran her bony fingers through her thinning strands of blonde hair. Whenever it's possible, you want to incorporate descriptions of people and places into actions.
Why do you write and who do you write for? What have you enjoyed most about being an author so far, especially compared to other jobs you've held?
I write because I have characters in my head and they wouldn't leave me alone until I tell their stories. I've heard of this happening to other writers too. As a result, I don't think too much about who I write for. My stories have to be written anyway. I do hope that once the stories are born, there will be readers out there who would want to read them.
The most rewarding thing for me as an author is knowing that readers were moved by my stories. When my readers tell me that they laughed and cried for my characters, I know that I'd given them a few moments of escape from the stress of their daily lives and a little bit of satisfaction or happiness. In real life, I've never had a job where I can make people happy or something emotionally rewarding this way, and they are people I don't even know!
What are some new writing styles and techniques you experiment with in "Eternal Flame"? How does this book connect to the other books in your Rose of Anzio series?
"Eternal Flame" is a "Rose of Anzio" spinoff about Edmond Ferris, a secondary character who appeared in Book Four "Remembrance". It is a young adult time-travel story that takes place in 1989. While fighting in France, Ed slipped through time and met Julia, the girl who lived in his room at home in 1989. In contrast to "Rose of Anzio", which has a huge cast of characters, "Eternal Flame" was written entirely from the point of view of Julia, the main character from 1989. I got to experiment with writing a very close third person point of view, which can bring the readers much deeper into the story.
What, to you, is the biggest compliment as an author? How do you deal with positive/negative reviews?
Being an author of WWII fiction, the biggest compliment I've received so far was when readers contacted me and told me they'd lived during the war era and they liked my story. We're talking about readers in their 90s! I was absolutely floored the first time this happened. It meant that I had at least succeeded in creating a world that was believable even to people who had lived it.
Of course, it always feels good to get positive reviews. I haven't received any truly negative reviews yet. But if I do, I'll try to learn from it if the reviewer offers constructive advice. Otherwise, my philosophy is: you can't expect everyone to like what you write.
What motivates you to write the most? Would you say that writing energizes or exhausts you?
My characters motivate me to write. They dwell in my head and I'm not at peace until their stories are told. Writing is very exhausting to me. It amazes me that I would spend so many hours doing it because most of the time, I'd really rather veg on the couch and watch TV.
If you could grow up in any time period other than this one, where would you go back to and why?
I grew up in the 1980s, and I wouldn't change that if I had a chance. I think my generation had it better than those who came before us and those who came after us. The 1980s were a lot of fun. There were a lot of social and political problems too including the Cold War and Aids, but for ordinary folks, I think life was easier, simpler, and more fun before social media.
Share Alexa Kang's interview
Bink Cummings interview
Cheryl Wright interview