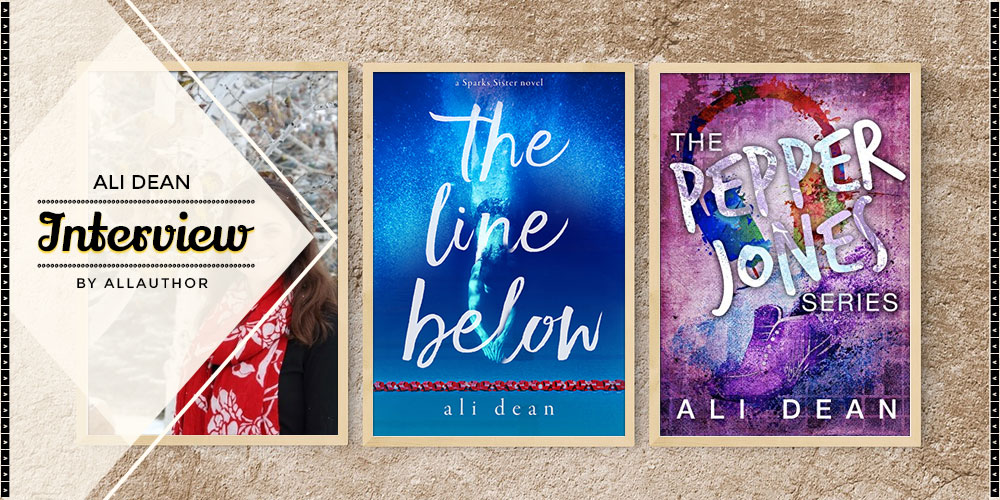 As you write about women athletes, tell us if you yourself played or still play any sports? Which was your favorite?
Yes, I've always been an athlete. Growing up, I did swimming, soccer, lacrosse, gymnastics, alpine ski racing, tennis, snowboarding, cross country skiing, triathlons... I'm probably forgetting something. In college I started out swimming but decided to study abroad and try other things, so switched to the running team. Running was a newer sport for me, with less pressure, but I fell in love with it and it's now my main form of exercise.
You are #1 Amazon Sports Fiction Best Seller. How does that achievement inspire you to write?
Writing can be lonely and sometimes I can feel out of touch with the real world. Knowing that people are reading my books, that there is a fan base out there who enjoy my writing, it helps me feel more connected, like my writing isn't so solitary, since it's reaching so many people.
You are a mom, have worked as a lawyer and now are a full-time writer. If you had to pick one favorite from the three roles, which one would it be and why?
Ha. That's easy. Mom! I had no idea how much I would love being a mom until I became one. My 4-year old twins never cease to amaze me. I learn so much from them. They're the best parts of me and my husband. Having kids is like falling in love over and over every day, deeper and stronger each time. It's insane.
You are a mother of twins. What was the feeling like when you found out? How different it is from being mom to a single child at once?
I can't say how it's different from being a mom of a singleton, at least not from personal experience, since twins is all I've known. I imagine it's just more intense everything. When they are babies, and you're sleep deprived, you are REALLY seriously sleep deprived to the point of losing your mind. And when you are potty training, it takes over your life and all you talk about or think about is poop. Sorry. You asked. Though we don't have twins on either side of the family, I had this weird feeling I was having twins. Maybe because I was in maternity clothes by 8 weeks. When the ultrasound technician saw the second baby, I actually wasn't that shocked. My husband and I were so excited. I really can't imagine having only one since twins is all I've known. It's total chaos all the time. I've learned to embrace it!
You have a golden retriever, Pancake. Who gave him/her the interesting name? What is your favorite story of him/her?
I like food names. When I first suggested Pancake, my husband was like, uh, no, I'm a guy, I can't go to the dog park yelling pancake. It's too ridiculous. But then he changed his mind Before kids, Pancake came everywhere with us. We took her to Oktoberfest in Vail once and she wore a beer maiden costume, with her chest fluff filling out the cleavage area. The kids still dress her up in costumes, and she's cool with it. She's very mellow, the sweetest dog I've ever met and loves to snuggle.
What inspired you to write stories with women athletes as protagonists?
If you look on the bestsellers for Amazon sports fiction, almost every book is about a male athlete. As a female athlete myself, it drove me nuts. There are some books out there about female athletes, but usually it's just a side thing, not a major part of the plot or character. For myself and many of my friends and teammates growing up, sports were the center of our lives, and everything revolved around that. I wanted to read the kinds of books I liked - romance and suspense - with characters who were more like me. There's some good non-fiction about female athletes, but not much in romance or coming of age fiction. So, I wrote what I wish someone else would write - a story about a female athlete who falls in love, deals with growing up, with some suspenseful elements in there too.
Do you ever get writer's block? Where do you look for inspiration to overcome it?
Before I started writing full-time, I thought writer's block was a cop out for when authors felt lazy. As someone who's always been pretty self-motivated, I soon realized that with a creative endeavor, there are, in fact, times when you can't force it. Sure, you can try, but the words that come out won't be any good, and it will be totally painful and fruitless. So, first I have to accept it's really writer's block and not a motivation issue. Usually time is the only cure I've got - I'll read, go for a run, step away, and it comes back. I find that if I try too hard to stick to a really tight writing schedule, writer's block is worse. I try to stay disciplined while keeping some freedom and flexibility, which is not easy! Oh, and sometimes when the blank page is really freaking me out and time either isn't working or isn't an option, a glass of wine helps get the words flowing for me. Not necessarily words I'll keep, but at least it gets me started again.
Which places have you lived in? How have they inspired you to write?
I lived almost exclusively in small towns in the northeast until age 25. I grew up in Shelburne, Vermont; went to boarding school in Exeter, New Hampshire; college in Brunswick, Maine; law school in Ithaca, New York. I studied abroad in Toulouse, a medium-sized city in southern France. Since moving to Colorado, I lived in Denver for a couple of years, then a suburb of Denver, and now a suburb of Boulder. I use fictional towns in my books so that I have some creative freedom without critics getting all uptight about accuracy, or needing to do a ton of research. The Pepper Jones series takes place in Brockton, Colorado, which is loosely based on Boulder, Colorado. The Stark Springs Academy series is based loosely on Steamboat Springs, a mountain town in Colorado. Though I've never lived in a ski town long term, I've spent a lot of time in them. Elusive takes place in a town in Southern California, which is pretty random but I wanted it near a beach and a big city, so my options were limited. I tried to wrap in elements from my experiences living in college towns.
What apart from sports and writing are you passionate about?
It's probably no surprise I love reading. I read at least ten books a month. I think I started writing partly to justify how much I read. Now, I can at least tell myself it's "work-related." About half my reading is done listening to audiobooks while I'm cleaning, doing laundry, dishes. Again, it helps justify my addiction if I'm doing chores at the same time. Most of my free time is spent with my husband and kids, family and friends. We like going to breweries and trying new restaurants. These days, the main criteria is whether it's kid-friendly and has a good outdoor patio space. Love going out to ice cream too. And we drive up to the mountains quite a bit to ski or hike, and get away from the crowds. I still sometimes need my small town fix, or the illusion of it, since the front range in Colorado is pretty busy for me. The mountain towns in Colorado are getting busy too, but still a great way to get away without going very far.
Which is your favorite story from The Pepper Jones series? Why?
The first book, Pepped Up, will always be special to me. It was my debut book, and somehow, with me not having a clue what I was doing, it got momentum and a following. I'm so grateful for that book. I didn't have enough confidence to keep publishing on my own. I needed the encouragement from my fans, people telling me they wanted more.
Does Pepper's character take on you in any way? Which ones?
Sure, I guess all my protagonists have pieces of me in them somewhere, otherwise they wouldn't be very authentic. I like to think all of Pepper's best qualities come from me, but to be honest, most of her best qualities are the ones I only wish I had. I suppose Pepper and I can be trusting to a fault, assume the best in people, and are often a little naïve. She would also rather run (sometimes literally) from her problems than deal with them, which I suppose isn't a particularly unique trait, but one I am guilty of as well. I also can't handle drama and don't really get it most of the time, much like Pepper. I write about it, and it's in my books, but I have no idea where it comes from. I'm always kind of shocked by it as I write it, much like my characters tend to be. Apparently there's some inner drama queen deep down in me that comes out in the form of fictional mean girls. Huh. Now there's something to think about.
'Elusive' does not have an athlete heroine. What made you bring a change in the characters you write about?
While I recognize the importance of building a "brand" in the sense that readers need to know generally what kind of story they will get when they pick up a book by Ali Dean, I also don't want to limit myself if there's a character I really want to write about, or a story that won't get out of my head unless I put it on paper. That happened with Elusive, and I had it sitting in my folder for nearly two years before I published it. Actually, I wasn't really planning on publishing it at all, but it had been a year since I'd put anything out, and I was really busy practicing law at the time, so I thought, well, I need to get something out there, and this is all I have. I haven't really marketed it much since it's not entirely consistent with my "brand" but I figure my really loyal fans might appreciate having something a little different to read from me. I suppose one thing remains consistent with my protagonists - the women are always strong, not always in the same ways, but they are fighters. This is definitely true with Kate Walker in Elusive. In some ways, she's my strongest protagonist.
Which of the Stark Springs Academy Series was the most challenging to write and why?
The third book was the most challenging. I love writing series because it gives me time to really delve into the world, the characters, and build on them. Sometimes, though, new characters with different stories start to creep into my head before I'm done with the series, and it's very distracting. I still need to finish the series, because that story and those characters aren't done yet, but new ones are demanding my attention too. It's like I have to talk to the characters in my head and be like, "Guys, your turn is next. It's Roxie and Ryker's turn now. Patience." Kind of like being a mom of twins, except with fictional characters in my head. Yep, I'm a little crazy.
Which is the next book you are writing? When is it due for release?
I have two books coming out, each standalones, about twin sisters who are collegiate swimmers. The Line Below is about Shay Spark, and releases June 28. Kick is about her twin sister, Lydia Spark, and it releases in September. After that, I'll be reformatting and doing new covers for all five books in the Pepper Jones series for the 5 year anniversary of the release of Pepped Up, as well as releasing a sixth book! I thought the series was done, but I really want to write about Pepper's post-collegiate career as a pro runner. Pepped Up & Wilderreleases December 2018. And, I haven't announced this yet, but I have a not-yet-titled soccer book coming out in early 2019. That one is a good example of a story that really wants to be written NOW even though I'm supposed to be working on all the other ones coming out in 2018.
Share Ali Dean's interview
S.E. Rose interview
Crit Kincaid interview