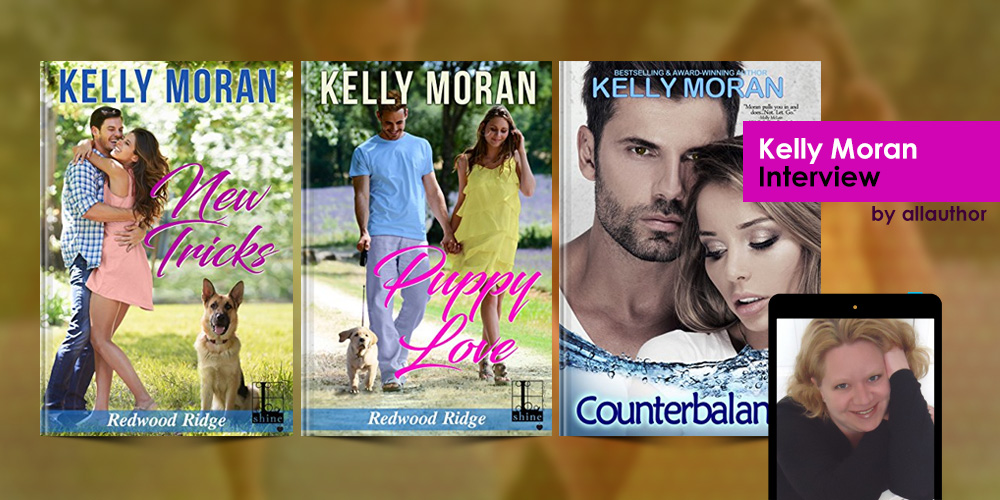 Did you grow up in Wisconsin or in the Carolinas? What is one childhood memory you really cherish and like to think about often?
I was born and raised in Wisconsin, but my dad moved to the Carolinas when I was younger and remarried. I have a huge amount of step-family down there, but we don't see each other as anything other than real family. As for memories, I'd have to say my grandmother always comes to mind. She's passed away now, but she was my first champion. Ever supportive, she encouraged my creativity. I'm a writer today in large part because of her.
Who first introduced you to reading and books? Did you know right away that you wanted to be an author or did the realization occur in your later adult life?
From as far back as I can remember, I liked reading. Not sure who introduced me to it, per se, but I devoured Judy Blume, Shel Silverstein, and books like Charlotte's Web. I wrote poetry and short stories early on, but romance novels came to me in my teens. Judging by how many times I went into la-la land in my head, I think I always wanted to be a writer.
In what ways has becoming an author changed your life for the better? Are there some things that have become harder that you wish you could change?
I can't imagine my life or doing anything else with it. I was a preschool teacher and healthcare administrator before writing full time, and it was only then that I got peace. All these stories and people in my head have a voice now. I get to offer escape and connect with readers through my books, and there is nothing better. As for harder, I suppose the inconsistent income is a challenge. Paychecks are dependent on sales.
What do you think of some book marketing strategies like book trailers, giveaways, etc?
Some things work and some don't. What helped before doesn't always now or in the future. It's all hit or miss, really. I do enjoy making my own trailers, so I create one for every new release. Online parties, giveaways and whatnot help to a degree, but a large chunk of those readers are only there for the freebies, thus not becoming loyal followers. It gives them a chance to try out my books, though. I've found the best way to engage with readers is in my private Facebook group, through my newsletter, or in person at signings.
What is the central theme in the Phantoms series? Are you a believer in the supernatural? Are any of the nightmares that Trisha Eaton has in "The Drake House" taken from your own nightmares that you've had in the past? What are some new ideas and themes you experiment with in this book?
The Phantoms trilogy was actually born from my love of paranormal programs. Phantoms is a team of ghost hunters on a fictional TV show who investigate haunted locations (and fall in love). I took the elements I liked from the programs I watch and made the trilogy into something readers could get hooked on. I also incorporated several different types of hauntings and events to mix it up.
The Drake House was actually, in part, inspired by a ghostly experience that happened to me. Trisha, the heroine, has sleepwalking incidents that I could relate to because I used to do it too in my teens and early twenties. Essentially, a ghost is trying to communicate with her through her dreams to solve the mystery of her death. That book was my first foray into writing suspense or paranormal.
Oh, and I'm a complete believer in the supernatural.
In your Cattenach Ranch book series, who was the most complex character you created? Would you say your characters reflect who you are more, or the person you wish you could be?
The 2 Cattenach Ranch books were my first time in a western-type setting, so that was a bit of a challenge itself. Nate, the hero in Redemption, had a terrible past. He's also military. Making sure his reactions and internal dialogue were accurate, plus his slow shift toward happiness, was hard to pace. He was the most rewarding HEA I ever created. Nakos, the hero in Benediction, was the complete opposite. He was kind and compassionate, but his heroine was the one with secrets. He's Native American, and it took a lot of research to get Arapaho aspects of his background realistically portrayed.
As for reflection, I think it's a bit of both. There's a little of me in all my characters and the way they overcome their conflicts are what I strive to do myself.
Besides for entertainment, what are some ways you hope your books will have a positive influence on your reading audience?
New readers to my books may not know this, but there's almost always a disability or medical issue in all my stories. From PTSD to depression, anxiety to self-confidence, grief to survivor's guilt, my characters tend to have real life complications. In fact, my Redwood Ridge series is probably the best example of that. In Puppy Love, the heroine's daughter has autism. In Tracking You, the hero is deaf. In New Tricks, the heroine's mother has dementia. My single title, Counterbalance, has a hero with social anxiety. So many people see disabilities or mental illness as something to shy away from when, in my opinion, we should be talking about it more. The better we understand, the better we can relate. Each aspect took a lot of research and interviews beforehand but, to me, it was worth it. I hope readers take away a greater understanding of the topic and connect with the characters as a result. And that they get to escape their own lives for a bit.
What makes your characters Gabby Cosette and Flynn O'Grady from "Tracking You" special? As every love story is unique, what do you love most about their love story?
Ah, Gabs and Flynn. These two are dear to me. They're a friends-to-lovers story, which is always a challenge. They've been attached at the hip since kindergarten, and have been a part of one another's lives in school, work, and home. Thus, they had some dependency issues that had to be worked out. She's seen as the town's good girl and he's deaf, so they had a stigmata attached to their mindsets, too. Theirs was a slow built toward passion and it was rewarding to give them their happy ending.
What inspired the story "Exposure"? Are you a fan of the "best-friends-falling-in-love" romance trope?
Exposure was a rare book for me all-around. It's my solitary erotic romance title, for starters. It also has some suspense elements. Friends-to-lovers is my favorite trope. You'll find it in quite a few of my books. But, it's also the most difficult to write. The thing about Raven and Noah, though, is that they've been buddies since college, yet they both harbor lots of secrets. Through the sexual intimacy they create, they become friends on a deeper level than they thought possible and help to heal one another's emotional wounds while reopening scars. Some of the members of my readers group encouraged me to write a steamier read. I don't regret it, and I'm glad I did, but it took a lot out of me to get that story written.
"The worst thing a book/author can be is predictable". What are your thoughts on this statement?
I don't know if it's the worst thing. I can certainly think of worse, like inaccuracies or unrelatable characters. The romance genre is particularly hard because the reader knows a happily-ever-after is coming. That's the purpose, the whole point. Love must overcome everything. Ergo, that in and of itself makes each story predictable, to a degree. There's also many tropes and storylines that have been overdone. I think the unpredictability lies in the journey, in how they get there, and the emotions brought to the surface while reading. If an author can do that, then nothing else matters.
What are some deep lessons you've learned about the book industry over the recent years? Do you have any advice for anyone who might be starting out as a writer?
Such a loaded question. I've learned more about myself writing my characters and more about the world around me through research than if I'd chosen to do anything else with my life. The romance writers community in particular is an immensely supportive one. The only constant thing is change. From paperbacks to the ebook boom to audio, from brick and mortar to libraries to devices--it's all flux. All we can do is adapt or crumble. As for advice, I encourage newbie writers to check out this blog post I wrote. It has a lot of topics I wish I'd known starting out.
https://www.goodreads.com/author_blog_posts/7292271-so-you-wanna-write</p> What are some of your writing goals for 2018?
I'm working on the next 2 Redwood Ridge books, which will release this year. I'm also writing another paranormal trilogy about witches that I'm hoping to have released this year, if not in 2019. Other than that? To stay sane.
Share Kelly Moran's interview
David Johnson interview
Elaine L. Orr interview