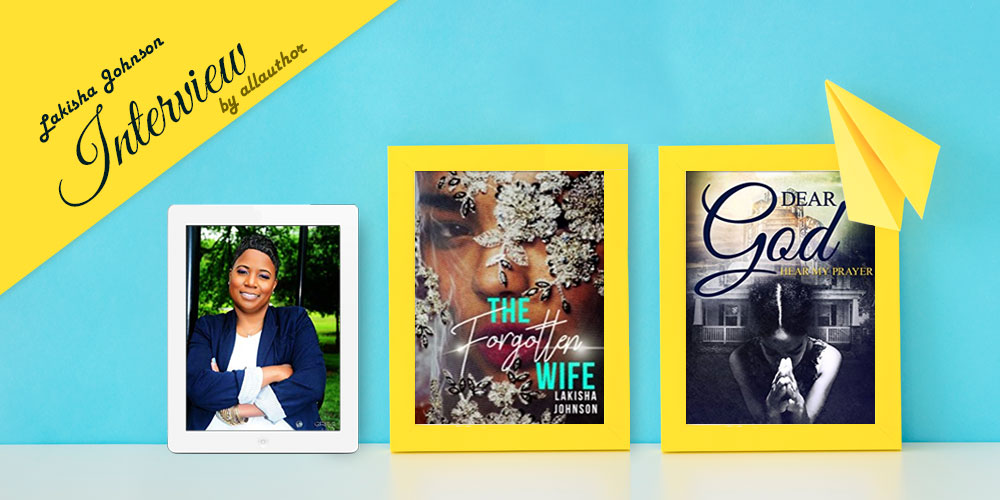 Quoting you, "Writing didn't find me, it's was engraved in my spirit when I was created." Tell us why and how do you believe this.
It's a part of me. A purpose, something I lay down and get up thinking about. A passion I do not take for granted yet I long to do it. I don't write just any story, although I could but I allow God to give me what He will have me to share, in order to reach the hearts of readers. This lets me know that it isn't just a hobby or something I do for money but it's what God has engraved in me.
What has your role as a wife and mother taught you that you also implement in your writing?
Patience. Writing a good book is easy but crafting a great book takes patience. Sometimes it takes me months to finish a book and I used to get frustrated but now, I sit in my patience because it means a better story.
Where do you live? What about the city do you like a lot?
I'm currently living in Olive Branch, MS. It's right outside of Memphis, TN where I was born and raised. I like the quietness of the city. Although it has its hustle and bustle, it still has that small town feel where you can get to know the police officers and gas station attendants on a first name basis. I love that.
Which books did you grow up reading? Do you encourage your kids to read?
To be honest, I can't remember reading a lot (for relaxation). I grew up in a single parent household and my mom had to work to provide. My sisters and I stepped up to help the household which didn't leave a lot of time to read outside of homework. Do I regret it? Heck no because I saw the strength of my mom and what she taught us and instilled in us; strength. Her tenacity to work, sometimes 2 jobs didn't let me see what I was missing but more so what I am, a strong woman. Do I encourage my children to read? Every chance they get because reading stimulates the mind. I want them to read books, contracts, fine print ... everything!
What is your blog kishasdailydevotional.com about?
It is a devotional blog where I try my best to blog, at least 5 days per week. Each day the topic is different depending on what God releases me to share. Topics range from trust, faith, struggle, strength, obedience but most of all not giving up. I don't claim to know all about God and the Bible but I do my best to encourage others who take the time to read what I share.
Do you like writing stories with hidden morals or meanings? Is there any deeper meaning to the book "The Forgotten Wife" that you could share with us?
Of course I do. I believe God uses me to get people to Him. If that's through a fiction book, so be it. Within The Forgotten Wife, I don't know if it's a deeper meaning but a meaning nonetheless, "your past may come back to bite you," or "nothing remains hidden forever." Another is, a woman forgotten can be your worst enemy. Lol!
'Dear God: Hear My Prayer' is currently the #1 Amazon Bestseller in African American Christian Fiction right now. Congratulations on that! How does this achievement make you feel? And why is it even more special because of this book?
It makes me feel amazing. More so because it's this book. My very first Christian Fiction novel. The one I was the most nervous about releasing. I mean, here I was, writing books full of sex and cursing and then I go from that to a book with absolutely no sex! WHAT?? This book had me on edge for weeks because I didn't know how it would be received. Sure, I knew it was all God's doing because I'd been working on Dear God for all of 2017 and I could not finish it. Then 2018 comes and I finish it in days. The feeling is amazing. Absolutely amazing. And it blows my mind the many women who are Jayme but afraid to say it out loud. I receive daily messages and every time I open one, it reminds me of my purpose.
Tell us how you came up with the idea of writing the book and what inspired you to write and tell this wonderful story in 'Dear God: Hear My Prayer'?
Dear God started as a short story on Facebook. It was during the time of the Short Story Challenge and I just took a chance and shared a story. It was received, from those who normally read my stuff but that's it. It didn't go viral or anything but it was just a story, one I never wrote with the intent to turn it into a book. Then I saw this cover posted on the page of the young lady who'd done a cover for me previously. When I saw it, I bought it. I still didn't know what the story would be but God did because He'd already given it to me months before. Dear God is about Jayme who longs to survive the abuse of her stepdad who happens to be a pastor. His blatant abuse of her turned her against God and men. She's angry, she's bitter and she doesn't understand why her. And if matters couldn't get worse, God sends her stepdad back into her life at the same time he sends Jacob, a man who is willing to touch her broken pieces. Now Jayme has to fight to come out of the darkness she's been in for so long and it'll all start with 5 words ... Dear God, Hear My Prayer!
Which of the Ms. Nice Nasty books was more difficult to write and why?
I don't know if either of these were difficult. I enjoyed writing part 2 because it showed Cam's growth and willingness to change. I also enjoyed part one when she was hard, in her zone and unapologetic. Lol!
Which of the two books in 'A Secret Worth Keeping' did you have more fun writing and why?
The very first one, for sure. That book I wrote in less than 30 days. It was fun. I took the personalities of my "girlfriends" who happens to be sisters and best friends (shh, don't tell them) and I penned them to paper. It was funny and exciting to see them come alive on the pages.
What was your inspiration behind writing the inspiring 'Doses of Devotion'?
This book is actually some of my earlier devotions from my blog. I took some of the ones I thought needed to be shared and put them in a book. My hope is to do another devotional soon.
What do you try to achieve through your writing?
To reach people's heart. I know I speak about God a lot. I use faith and bible often but this is what has gotten me through some of my darkest days. When I first became ordained in ministry, I received an inbox message on Facebook that said I should stop writing sex books. It was a hard blow. But then I recovered and stopped apologizing for my gifts of writing and ministry. I started being Lakisha and she's proud to be a co-pastor who will not be put in a box. Too many times, we practice Christianity while living in sin and that's okay but it's not okay for a pastor to write about the same sin we're living in. (Bye Felicia and Felix). I don't have time for feel good messages when so many people are suffering and depressed. If I can reach a person through the pages of a fiction book, if I can save a marriage through the pages of a fiction book and if I can get a person to begin praying again through the pages of a fiction book; then I'm standing and serving in my purpose. And I will not apologize for it.
What is the one advice you would like to give to all young writers out there?
Be who you are! Many times, writers jump into the wonderful world of author because it seems easy. It is NOT! This is why I say, writing is not for wimps. Be patient and enjoy it. Research what you're writing. And please, do not start out charging an outrageous amount for your book. I get that you want to make money but nobody knows you. Patience grasshopper. Build a following and enjoy the ride. Your hard work will pay off.
Have any of your books ever been inspired by TV or movies?
If one of your books had the chance to be adapted into a movie, which one would you choose to project onto the silver screen? No, I can't say any have been inspired by TV but they could surely be on TV. Lol! If I had the chance, I'd choose A Secret Worth Keeping for "that" side of the screen and Dear God for the other.
Which is the next book you are working on? What are some of your current and future projects?
I've recently completed a book called Bible Chicks with another author. It takes some women of the Bible and writes their story in today's time. I wrote book 2 featuring Gomer, Hannah and Jezebel. It was fun to write and will be out 8/22. Now, I'm finishing up another Christian/Suspense called The Marriage Bed that will be released in September.
Share Lakisha Johnson's interview
Ginny Sterling interview
Ed Benjamin interview