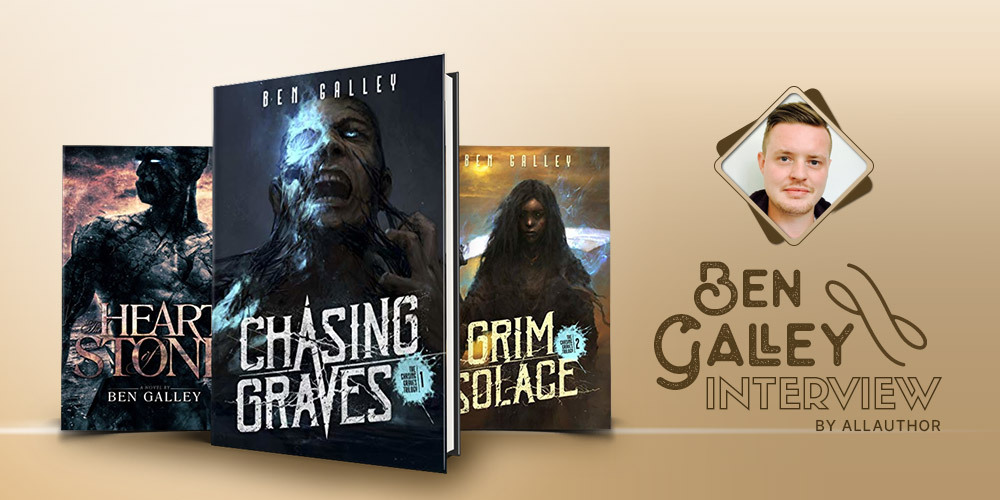 Where were you born? Since how long have you been living in Victoria, Canada?
I was born in Cambridge in the UK on a blustery night in November 1987. I grew up in Scotland before finally settling on the south coast of England for the majority of my life. I decided to emigrate to Canada in 2017 and have been lucky enough to remain here since.
Where did you go to college? Which subject did you study?
Instead of your usual kind of college, I went to a music university in Guildford called the Academy of Contemporary Music. I studied music for two years there, specialising in bass guitar. It was a fun period of my life, taught me a great deal, and now I can pull out a savage slap bass solo at parties if I need to.
What are your hobbies apart from writing?
I'm still playing bass, and since moving to Canada I've taken up a lot more outdoor activities, such as hiking and exploring, and a bit of photography thrown in. I'm also an avid gamer and reader.
Do you ever have writer's block? How do you overcome it?
I'm one of these annoying people that doesn't really get it. I plan extensively, which helps give me direction when I write and stops second-guessing worming its way in. If one section proves too tricky I either rework my plan or skip to the next section.
What inspired you to write your debut novel, The Written, in 2010? Did you expect it to become a bestseller?
I had high hopes, that's for sure, but its success has blown me away. It's been ten years and the series is still going strong. I was inspired a lot by Nordic mythology, and if I'm honest, a UK TV show called Merlin. I remember being inordinately dissatisfied with Merlin's origin story and decided to write my own. The first thing to pop into my head was the magic system and the word "Emaneska".
Having released a range of award-winning fantasy novels, what do you think are the elements of a good story?
Entertainment matters most. This is a catch-all answer, but this applies to all genres. Entertainment has to be present in all areas, from the facets of a characters to the depth of the world. A good story transports the reader to another life or viewpoint effortlessly, and guides them along a rollercoaster of emotion. That's entertainment.
What sparked the idea for the epic standalone The Heart of Stone?
That's a tough one, as THoS came from a few different sparks of inspiration. Firstly, it was my need and fascination with a non-human protagonist. Golems have always been a creature I've wanted to explore. I also wanted to explore war in general, as well as the human emotion behind it. One day the two ideas just slammed together: a golem perfectly suited a machine of war or chaos, and was the perfect viewpoint from which to tell a story about humanity.
How would you describe your experience of working as a self-publishing consultant?
In a word: rewarding. Helping fellow authors is a passion of mine, and its an honour to be able to pass on my skills and expertise to others, and help them to achieve the same dreams I have.
Writing the fantasy genre requires the writer to let his/her imagination run wild. What are the other tricks of the craft that a fantasy writer needs to know?
I would say knowing how to build a coherent world is key, as is translating your outlandish fantasy concepts in a way that the reader can understand and relate to them. There is more information to deliver in fantasy than in a lot of genres, so the trick is to pepper a story with information without bogging a reader down.
Which book in The Scarlet Star Trilogy took the longest to write?
That would have to be the last book, Bloodfeud. It took a lot of work to wrap up all the storylines into a satisfying conclusion. There were a lot of moving parts to the Scarlet Star Trilogy, and a lot of characters that deserved their own ending. Making sure that happened in a logical, dominoes-like way was complicated and time-consuming.
Who inspired the character of master thief and ghost Caltro Basalt in "Chasing Graves"?
A lot of Caltro's roguishness, selfishness, and sarcasm, not to mention his hatred for authority, was inspired by a little-known comic and film character called Deadpool. I made him my own, though, as he is in no way a warrior or fighter.
'Shards: A Story of The Realm' is a very interesting and gripping story. Where did the plot come up from?
That was born from The Heart of Stone, and one of the flashbacks Task the golem has of his early days in the Diamond Wars. It was so fun to write a golem being used as a siege weapon that I had to go back and tell the whole story.
When it comes to writing, what are some of your hopes and ambitions?
I'm not going to lie, I want to be a household name in fantasy. I'm already writing full-time, so that's one ambition achieved, and I'm dedicated to churning through my 50 or so book ideas in the coming years.
Which is the next book you are working on? When will it be out?
I'm currently working on a sequel series to my Emaneska Series. It's called the Scalussen Chronicles, and the first book will hopefully be out this year.
When did you join AllAuthor? How has your experience been?
It's been a great platform for getting my books in front of new readers, and the tools are handy when it comes to marketing.
Share Ben Galley's interview
Evelyn Chartres interview
Les Jensen interview