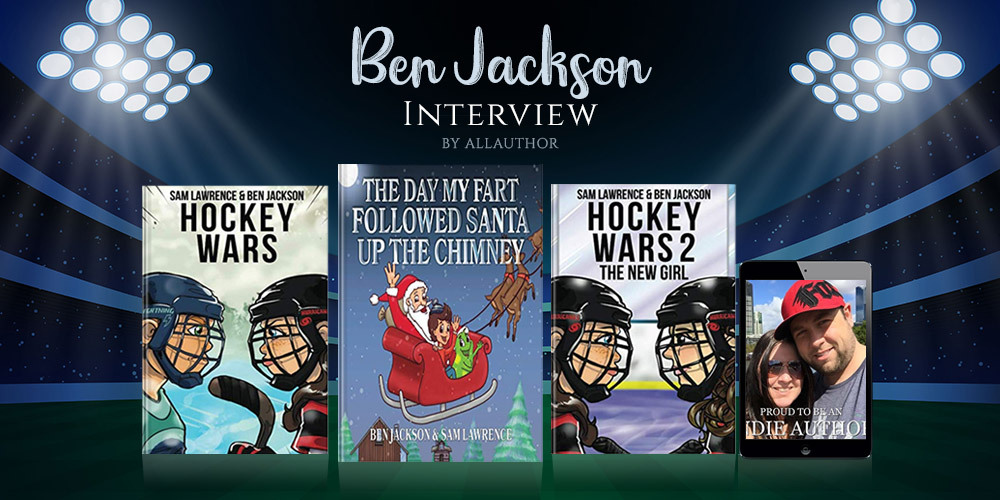 Do you still live in Tasmania, Australia? When is the best time to visit Tasmania?
I travel between Tasmania, Australia, and London, Canada. Anytime is a great time to visit Tasmania as we have amazing winter and summer locations to visit. There are a variety of different experiences such as the winter fest, Dark Mofo and also the Taste of Tasmania during the summer.
What inspired you to start writing? Are the stories in your children books inspired by the life you yourself have lived as a child?
No. My wife and I started writing our children's books after we were playing around one night making up silly stories.
What challenges have you faced on your journey of becoming a successful indie author?
Learning about the right steps to take in the right order and balancing keeping costs downs while still delivering high-quality content.
Since how long have you been a freelance writer? How much research is involved in the process of writing website content for businesses?
I have been a freelance writer for almost 4 years now. There isn't a lot of research involved in writing articles/blogs or website content, but I do quite a lot of research before I start each individual project.
Where did you meet your wife, Sam Lawrence? When did you both decide to publish a series of children's books?
We met in Queensland, Australia when Sam was studying to become a chef. After she hurt herself, we decided to move into something which would make our long-distance relationship easier.
How did you come up with the plot for "Hockey Wars"? Did you expect it to become #1 New Release?
Hockey Wars is my wife's inspiration and she is the driving force behind the series. I do a lot of the writing, but she helps to come up with the storyline and the character profiles. She also works closely with the illustrator to design the illustrations which are in the book.
How did the idea for Indie Publishing Group come? Your tagline says, 'Indie Publishing Group makes Self-Publishing Simple!' What steps do you follow to make self-publishing simpler?
Having written and published our own books, we understand the process of creating and self-publishing books now. There was a lot of trial and error along the way and Indie Publishing Group was created to help other indie authors avoid the mistakes which we made.
There are a lot of vanity presses out there charging indie authors a fortune to basically self-publish their books. Our goal is to help indie authors self-publish their books without them having to sign any contracts or lose any of their royalties, but still publish a premium product.
Who helped you with the cover of "The Day My Fart Followed Santa Up The Chimney"? Or did you design it yourself?
Our illustrator Danko Herrero helps us with all our Little Fart books, and Kyle Fleming does the illustrations for our Hockey Wars series. Kyle also does all the cover art for the Hockey Wars series.
The "My Little Fart" series of books are both fun and hilarious. How did you come up with the unusual title of the series?
One night when my wife and I were relaxing we both came up with the idea for the character and the rest just sort of flowed on from there.
Who inspired the characters of Millie and Cameron? Who is your favorite among the two?
My wife Sam comes up with all the characters for Hockey Wars. Her childhood was spent playing hockey and even now she participates in a winter hockey league.
How has been your experience of working with your illustrator, Danko Herrera, and Kyle Fleming?
Working with Danko has always been great. He understands what we need for our Little Fart books and makes the process simple and easy. That's why he works through Indie Publishing Group for us. His positive attitude and amazing talent are why we recommend him to other authors.
Working with Kyle on the Hockey Wars series is also a fantastically easy process. Both Kyle and Danko are extremely talented and understand the intricate nature of creating children's book illustrations and covers.
If you could ask one successful author three questions about their writing, writing process, or books, what would they be?
1. How do you come up with the idea for your books? 2. What are the steps you plan out when you settle on a book idea? 3. What's the one thing you would recommend to new authors?
What are some common traps for aspiring writers? Do you have any advice on how to avoid or overcome them?
Have someone professional edit your books. Also, don't try to save money or take shortcuts that are going to affect the finished product.
Have you ever worked on multiple novels at once? What are you working on now?
I'm supposed to be writing Hockey Wars 3 right now! But I'm doing this author interview instead because I'm a terrible procrastinator and I get easily distracted!
How did you come across the AllAuthor website? Could you tell us your thoughts on the website and if there's anything we can do to improve it?
I really like the tweet scheduler. Managing social media takes up so much of my time and now this is one thing which I don't need to worry about. I would love to list the AllAuthor site on my website as an affiliate and share this great site with other authors. Maybe that's something you could add?
Share Ben Jackson's interview
Jacqueline Mead interview
Christopher C Tubbs interview