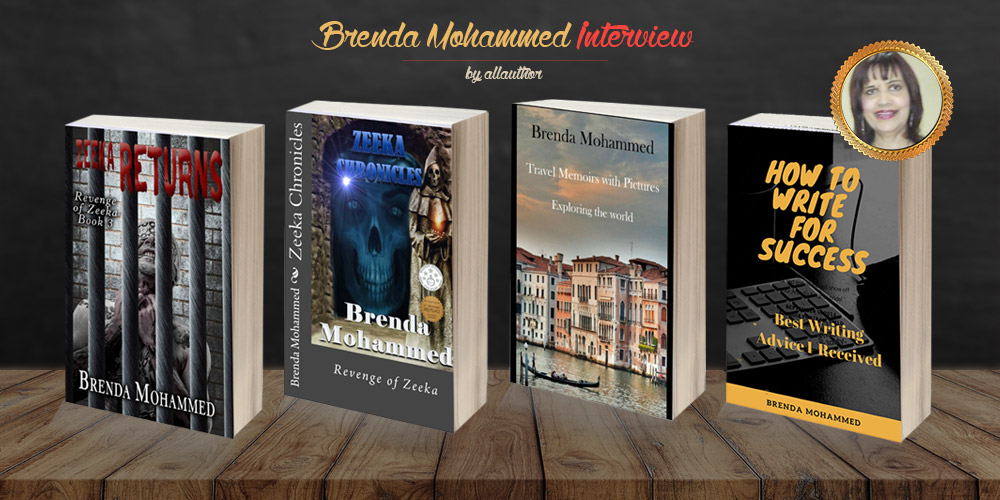 Tell us a little about your hometown and your life there growing up. What did your parents do for a living?
I live in Vistabella with my husband. It is a beautiful town in Trinidad. Our house overlooks the ocean. Trinidad is an island and surrounded by sea. I did not grow up in Vistabella. My father was a headmaster and worked all over the island at different times in his career. As a small child I lived in headmaster's houses in Claxton Bay, Penal, and in Sangre Grande when he gained promotion as an Inspector of Schools. My mother was a handicraft teacher. I wrote all about my childhood in my memoir, A Life as a Banker: A Life worth Living.
What made you decide to give up your job as a Bank Manager and pursue writing? What were your parents' reactions when they found out you wanted to write full time?
I did not give up my job as a Bank Manager. I reached the compulsory retirement age for female staff. At that time, females were allowed to retire at a much earlier age than males. I obtained a job in an Insurance Company as a Financial Advisor and continued working. I wrote my first book, "I am Cancer Free," in 2013, after my near death experience with cancer. I wanted to tell the world that cancer is not a death sentence. My writing career started then. My parents were not alive when I started writing.
When did you move to the Island of Trinidad and has it any way helped your creative process as an author?
I was born in Trinidad. I have had many travel opportunities with my jobs in Banking and Insurance and that has helped me with the creative process as an author.
What or who inspired the name "Zeeka" and his character? Does the name have a deeper meaning?
The Zika virus inspired the name 'Zeeka.' I built the story on the premise that a doctor discovered a cure for the disease but the hospital did not approve of its use. Zeeka Chronicles won Best Science Fiction Third Place in SIBA Awards 2017
Do you think it was harder or easier writing about your own life in "My Life as a Banker" as opposed to making a story up from the top of your head?
It is easier to write a true memoir than to write fiction. With a memoir, you already know the facts. With non-fiction, you have to build a plot, create a story world, form characters, and many other factors have to be taken into consideration.
Have you ever got into legal trouble while researching, writing, or publishing any book?
Never.
Why did you write the book "She Cried For Me: Autobiography Of A Dog"? What were some things you hoped to achieve with this book?
When my pet dog died, I wanted to immortalize her. The only way to do so was to write her story. She was a dog who was badly treated by her previous owner before I adopted her. She Cried for Me is a remarkable story for pet and dog lovers. Proceeds of sales of the Book will go to the Animals Alive Dog Rescue Shelter, the Sanctuary referred to in the Book.
On whose life did you base the book "Memoirs of Dr. Andrew Moonir Khan" after? Of all your books, which one made you the most emotional?
Memoirs of Dr. Andrew Moonir Khan was about the life of my father. Of all my books, this book makes me the most emotional. My father had to overcome many obstacles in his life to become a trailblazer in Education in Trinidad. He climbed the ladder from classroom management to school principal, and superintendent of schools. Later in life, he became a Presiding Elder in his church and preached many sermons, some of which are appended to his biography. His story is both motivational and inspiring.
We know that all a writer's books are like their children, but if you had to choose, which one would you say is your favourite?
My favourite is Zeeka Chronicles: Revenge of Zeeka. It was hard work writing the five stories in the series and compiling them into one book. The series scored a double with Readers Favorite. I had compiled the first three books into a trilogy called Revenge of Zeeka: Horror Trilogy. In September 2016, I submitted the trilogy to Readers Favorite for a free review. The book received a five-star review and five-star seal. The following year I added two more books to the series - Zeeka's Ghost Book 4 and Resurrection Book 5. I compiled the five books into one book called Zeeka Chronicles. I sent it to Readers Favorite and it received a five-star review and five-star seal. My greatest wish is for that book to be made into a movie.
What does your family think of your writing? Who has been your biggest source of support throughout your career?
My husband, our two children, and sisters are supportive of my writing. My daughter reads every book I write and gives me pointers.
When it comes to writing self-help books, what are some golden rules you like to follow? Where or from whom did a majority of the advice you give out in "How to Write for Success" come from?
The book covers plotting, writing dialogue and narrative, building your story world, choosing a book title, writing the blurb, what an author should do before and after publishing, choosing categories, creating an author brand, book marketing, and most of all how to get sales and reviews. It does not end there. A reviewer had this to say about the book. "If you are thinking of writing a book but don't know where to start, then this book is the one for you. It's a comprehensive guide to all aspects of the process from picking your topic, deciding on your cover to how to sell your book once it's out there in the marketplace. I found many interesting facts and tips here and jotted them down as I went along. This is a book to keep and refer to on a continual basis. Well worth buying and a must-have for all writers!" I acknowledged AllAuthor.com for its innovativeness and recommended it as one of the best website providers. The book was on pre-order on Amazon for 0.99 cents until it was published on 1 st December 2017 when the price increased to $2.99. It is also available in print. To date, it has received three five-star reviews.
What is the best vacation you've ever been on?
I have been on several wonderful vacations and they are all detailed in my book, Travel Memoirs with Pictures. However, my very first vacation was a mega one. It was a trip to New York, Canada, London, Germany, and Holland. I described that trip in my book, My Life as a Banker. That trip stands out in my mind.
Are you working on anything new? What are some new topics or stories that you want to experiment with in the future?
On November 21st, 2017 I published a free book containing exciting excerpts of all my works called Icebreakers. The purpose of that book is to give Readers a taste of my writing. It is available at Instafreebie and Books2Read.I am also experimenting with other topics for fiction but those will be surprises.
Share Brenda C Mohammed's interview
Melissa Haag interview
Alex Lukeman interview