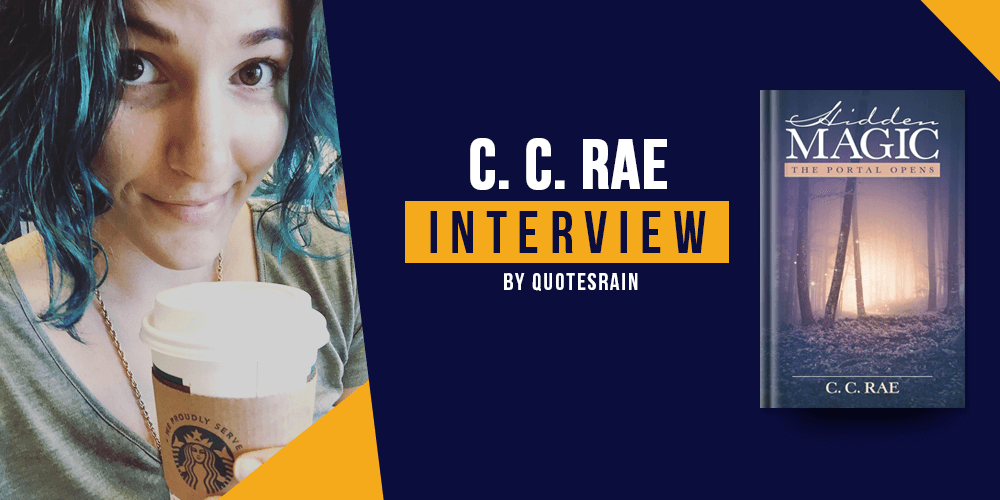 Tell us about your life and your struggles.
I grew up as the youngest of three girls and, frankly, I am extremely fortunate to have the life that I have. My parents have always been supportive of my independence and creativity. I come from a very close family and I couldn't be more grateful to be able to say that. As a family the greatest struggle we faced was watching my oldest sister Mandy suffer from Meningococcal Meningitis. To watch someone you love lie in a hospital bed, see their limbs blacken and blister, and not know if the doctors can save their hands let alone their life, is an experience that forever changed me. I was 15 at the time, and this happened not long after I began writing the story that would become Hidden Magic. Watching my sister struggle to survive a disease with a 95% mortality rate was a stark wake-up call for me at the time. My sister was only 25 and so near death. I became painfully aware of the fragility and brevity of our lives. It became clear to me that with uncertainty like that I could afford to wait to pursue my dreams. I just turned 26, and thankfully I can say that I haven't lost sight of that lesson.
How passionate are you about writing?
I absolutely adore writing. After struggling to read early on and with the help of my 3rd grade teacher who made it her mission to help me learn, I have excelled in English throughout school and when I finished my first book while still in High School I realized that if I was going to become a full-time author I should treat that career like any other vocation. I continued to study English. I earned an Associates in English and then a dual Bachelors in English Literature and Creative Writing. Admittedly, I loved every minute of it, from my Creative Writing 101 class to the two semesters of Shakespeare (one semester was required, the second semester was just because I loved Shakespeare.) I always loved school. I thrived in classrooms and relished every essay because I love the art of writing, both in the discipline of arguments and creative writing.
How long have you been writing and what inspired you to become a writer?
I have actually been writing since grade school. I loved to journal as a kid, and I have several diaries from over the years. Expressing myself has always been a joy of mine. I started writing short stories of fiction when I was in middle school and eventually started the story that would become Hidden Magic the summer after I finished my freshman year of High School. I just loved it and that was all I needed to understand that clearly that was what I should be doing with my life. I think I was ultimately inspired by my father; he is a pilot. Growing up I heard my dad talk about how he wanted to fly, all his life. What started as a little kid pretending to be Superman eventually led him to get his pilot's license when he was in High School, to become a fighter pilot in the Marines and finally a commercial airline captain. My dad taught me that you find out what you love and you chase after it, that's it. I found that I love storytelling and I never looked back.
How did you get the idea for your first book?
I had a brand new pair of running shoes, red and white, and when they were fresh and clean I had the idea "wouldn't it just suck to be wearing your brand new clean shoes only to find yourself running for your life through a muddy forest?" That lead me to wonder, "why would I be running through a forest, what's happening here?" That was how it began. Nicole's muddy run through a forest no longer exists in the book, but I still have the running shoes that started it all.
While choosing a name for your character, what aspects do you consider that determines what you finally call them?
For some characters I use loved ones as inspiration and so I use their middle names or a variation of them as a sort of clue for them to know the character they inspired. For other characters, especially those from the other realm, I like to use uncommon names. Over the years I have used baby name websites to find names. I also like to look up the etymology of common names and find out where they came from or how they may have changed from centuries ago and sometimes I use that old version to hearken back to another age.
Do authors in general and you in particular plan series beforehand or do they just happen?
They just happen, for me anyway. When I "finished" Hidden Magic (it was not called that at the time) I had no idea what was coming. It did not take long to figure out that the story went on from there and that a second book was required. I say required because I never had a choice in the matter. Then one day when I was hashing out the general story line of the second book to a friend, I had a dreadful epiphany. I honestly felt a little sick as I realized I hadn't even started the second book and there was already a third. I blame my friend to this day. That's been the nature of my story development from the beginning. They seem to unfold for me. When I was writing the third book I was struck by a realization that certain events were connected to the first book and I hadn't even realized it. That created a bit of a headache for me when I had to go back and work through book one to get all the details adjusted.
How do you choose which stories to tell?
I don't, they choose me.
Do you ever get writer's block?
Absolutely. My books have developed so organically and out of my control over the years that on the occasion when I take control and make a change as a prudent development decision, I can suffer from block. When I cut away a part of the story that has existed from the beginning and I know by heart, its like cutting off a finger and trying to type the way you always did. Suddenly there is a whole in the story and not only do you have to fill that whole but your new dialog and events must eventually lead right back to the rest of the story and continue on seamlessly.
Do you have a "reader" in mind while writing?
I write for one specific reader: me. I started and always have written these books first and foremost for myself. I am a picky reader and my own worst critic. Ultimately, I wanted to write the best adventure I had yet to read. I was tired of male characters always being the heroes. I wanted a story about a girl who was her own worst enemy and that the greatest challenge of her life is accepting herself, not falling in love, or choosing between two guys. I was tired of perfect heroes. I wanted to see the hero be the monster too.
Who is the first person to read the first draft of your books?
My middle sister Renee read the first version of my book and I commend her for it to this day. That draft isn't even a shadow of what it has become, not to mention the writing was probably pretty horrendous.
How do you get reviews? Which was the best review you ever got?
Hidden Magic is still a budding novel in the market and truth be told is has very few written reviews, almost all of them being on Amazon and written by people I know. The best review I ever got was actually an email sent to me through my website from a fan in Poland. The fact that this reader proved my book had gone international was not the reason why her private review was the best I ever got. She was the first reader and complete stranger to reach out to me from a genuine love of the book. Most of my sales so far have come from face-to-face encounters, whether family and friends or people I have met at my book signings (most of them being local to my hometown and University town). There is just something so incredibly special about a review unsolicited and unbiased like that. I will remember this reader's name until the day I die.
What does the word "story" signify for you?
The beautiful thing about the word "story" is that we use it when referring to fiction or non fiction. When it comes to the written word, a "story" is alive whether the characters are fictional or real, or the events are factual or made up.
Do you think an author should be bound by Genre?
I don't believe any author is bound by genre, rather the industry is bound by it. We need it to organize our bookstores. I personally think it is necessary to a degree, but it is something that is meant to be defied and changed. For me, I love fantasy but I grew a little tired of seeing the same tropes constantly. Why magic had to exist in a medieval setting of dungeons and dragons, wizards and kings got to be...boring. I love Science Fiction as well because I have always loved the idea of looking toward the future. My books have been a way for me to play with fantasy and magic while breaking out of the genre stereotype. I wanted magic and technology, mythology and advancement together in one realm.
Are you currently working on anything?
Yes! I am currently preparing my second book for publishing. Lost Prophecy is the book that follows Hidden Magic and I cannot wait to share it with my readers.
Do you have a special time or place for writing?
I am always writing. It is not something I do only when I have a composition book or a computer in front of me. If I have my brain with me I am writing. While I walk the dogs, go to the gym, am out for a run, for years while I sat in classes and lectures, there is no time when I have not thought about a particular scene, mulled it over, played with words, written and re-written the scene in my head for later use. When I have writer's block on my current project, I often work on other stories I have planned for future books.
How do you promote your work? How will QuotesRain help you in your book promotion and sales, would you like to refer this platform to your author friends?
I think the most effective promotion for books is social media which is why I chose to work with QuotesRain. Books become popular by word of mouth and social media is the grapevine of the 21st century. While I don't currently have any author friends, I have referred this platform to my publisher as a great affordable option for authors looking to promote.
Would you like to share something with your readers and fans?
They are a small group but they are so incredibly loved! There is nothing more enriching for a storyteller than hearing how much someone has enjoyed your work. I am an author, my books are sitting on the shelves of readers, and that has been my ultimate dream for years; it is a dream that only came to fruition because of readers, so thank you.
Share C. C. Rae's interview
Terri George interview
Janet Doolaege interview