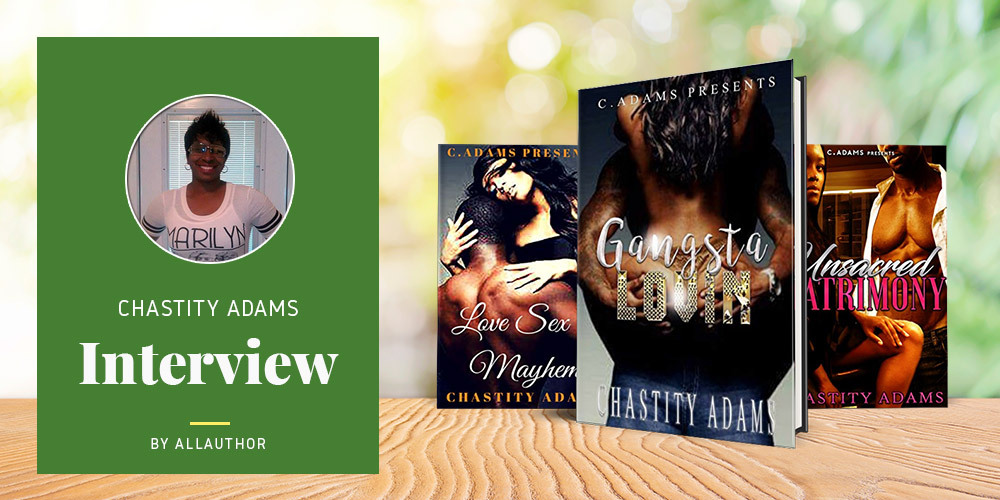 Where have you spent most of your childhood?
I spent my entire childhood in a small town called Stantonsburg, North Carolina.
Who introduced you to the world of books?
My grandmother introduced me to the world of books. See she couldn't read or write so it was very important to her that I mastered both of these skills. So, she started me out reading and writing a very early age and I fell in love with it from the very beginning.
Why did you choose to start out as a self-published author?
I became a self-published author because I wanted to share my passionate creativity with the world, and I was tired of waiting for a major company for months at a time only to be rejected. So, I researched how to do it on my own. I also feel more comfortable as a self-published author knowing that no one can take the rights to my work and do whatever they want to do with it. Also, as a self-published author, I am not under a lot of stress of exaggerated deadlines and I can create and write and publish on my time.
What developed your love and passion for writing?
As I previously mentioned I have been writing from a very early age. However, it wasn't until my grandmother passed away in December of 1999 that I truly dove into the passion of my creativity. I realized that writing was not just a skill, but it was also therapeutic in many ways.
What are the challenges of being a self-published author?
Challenges of being a self-published author is pretty much learning to do everything on your own. However, it is all worth it in the end. Because those challenges will make you a better author and a better businesswoman/man in the literary world.
Why did you decide to write under the pen name Miss Radiance?
I used the pen name Miss Radiance a while back because it was a testament to my writing that was pure and sweet, just like my personality and my smile. However, as I got older and wiser and started writing more raunchy things I decided it was time for a change. So, my mentor helped me come up with the pen name Chastity Adams.
How was your experience of publishing your work with CreateSpace?
My Createspace Experience was great and not complicated at all. I would go back to Createspace if I could at any moment.
How did you begin writing the Love Sex & Mayhem series?
That series was created after I had a brief encounter with a guy who started stalking me and wouldn't let go even after the relationship was over. I use some of that reality to bring this story to life.
What inspired you to write your book, Gangsta Lovin' 4: The Price of Fame?
Gangsta Lovin' started as a standalone book. However, after many fans read it on Wattpad and decided they wanted to know about the rest of the family, especially the main character Luke Davis, the story took on a life of its own and went from one book to five total in this series.
Who inspired the characters of Aaron Cooper in "Careful What You Wish For"?
Aaron Cooper was inspired by an ex-boyfriend who never appreciated what he had until it was gone. That is the point I wanted to stress in this book.
How close are you to your dream of becoming an all-around literary businesswoman?
I am still not as close as I would like to be, but I get a little step closer every day. I understand success is a daily process.
How can authors and aspiring authors deal with the lows that come with writing as a career?
Just keep writing and working. Don't give up and don't give in to the negativity or discouragement. If you do you will lose your will to be creative and be ready to throw in the towel. Everybody's journey is different so the time frame for your success will not be the same as the next author. That is something you have to tell yourself every day and keep pushing no matter what knowing your time is coming. You have been blessed with a gift that not everyone can successfully execute.
What is the one advice you would like to give to young writers in the world?
Dream Big, Work Hard and Your Time Will Come. No matter what, never quit writing, never stop learning the business, and Stay Positive.
Share Chastity Adams's interview
John Watson interview
Judy Kentrus interview