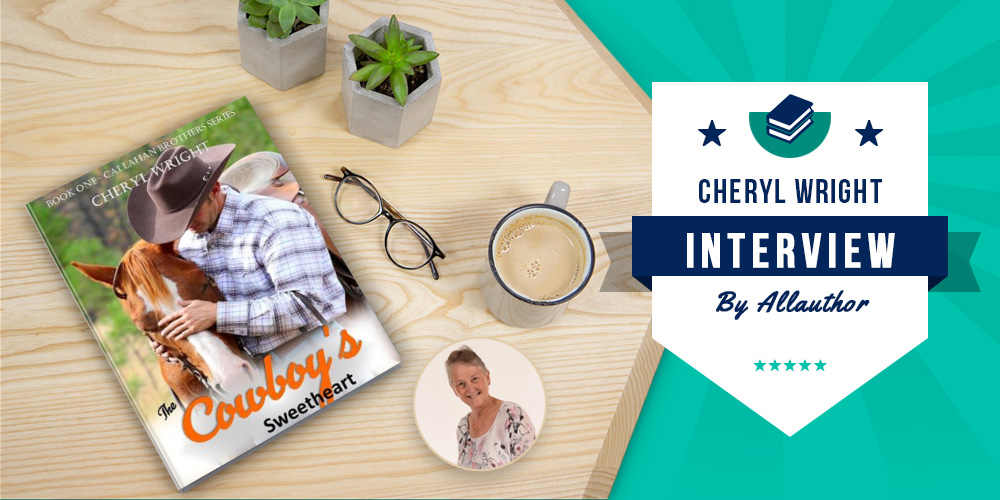 You have been publishing books since 2003. How has your writing changed over time?
Since I was first published in 2003 I'd written mostly romantic suspense book. I've had three different publishers, and they all wanted the same thing from me. Which was fine at the time, but when it came a time I wanted to try my hand at another genre, it proved to be difficult.
With two author friends pushing me toward self-publishing and writing westerns (which I love reading), I finally bit the bullet in January 2017. I released my latest book, Deadly Debt – a romantic suspense – then began work on something totally new; a contemporary western romance series.
Apart from writing books yourself, you also coach writers. What are some of the tips you would give to aspiring authors and writers?
Number one: never give up! It can (and probably will) take many years before you have a book good enough to be published.
The second piece of advice I'd give is keep writing. Practice as much as you can because that's how you improve.
And number three: don't let anyone tell you it's not possible to make money as a writer. It can be slow coming, but it will happen.
Do you enjoy being a teacher more or a writer?
That's a hard question. I get satisfaction out of helping other writers, but I also love writing stories for people to leave their stressful lives for a while and live vicariously through my characters.
If you could have any other profession apart from being a writer, what profession would you choose and why?
I'd probably choose singer. As a teenager I did a lot of singing on the stage. I also appeared on television, had many appearances on radio (it was live back then ) I also sang in a local bistro, and at a lot of seniors events, thanks to my vocal teacher. I loved it and did it for many years.
Has your family influenced your writing in any way? Has it inspired any of your plots?
My mother wrote poetry. She never sought publication, but she should have. She always encouraged my writing and was my biggest fan.
Who is your favourite brother in the Callahan Brothers series?
Now that is a hard question! I would probably have to say Rory, and that's really only because he was the first brother. I happen to think all four are pretty sexy though.
Many of your readers wish that there were more of the Callahan brothers. Do you ever wish the same? Can we expect more books in this series?
My original intent was to only write each brother's story. Then readers were asking for Deputy Chris Dolan's story. I was more than half way through it when I decided not to add it to that series – because I felt it didn't fit there. Instead, with the help of my wonderful readers, I decided to start a new series called "River Valley Lawmen". It is a spin-off series from The Callahan Brothers, and is set is the same town. That means a lot of the characters from that series also appear in this series.
I asked the question (through my newsletter), and my readers told me they preferred to have a 'linked' series, and I listened. Chris's story is book one, and I loved writing it. I've just begun working on book two.
The Soiled Doves series is a Western Historical Series. Can you tell us about the kind of research that goes into writing a historically sound book, in order to make it more authentic?
I almost didn't write "Bessie" from that series. I was invited to write for it by the series owner, Margaret Tanner, and I initially said no. As much as I love reading historicals, I'd never written any. But Margaret wouldn't take no for an answer, so I spent the next few weeks working out my storyline, then doing the appropriate research. And there was a lot.
Because this series is about soiled doves (prostitutes) the main character would be in an almost constant state of undress. I needed to research underwear to begin with, and not just for women, but also men. You also have to be precise about the era, because there were some very distinct changes in clothing less than a decade later.
I had to research outer clothing, hairstyles, food, and even medicines of the time.
I thought I'd done more than enough research beforehand but did a lot of stop/start writing to do more as I wrote. (Which was totally unexpected.)
There is so much information on the internet, which is great. But then, in January I went on a cruise to New Zealand with hubby, and we visited a historical mansion. I was in my element – it was exactly the era I wrote about (and will be writing about in a subsequent book for this series). I saw underwear, bed clothes, dresses, shoes, cutlery, crockery, and much more. Even the original baths and furniture were in the grand old building. I took literally hundreds of photos and was so sorry when we had to leave. I could have spent many more hours there. But sadly, our bus was on a schedule.
Yeah, I guess you could say there's a ton of research!
How did you come up with the character of Bessie in the Soiled Doves series?
Funny you should ask – the name just popped into my head, and I checked it was relevant to the era, which it was. And then I found the perfect image for her, and everything fell into place from there.
You may have noticed there is a common theme that runs through some of my books, and that is a few of the female characters are singers. As a teenage singer myself, I know that world. I know how it works, and I've been told by readers it comes across as very authentic, which is exactly what I want.
If you could be any heroine from any of your books, who would you choose to be and why?
I think I would be Missy from book one of the Callahan Brothers series. As a young child and also a teenager, I spent a lot of time with horses. My parents took all us kids to rodeos each year, and my dad's first-ever job was at a rodeo. He spent some time breaking horses as well. My uncle (dad's brother) looked after the horses at a mountain resort, as well as taking visitors on trail rides.
Missy is a horse gal, and that's what I was too. I still love horses, but don't have the contact anymore. (That may change as one of my granddaughters is getting her own horse very soon!)
What would you say is your biggest accomplishment that is not related to writing?
Staying alive!!
As a youngster I had several brushes with death:
When I was a baby, someone dropped their cigarette ash in my bassinette, and burned our house down. Obviously, my parents managed to get me out!
When I was one-year-old, I nearly drowned three times in the one day in the same river.
Also as a one-year-old, I contracted measles. I was hospitalized and nearly died. (My dad was called from up on the mountain to the city to say goodbye to me.) I have a lung disease called Bronchiectasis as a result. (It can be quite debilitating, and causes several chronic illness, of which I have a few.)
And last but not least, I nearly died from pneumococcal pneumonia about seventeen years ago.
So as you can see, I am very lucky to still be on this earth.
How many book ideas do you come up with on an average? And how do you decide what ideas are feasible?
I have the start of five different books sitting in my computer right now. One is for a (as yet secret) series I've been invited to write for next year, I've already ditched one of them, but the rest are probably goers.
How do you deal with criticism?
Depending on what it is, it can hurt. I recently had a review that said there is no emotion in my stories. And it stung. But the other dozen or so reviews said the opposite, so I knew that wasn't right. I also try to keep in mind that books are very subjective. What I like another person may hate.
What book ideas are you currently working on?
I have just begun a new series called River Valley Lawmen. I'm not sure how long this series will be, but it will be at least four books long as I've already introduced that number of characters into "Chris" - the first book in the series.
Share Cheryl Wright's interview
Alexa Kang interview
Michelle Windsor interview