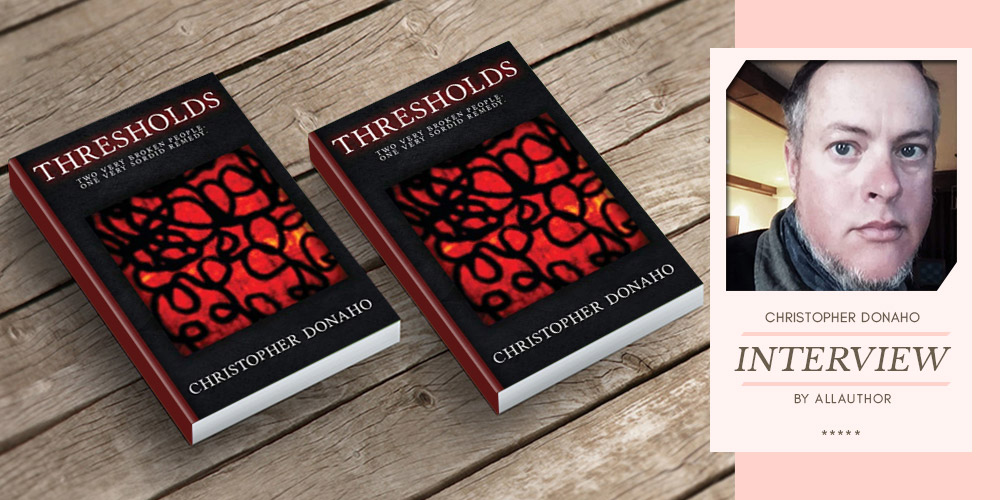 Tell us a bit about your childhood and family. What was your favorite past-time as a child?
My favorite childhood memory is hearing my dad's typewriter and the smell of whiteout. I had a relatively good childhood. I realize, as a parent my parents were trying. I was a nerd until I discovered drugs. They took tiny chunks out of me but I'm semi okay these days with a smidge of humility.
How did your parents first take to you being an author? Are there any other writers in your family (published/professional or unpublished/amateur)?
I'm 42 and just recently started writing. I sobered up before my dad passed away so I think that was more important to him than this could ever be.
When did you begin your career as a writer? What do you think withheld you from becoming an author sooner? Do you regret it (not becoming an author sooner)?
I've been into visual arts for the longest. Painting, sculpture and carpentry. Only recently started writing. I was a homeless drunk in my twenties then my thirties became a workaholic. I'm just desperate to do more with my life than work in industry.
Where did you meet Hillary Crawford? How has been your experience working with your editor?
I love Hillary to death, shes taught me so much about the industry. We both got screwed by a company I'd rather not name. She has a beautiful heart, as well. Love her. Grateful for her.
If you were to write yourself as a hero, what kind of hero would you be? And would you change any physical or mental attribute of yourself to fit this fictional form?
I don't do that, I'm very real and honest. I'm broken just like everybody else but for the sake of an answer I'd love to fly. My daughter and I always play 100 questions and thatd be a cool power we both agree on.
What sort of research did you have to do for your book "Thresholds"? If you were to meet Julia in real life, what are some questions you would like to ask her?
I wrote based on my own life experiences with sex, depression, the need to escape myself and using others to do that. I think I'd ask her for my lighter back.
If "Thresholds" were made into a movie, who would you want to play John and Julia? When choosing names for your characters, what are some things you consider?
I actually approached Danika Mori (porn star) and her husband to play them. She never answered but it was through Instagram and nobody ever reads those. I am talking to an indie film maker to convert it to film. I'm excited about that. Working on getting an audio version too.
Originally they didn't have names. It was real simple but borderline with vague.
Do you prefer writing a story and all its characters based entirely on imagination? Or do you like to take inspiration from real life and the people around you?
Definitely real life inspiration.
Do you remember the first love-making scene you ever wrote? Looking back now, what do you think of it and how do you think you have grown as a writer since then?
Oh yeah, it took place in a bookstore up against the bookshelves. I think I have grown a lot in one project. My latest project, Desecrating Eden, shows that. I'm happy with it, but Thresholds helped cut my teeth.
Who has been your biggest motivator and supporter throughout your career? What do you wish you could do to thank them for their help?
To be perfectly honest, my exes, two of them in particular- that used me pretty bad. Thresholds was a middle finger to both of them. And it felt damn good. I wrote out of spite. Whatever works.
Where do you like to write most and at what time of the day?
I wrote Thresholds in the middle of the Bakken oilfield in North Dakota, freezing. While working 80 to 100 work weeks during my divorce. A messy year.
How did you come up with the plot and characters for Threshold? What were you trying to achieve with this story?
I wrote the "oral scene" as a sext between my ex and a girlfriend of ours and she said I should get paid. I agreed. Wrote Thresholds around that scene.
Besides 'writer's block', what are some frustrating things that can happen that can sap an author's creative juices or energy to write? How do you overcome that?
Financial stress and dealing with certain agencies which seem more like hurdles and bear traps for indie authors. I'm more creative when my bills are paid up.
Are you working on anything right now? And what is one piece of advice you would like to offer to aspiring writers?
Desecrating Eden is about a couple that venture into bondage to spice up their love life and undergo a transformation they weren't expecting. Like John and Julia, they're very real people.
Advice? Push through the mob in your head.
Share Christopher Donaho's interview
C. K. Green interview
Jackson Marsh interview