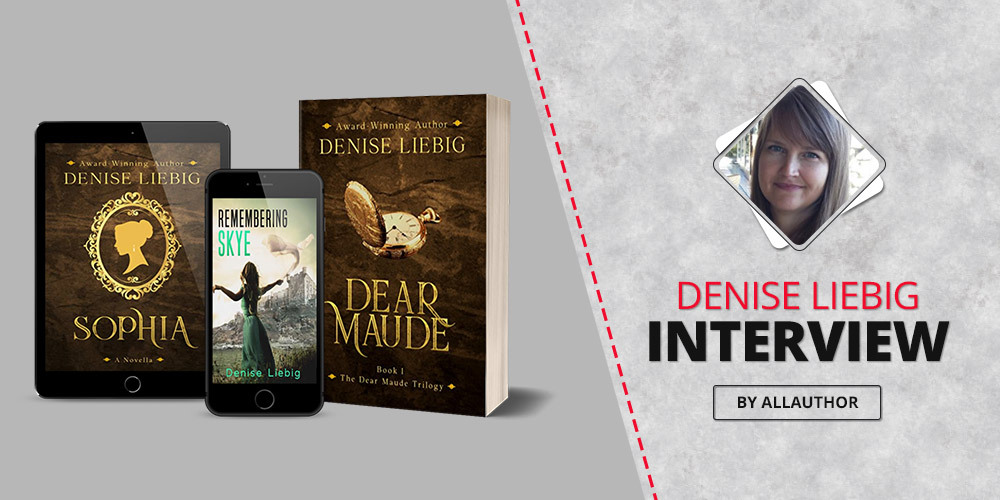 Where have you spent your childhood? What are some of your favorite childhood memories?
I grew up in the Pacific Northwest portion of the US. I have amazing childhood memories of my family trips to the beach and mountains, as well as frequent visits to nearby British Columbia, Canada. My favorite memories involve traveling to our family beach house in a coastal town in Oregon called Seaside. We didn't have a phone or TV, so we spent a lot of time beachcombing, playing board games, and reading. Those trips were a big influence on my reading and writing habits.
What was the first book you ever published? What year was this?
My First book was "Dear Maude," which I published in 2014.
What are some of the things you have learned from your favourite authors?
Each of the authors I read teach me something different about writing style, dialogue, and, especially, storytelling.
How was your experience of writing "Remembering Skye: A Time Travel Novelette"?
This was a fun book to write. I'd just written the Dear Maude Trilogy and was looking for something less complicated. "Remembering Skye" kept my creativity flowing, but, since it's a novelette, it didn't involve a lengthy plot or months of research. It came along at the perfect time for me, and I wouldn't mind writing more, smaller stories in the future.
What is your work schedule like when you are writing?
On my writing days, I try to clear my mind by taking a walk in the morning. Then, as I get ready for the day, I think about my current writing project and try to come up with a gameplan. By the time I sit at my desk, I usually have a chapter or scene ready to go in my head. I typically write until the early evening when I stop to get dinner going for my family. I love to cook, so dinner is another creative way of finishing off a day of writing.
Who is your target audience? What are some things you wish your readers would take away from your books?
My stories usually involve a young woman in her twenties who finds her modern life mixing with the past somehow. I used to have a target audience for my books that included women from ages 18 to 35. I soon discovered, however, that my audience included women of all ages as well as many men. It was a wonderful surprise. So now, rather than target certain readers, per se, I try to tell a story of a young woman that (I hope) appeals to anyone interested in taking an adventure in time. In the end, I hope readers are entertained by my books.
What inspired you to start writing "For the Love of Maude"?
I knew I wasn't finished with the Dear Maude Trilogy when "Dear Maude" ended, so I continued the story in "For the Love of Maude." I've always enjoyed learning about the roaring twenties, so that is what inspired the direction the story takes. It needed to go there and so did I!
Why do you think many authors struggle with book marketing and promotions, even if they've written a great book?
I believe that book marketing involves another side of the brain, the left side; while writing tends to involve the creative right side, which most writers would prefer to visit exclusively. Aside from a lack of interest in wearing the marketing hat, so to speak, it's also difficult to wear both hats and to wear them well. For authors to succeed at selling books, however, we must work on that other side of our brains, something most do reluctantly. I'm just glad there are services like allauthor.com that help writers promote their books, so they can get back to writing.
How important do you think book covers are? Who usually designs your book covers?
I think book covers are vital to book sales. People do judge by the cover and having a professional, eye-catching cover makes a big difference. The Book Khaleesi designs my covers for me.
What sort of research is involved when writing a suspense story?
Whether suspense, mystery, or any other genre, all of my stories involve a certain amount of historical fiction, which requires a lot of research. I typically read a dozen or more non-fiction books on the topic about which I'm writing. I also seekout many websites on the subject, and, if possible, I conduct interviews with people by phone and/or on the internet. The research alone takes months.
"Forever Maude" serves up one fabulous dish after another. What challenges did you face while writing the finale of The Dear Maude Trilogy?
Well, thank you! Trying to continue a storyline between three books within different eras in time was quite the challenge. With the final book, I wanted to draw as many conclusions as possible without having the story be too predictable. It also needed a happy ending. It took a bit to pull it all together, but I hope readers enjoy the result.
Do you have any quirky writing habits or rituals?
Not really. I just try to clear my head so the story can find its way onto my paper or computer screen.
What is the toughest criticism you've ever received? What was the best?
The toughest started with, "You can definitely write, but..." I'll spare you the details. It was horrible. I have to say, though, that it was also the best criticism I received because it led to a full rewrite in which I fleshed out some scenes and characters that might not have seen the light of day.
What are your plans for the future? Where do you see yourself as an author in 10 years time?
I plan to keep writing for as long as there are stories to write and people to read them. Hopefully that will be beyond the ten-year mark.
What has your AllAuthor experience been like so far? What are some highlights?
My experience with AllAuthor has been a great one! Any time I have had questions or needed assistance, I've received a response in a timely and friendly manner. Also, your mockups are a nice addition to my marketing efforts, and I've used many on my social media pages. The promotional tweets for my featured book have helped to build my platform and grow my audience. I appreciate all that you do, and thank you for the nice interview.
Share Denise Liebig's interview
Charlie Glasgow interview
Mark Castleberry interview