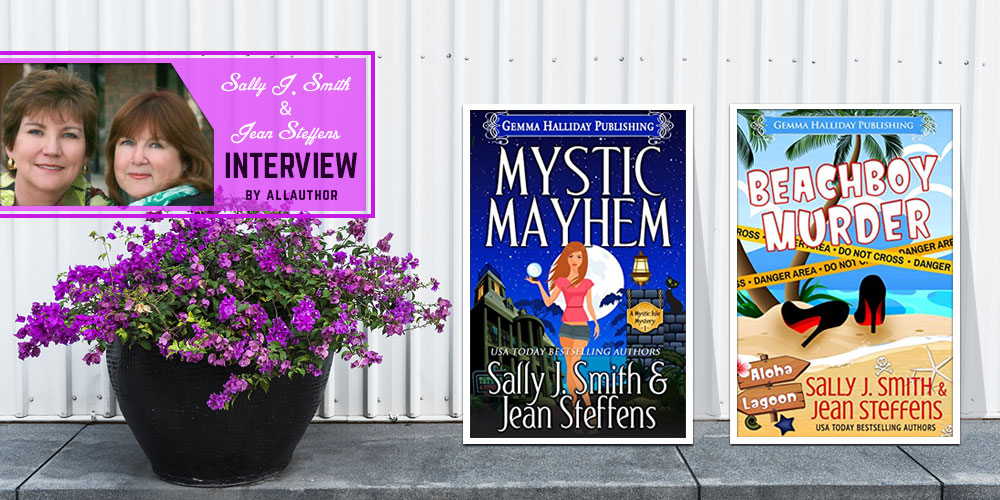 How long have you known each other? For how long have each of you been writing?
We've been friends for maybe six years, writing together probably five, and that close-knit, intimate working relationship, literally being inside each other's heads, has made us more like sisters.
Jean began writing about ten years ago. Sally's been plugging away at it off and on for decades.
I find your description of yourselves as 'Partners in Crime (writing)' to be very smart and accurate. How did you come up with this title? What drew you towards the genre of crime and mystery?
Hmm. Well, we are writing partners, and we do write crime novels...and if left to our own devices we probably would get ourselves in trouble. So it seemed like an appropriate tag at the time.
We write what we love to read.
It's very rare to find writers who are co-authors of multiple books. You are in the book industry what a band is in the music industry. How did this partnership come about? Why did you decide to start writing together?
Jean had an offer from an agent on her finished first novel, which Sally had edited and mentored. Jean came up with the idea of becoming a writing team. Sally had partnered on a mystery novel with another writer and knew that different talents brought to the keyboard can make work go smoother and faster and that the mind of one writer can ignite sparks in the mind of another. We gave it a shot, and it looks like it might work out because that was five years ago.
You usually write series about mystery suspense and murder. Which has been your favorite series to write so far? What are the challenges involved in writing a series?
Jean's fave is the Aloha Lagoon Mystery series set in Hawaii. She loves Gabby Le Clair and her flyboy Rick Dawson. Sally doesn't have a favorite—how can you choose between your children?
Continuity for sure. Keeping track of repeating characters and locations, etc., their personal information and what's happened to them in their personal lives in previous books. We use a series "bible" that we start out with book one, and then we add to it as we move through subsequent stories. Also challenging is coming up with new personal experiences for the ongoing characters.
The Aloha Lagoon series is a mystery series that has a very fun, quirky vibe to it. Why did you decide to create this kind of vibe in this series? How do you manage to portray the intensities of a murder mystery, while still maintaining an enjoyable feel in the book?
Honestly? We can't seem to help it. We both tend to view the world via a kaleidoscope of eccentricity and weirdness. Those elements always seem to find their way into our stories, usually via secondary characters, which our readers seem to love.
Mostly due to the restrictive "rules" (if you will) for cozy mysteries—murder off-scene, violence and gruesomeness kept to a minimum, which makes room for romance and humor even though our protagonist is trying to solve a murder. We also write two detective novels, Jordan Welsh Mysteries and Digby Sloan Mysteries, that have both sex and more violence, but somehow we still manage to successfully insert some humor.
Which has been your favorite story to write in the Aloha Lagoon series and why?
Jean's favorite is Murder on the Aloha Express. She likes the Hawaiian lore of the islands and Hawaiian characters. Her favorite secondary character is Aunt Nina. She was a pipperoony. Sally actually prefers Beachboy Murder due to the more-complicated mystery plot and the use of more "island" flavor like the Talk Story lady and her tales of the menehune.
Who is Melanie Hamilton and what is the dilemma in her life?
Melanie Hamilton is the main character in our Mystic Isle Mysteries. She's a young New Orleans woman who has a soft spot in her heart for a good cause, a strong connection to family, and fierce loyalty to her friends. She works at the Mansion at Mystic Isle across the Mississippi from New Orleans as a tattoo artist where she designs and inks tattoos themed to fantasy and the supernatural. She's smart, independent, and in love (with the resort manager). So far her main problem seems to be that she continually finds herself in a position to help solve murders, deal with killers who bear her no good will at all and would do just about anything to keep her from revealing their crimes to the parish sheriff. She also may or may not be receiving messages from her deceased grandfather, but that is usually a good thing not bad as in our 4 th Mystic Isle Mystery, Mystic Deception, in its final stages and will be released in the coming months.
How did you come up with the plot of your book Dark Secret, and the character of Jordan Welsh?
The plot for Dark Secret came about when all the embezzlement of retirement funds was going on. I always enjoyed reading and watching PI movies and so created my own dream team.
What do you think is the importance of setting in a novel? How do you decide where your novels are set?
The setting is of paramount importance to us. In our novels, the location is a second lead character.
Two of our series, Danger Cove Pet Sitter Mysteries and Aloha Lagoon Gabby LeClair Mysteries, are subseries in a larger group of mysteries. These are set in locations determined by the publisher, Gemma Halliday Publishing, who oversees and coordinates the novels. Mystic Isle is set in the Louisiana bayou across the river from New Orleans. The culture and spookiness of the region was our first choice and has just worked out to be perfect for these books. The Jordan Welsh Mysteries are set in Scottsdale, our stomping grounds. The Kangaroo Murders, first in the Digby Sloan Mysteries, is set in London and environs. He's an Aussie detective, and we couldn't think of anywhere his personality and point of view would be more irreverent and wry than amongst the upper crust of Britain.
Could you tell us more about your 'right brain/left brain combination'? Which one of you is which and why do you say so?
I (Jean) take care of the logistical side, putting together the newsletter (a sign-up link on the first page of our website leads you to a free ebook for subscribing), drown myself in research, and keep the series bible (all the important facts in the series), and we write 4 series, so it's a big job. I like keeping the technical side of our writing. Sally: I'm so left-brained it's almost sad. My talents are geared toward the actual composition. But without my left-brained partner, I'd be lost in a maze of the most difficult parts of being an author in the 21 st century.
Walk us through your creative process. How does an idea emerge and become a bestselling novel for both of you?
We tend to start with a "what if" relating to our setting. Then our main character's involvement figures in. Obviously, the first book in a series takes the longest because we're dealing with previously unknown details. We'll talk and talk and make circles in a notebook regarding the beginning, middle, and end. Next comes a short synopsis. Then we move to a more detailed chapter by chapter outline, which does stay fairly fluid throughout our process. We write a chapter or two a day and just before we quit for the day, we talk details for the next workday.
You probably have an idea from previous answers how we come up with ideas for a series and characters. For specific novels, we pretty much start with the victim. Who was killed? Who are the suspects and why are they suspicious? Who is the actual killer and what was his motive? We generally do this chatting over coffee at a regular writing session or over lunch at our favorite gyro cafe. Once we have answers to those questions, we begin with 3 things we have to know to start plotting—where does the story start, where are we in the middle of the book, and how do we solve the mystery and end the novel? It builds from there.
How do you handle the logistics of co-authoring? How do you organize the writing with both of you having day-jobs and different schedules? How do you deal with disagreements?
We have set hours for working together but occasionally have to be flexible. Our lives are complicated and sometimes the best-laid plans...
Like opposing attorneys, we offer our cases for and/or against. Whoever presents the best case prevails.
How has being a best-selling author affected you both as writers?
Jean keeps her head out of the clouds...well, most days. Sally says—I'm grateful for it and for all the readers who've adopted us and whose support has made it possible to use that best-selling author phrase on our book covers. Thank you all.
What book ideas are you currently working on?
We are actually getting ready to start a new project after a summer break. We have an outline for a third Jordan Welsh novel, a concept and early discussion on Digby #2. We just published our second Aloha Lagoon in June, and recently finished Mystic isle #4 which is coming soon. We're also kicking around the idea of a series of novellas with a California setting and maybe some origin shorts stories about the supporting cast of our Mystic isle series. It'll probably be the novella series or Jordan Welsh #3. We haven't made a hard choice yet.
Share Sally J. Smith & Jean Steffens's interview
Ella Sheridan interview
Maddie Wade interview