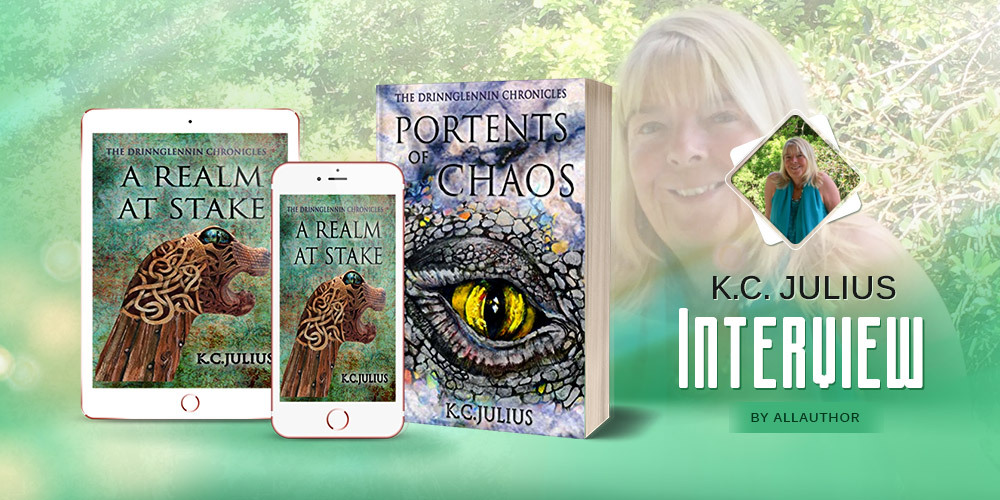 Where were you born? What do you miss the most about your childhood?
I was born in Evanston, Illinois, although we moved shortly thereafter. I had a magical childhood—I'm second in line of my siblings with an older sister, a younger sister and brother, with whom I remain close, although we live far apart. I was an early reader and books were a huge part of my world. I guess I miss going to the library every week. What is one thing that you, as a fantasy author, would never write about?
Hmmm... I needed to think long and hard about this, and no topic is really taboo—writing about the horrors in the world can shed light on them and perhaps lead to change.
What was the first book you ever wrote and what was it titled? Did you publish it?
I wrote a YA fantasy entitled Beyond the Green Door. It was published by Lothian in 2002.
What was college like for you and how did it shape your writing?
I loved my undergraduate years at the University of New Hampshire. I had an amazing writing professor, John Yount, who told me it was "time to start collecting rejection slips." I remember leaving his office walking ten feet off the ground. It was such an amazing feeling to have a published author see merit in my writing.
What inspired you to start writing The Drinnglennin Chronicles, an epic medieval fantasy quartet?
I have always loved classic high fantasy, particularly the LOTR's series and A Song of Ice and Fire, both of which I regularly re-read.
What elements of The Chronicles do you personally love?
I wanted to write a series I personally would like to read, so The Chronicles combines elements of sword and sorcery, intrigue, betrayal and romance. I've spent six years in the telling of this tale, and Leif, Maura, Halla, Whit, Borne, Fynn and Morgan are all like family to me now. They live and breathe, struggle with their own flaws, suffer and soar, as do we all.
How did you come up with the idea of the fantasy world of Drinnglennin in "Portents of Chaos"?
If you look at the fabulous maps that Kevin Sheehan has drawn of Drinnglennin and the Known World, you will see that the first is much like the British Isles, while the continent has much in common with Europe, North Africa, the Middle East and Asia. Although it's a fantasy world, I set the story in the late 1400-early 1500s and did extensive research on this time period to ensure it reads authentically.
Who inspired the character of Fynn, the bastard son of Aetheor Yarl?
Fynn is unique to himself.
Your thoughts on conventional vs. self publishing? What route did you choose and why?
I'm a hybrid author, but now that I'm independently publishing, I won't ever look back. I rarely use the term self-publishing because I have an amazing team supporting my work: beta readers, a developmental editor, a copy/line editor, a formatter, a cartographer, and a cover artist. The short answer as to why I chose indie publishing is: control of content, creative, promotional and marketing freedom, retention of rights, and greater reward.
How did you come up with the title of your book, A Realm at Stake?
Books in the fantasy genre need to be instantly recognized as such. Fantasy gaming makes it increasingly hard to find an original, yet relevant title. I did a lot of googling before settling on all four titles so that they would be unique and easily discoverable.
Criticism, whether constructive or otherwise is part and parcel of any art form. How do you deal with reviews of your books- both positive and negative?
I should knock on wood before saying this, but to date, The Drinnglennin Chronicles hasn't received any negative reviews. I'm sure the day will come, and when it does, I'll take it in stride. Readers are individuals with varying tastes, and an author can't hope to please them all. I do pay heed to criticism from beta readers and my editors, and often the harshest has resulted in revisions that have greatly enhanced the work.
Is there a certain type of scene that's harder for you to write than others (sad scenes, action, racy, etc)?
Battle scenes, as I'm keenly aware that I have to draw on others' experiences, and I want these to be authentic.
Is it important that an author has other friends that are writers as well? Do you have any?
I think so, as it can be a lonely occupation. When I lived in Indonesia, I belonged to writing group that met twice a month, and I don't think I would have ever completed my first novel if not for this regular meet-up. Fortunately, in this age of social media, I've made heaps of author friends on Twitter, Instagram and through FB writers forums. One twitter friend actually came to the Portents book launch. I'm also a member of ALLi, the Alliance of Independent Authors, and this community has been wonderfully supportive.
Are there any stories you're working on that you want to share with the world in the near future?
I'm still in the final editing stage of The Wings of Dread, the fourth book of The Drinnglennin Chronicles. After that... who knows? It's likely to be more fantasy.
How did you come to know about AllAuthor? How has your experience with us been?
I discovered AllAuthor while searching for cover contests, as I happen to think mine are gorgeous! The cover of Portents of Chaos was a finalist (3rd place) in the January competition, and A Realm at Stake's will run in the March contest. I've been delighted with all that AllAuthor has to offer, and highly recommend it.
Share K.C. Julius's interview
Julie Hoag interview
Jennifer M. Lane interview