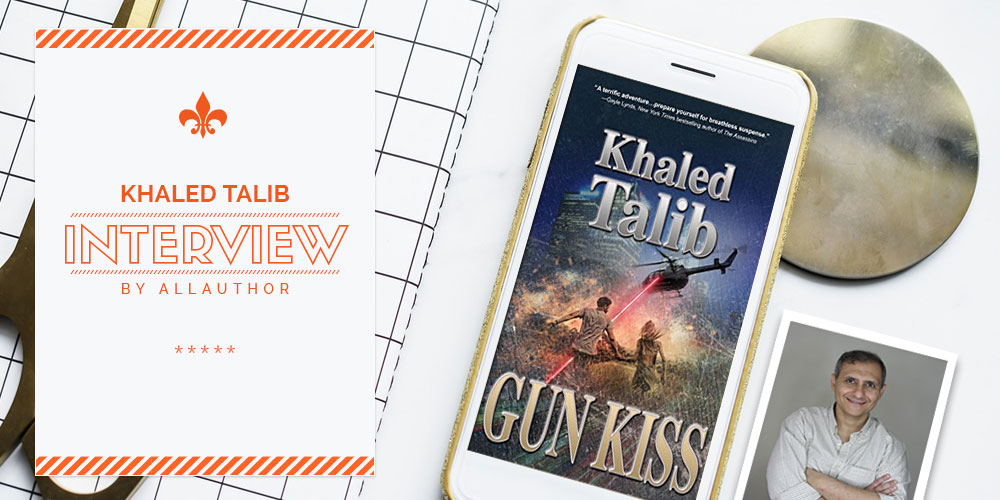 What was your childhood like? Where were you born and where did you grow up?
I was born and raised in Singapore. I had plenty of adventure with different sets of friends. We'd explore places, cycle and watch movies together. I can still remember the first movie I went with my fellow nine- year-old schoolmates: King Kong, which starred Jeff Bridges and Jessica Lange. Most afternoons were spent at the toy section of a shopping center near my house, a walking distance.
But my life wasn't just about toys. One day, I found a treasure trove of books in the storeroom at home. I went through them and found mostly hardcovers, from fiction to non-fiction. There was a book on Greek mythology. I learned about the Minotaur in the maze and how Achilles became invincible. I also learned about Marconi and Morse Code. Then I found a collection of Enid Blyton's detective series, The Famous Five and others. All these books belonged to my mother. When I was done reading these books, I asked my mother for more. So, she got me The Hardy Boys and Alfred Hitchcock's Three Investigators and so on.
And I can still remember the first time I flew on a plane. I was fourteen. It was a short trip from Kuala Lumpur back to Singapore. We went to Malaysia on a holiday by bus, which took us about five hours. The plane trip only took forty-five minutes.
My childhood was privileged, though I can't say much about my school days. I have no good memories of most of teachers. But as Mark Twain said, "I have never let my schooling interfere with my education."
Have you always been a writer? Can you tell us about your journey as an author?
Yes, according to my subconscious. But I was afraid to say it out loud. But for how long can I run away from myself?
You were a journalist and a public relations practitioner before you became an author. How have your previous jobs influenced your writing? Are you now a full-time writer?
My writing feels like a two-tone wall. One moment, I could be descriptive and the next moment, the words are direct. It has to do with my magazine writing days because they allow you the freedom to wax lyrical, which is unlike reporting the news. Journalism also taught me how to research. I know how to get the appropriate information if I need to research something for a book. But writing a novel isn't like writing an article. For me, it was trial and error before my novel was good enough to be published.
What drew you to the genre of Crime Fiction and Thrillers? Would you consider writing in any other genre?
Writing crime fiction and thrillers is like going to the amusement park. I like the adrenaline rush. If I go on a roller coaster ride, I'll scream out loud, but it's a good scream. I like the verve of writing crime fiction and thrillers. As for the future, I honestly don't know if I'll write another genre, but I've self- published flash fictions and short stories that have nothing to do with my favorite genre. We'll see. Never say never, right?
Your first book, Smokescreen, was listed as one of the six "boundary-breaking indies" in 2016 by the IndieReader. What inspired this story? How did you come up with the idea?
The idea stems from Singapore's controversial relationship with Israel. As an island in Southeast Asia surrounded by larger Muslim countries, like Malaysia and Indonesia, Singapore thinks that by getting training from Israel, it'll be safe and secure. So, I had some idea for the story, but it was never perfect until I worked as a magazine reporter in Egypt. There, I found the fuse to light my epiphany. I used to hang around in the beach resorts in Mount Sinai where I met plenty of Israelis. The border was only a few kilometers away. One day, sitting at a café in Cairo, I met a man from Libya whose character inspired me. Before I knew it, I had all the ingredients to complete the novel.
We are very intrigued by the character of Ayden Tanner. Can you tell us about him and his life? How did you come up with the name of this character?
Ayden Tanner is the protagonist in my second novel, Incognito. I was looking for a name that represented a reserved personality. Initially, the key character was supposed to be a Turkish man, so I chose the name Aiden. But then the story didn't go as planned, and I had to make major rewrites. I decided that the protagonist should be an Englishman. Before deciding on a name, I'll imagine the face and character. I'll know when it sounds right... it's not technical for me.
Is there a message that you tried to impart through your novel Incognito?
Don't believe everything you read in the newspaper. Even salt can look like sugar. And be tolerant of another religion.
Can you tell us about the kind of research that goes into a thriller like Gun Kiss, that talks about everything from Abraham Lincoln to Hollywood?
Apart from travelling to the places in the novel, where I collected sight, sound and smell, I contacted various experts to fact-check information. For example, I reached out to a school in San Diego that teaches wingsuit flying. I wanted to know certain details to describe a scene. I even had to find out some of the legal procedures on how to handle the FBI if you're brought in for questioning. I even interviewed a Hollywood celebrity bodyguard to find out how he deals with the paparazzi. I uploaded the interview on my website. There's a photo of him with Jessica Alba.
What can we find you doing when you're not writing? What are some of your other interests?
I like traveling and I've been to various places from India to Europe. I was in a state of shock when I saw the Taj Mahal. It's besotting. I just stood there and stared at it. No words—my mind went blank. Truly, a major wonder of the world. In fact, I dare say I didn't get the same feeling when I saw the pyramids of Giza although they are magnificent.
For a long time, I stopped watching TV, but then I'm back to it again, having discovered some good productions. I have no unique hobbies these days. I do as I please. But I spent a lot of time on social media promoting my books, learning new things at the same time.
Are you as fond of reading as you are of writing? If you could interview any author, living or dead, who would you interview and what would you ask them?
I've always said that if I could interview an author, it would be Mary Shelley. I find this person fascinating. She was eighteen when she produced a novel like Frankenstein. What a genius. There were a few things in the novel that were questionable, but maybe the author didn't care for trivialities. Regardless, the novel is deep. So, is anyone building a time machine?
What is the most ideal ambience for you to write in?
If it's too quiet, you'll go crazy, and if it's too noisy, you'll also go crazy. I think a good balance is the perfect place to be in, which explains why some authors work at cafes. Writing is a solitary affair. Then again, if you're constantly interrupted, you'll never be able to concentrate. So, the ideal ambience will be an environment where I'm not completely alone. A rear window would be nice too, especially if you can see the outside world.
How do you deal with writer's block?
I use a sledgehammer.
What is the best compliment you have ever received about your writing?
"It reads like a movie."
What book ideas are you currently working on?
I'm working on mystery thriller set in South Australia, Adelaide being is capital. I've finished writing the manuscript and I'm in the process of rewriting it. The novel is somewhat different from my first three works, but I hope it'll be well received. Unfortunately, I'm still not able to throw a boomerang correctly.
Share Khaled Talib's interview
Kandi Marsh Siegel interview
Jessica Lucci interview