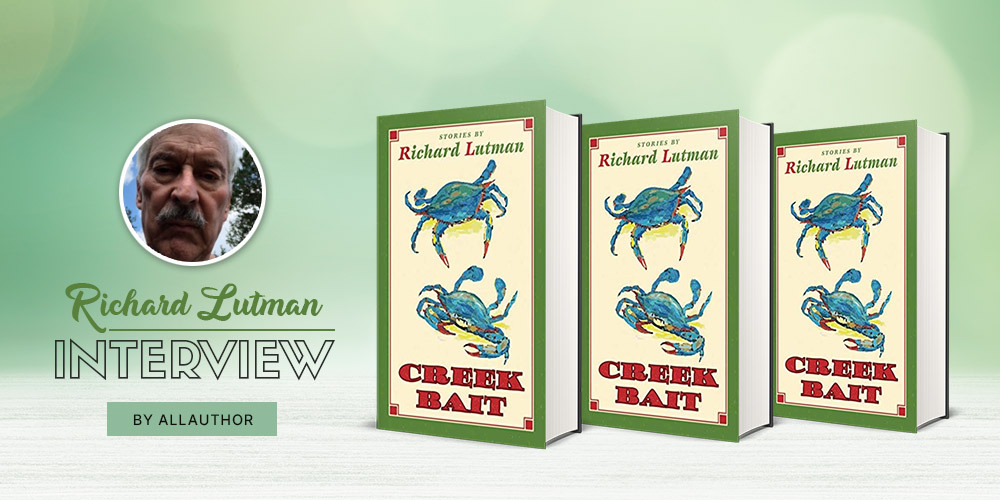 Tell us a bit about your childhood and background. What kind of child would you say you were?
I was born in Rochester, NY, moved to Philadelphia, where my father took up his practice as an ophthalmologist. Private school education where I won the major art award as a senior. I am the oldest of four; two other brothers and a sister. One brother died of cancer. My grandparents and one uncle and aunt also lived in the Philadelphia area. We were an active family who loved walks, reading, and dogs.
After graduation, I attended the University of Vermont, where my father received both his undergrad and medical degrees. Both my grandparents also taught there. I partied a bit too hard and flunked out and transferred downstate to Putney and Windham College with an enrollment of 126 students. I graduated as an English major with a minor in art and biology. My last semester, I was into 8mm filmmaking and poetry. In my sophomore year, I won the Robert Frost poetry award. My prize was Robert Bly's "For the Union Dead." Still have the collection—medal has been lost.
After I graduated, I found a job as a first reader for a New York publisher. My task was to read the first fifty pages of all the unsolicited manuscripts and write a short rejection. I don't know how many manuscripts I read, but I did find one that was published. I couldn't have had a better training ground in how not to write novels or cover letters. The manuscripts were poorly thought out and usually not very well edited. Many of the cover letters claimed that the particular manuscript would be a sure-fire bestseller. However, I did find a manuscript called "Never Sleep Three In A Bed" that was published.
I moved to Rhode Island in the early seventies, and one of the jobs I held was a news photographer. Using their equipment, I made a fifteen-minute color film shot in Providence called "The Crucifiction." I caught the end of it at a Boston film festival. My dream of pursuing filmmaking ended that afternoon. The flash fiction piece with the same name and story line was published in the fall of 2019. Vindication.
During this time, I also drove a cab and lead a strike against a hardware store for better pay and employee benefits. Years later, I took early retirement from my job as a Tech Writer/Editor and System Engineer in the Defense Industry. For my work, I received two commendations from the base captain.
I was very much a dreamer and an avid reader as a child. I spent many hours telling myself stories in which I was always the hero. I don't remember any of the stories, nor did I write them down.
Did you enjoy reading as a child? Who was your favorite author?
I don't think I had a favorite author or book at that time. Some of the authors and books I read and remember from the third grade on the Golden Books based on Kipling's jungle stories, "Blueberries for Sal," "My Father's Dragon," "Paddle to the Sea" and "Minn of the Mississippi" by Hollings C. Hollings, Winnie the Pooh, "The Lion The Witch and the Wardrobe," "Alice in Wonderland," The Arthur Rackham fairy stories, "Treasure Island," The Bounty Trilogy, Jack London's "Martin Eden," "Temple Made of Gold," by William Goldman, "Christ in Concrete," and "Bread and Wine," by Silone. Also, Melville's "Typee," Conrad's "Victory" and "Outcast of the Islands." I still have my high school copies of these books. The first western I read was Luke Short's "Coroner Creek" in 9 th grade.
My mother carried on a family tradition by reading to her children.
When did you first try your hand at writing, and what was it you wrote?
It was a very short 15-page play I wrote in 11 th grade. I thought it was a masterpiece. The assignment was to write a paper about what you did during the Christmas holiday. The teacher gave me a D+ with the comment: "Derivative." I was crushed.
How do you think having an MFA in Writing from Vermont College helped you shape into a writer?
While living in Rhode Island, the eighties and nineties, I had some success as a writer. I had five fiction pieces published, two nonfiction pieces, five Writer's Digest awards for fiction and nonfiction and two fellowships, and one finalist award for my work from the RI State Council of the Arts. I felt I was ready to advance my career as a writer. At the 1987 Breadloaf conference, I met Sharon Sheehy, a faculty member at Vermont College, who gave me a reference. I entered to program in the fall of 1988 and graduated two years later.
The MFA program was one of the highlights of my life. I remember reading numerous articles about how MFA programs turned out writers who wrote nothing but cookie-cutter type stories. I hope I succeeded in not writing such stories.
The degree gave me credibility and enabled me to teach. I also knew I still had a great deal to learn about writing. The craft is not something that can be learned overnight. I went back a few years ago to the Post Grad workshop and found there was still a lot I didn't know.
Why did you choose the Literary Fiction genre?
It was the genre I read the most. I'm not a real fan of Sci-Fi, horror, or romance. Westerns are a favorite of mine. My first novel was one, and the majority of my short stories are westerns. However, I don't consider myself to be a western writer—I'm a writer who writes occasional westerns. Many westerns are very literary in their descriptions and characters. My novella "Iron Butterfly" is a literary piece as is "The Holy Terriers" and my collection of stories.
How does it feel to be listed in the Directory of Poets and Writers?
It was a goal I set for myself. I needed to accumulate twelve points through published work in publications recognized by Poets&Writers. My novel was an automatic twelve. It's a listing I'm pleased about. Now and then, I like to access the directory just to see my name.
How was your experience of teaching composition and literature courses at Rhode Island Community College, Fairfield University?
I had always wanted to teach. As an adjunct professor at the Rhode Island community college, I taught the Fundamentals of Writing, Freshman Comp, and literature courses. I got to see how uneven public high schools were teaching basic writing classes. I did my best to help the students find their voices. I taught comp by breaking the class into groups of two and going to each group to discuss what they had written. For the poetry segment I had a poet visit the class to talk and read their poetry. It was very successful. For the literature segment, I focused on basic criticism. Did you like the piece or not, and why? I think my proudest achievement as a lit teacher was seeing the wife of a local fireman who loved reading pulp romance novels discover Hawthorne.
The short story classes I taught at Fairfield were my favorite teaching venues. The quality of work and the student's interest in improving their work made me eager to share with them what I had learned about the short story. I also learned a lot about how they perceived the world.
What challenges did you face on your journey to becoming the recipient of national awards for your nonfiction, short stories, and screenplays?
I always faced the challenge of getting a piece published or awarded. From 1998-2006 none of the pieces I sent out were published. This was probably the hardest period of my writing I had ever faced. I asked myself if I should stop writing. I spent many a night stoned as I figured out what I was to do. I had an MFA, how could this happen? In 2006 the dry spell was broken. A short story from my field journal I had been sending out for months was finally published. To this day, I don't know what happened. The story hadn't changed. From then on, I've had at least one piece of writing published up to 2020. I still worry whether I'll hit another dry spell. During the dry spell, I began to think about trying to write a screenplay. Perhaps my luck would change. The script was called "Through the Wild Country." The plot was straightforward; a woman doctor named Clancy Stuart is hired to be the doctor of a western town. The townspeople are shocked when the doctor turns out to be a woman. I must have got something right. The script won first prize best script in the 2001 Rhode International Film Festival. My second script died a quick death in other competitions. It was then I knew I had stayed with writing novels and short stories.
What inspired you to write "Creek Bait"?
I had been working on a collection of stories of various lengths and iterations for years and always made it my yearly goal to get the collection published. Finally, in 2018 the collection drew the interest of The New Meridian Press, a small nonprofit traditional press. They liked the stories but indicated that there was no theme to the collection. I had to cut four stories and add three new ones that fit the theme of the collection. Not an easy job. Published in 2019 to several 5-star reviews, I will be forever grateful to the press for taking a chance on me. My web site is www.patchofdirt.net. Lesson learned don't ever give up sending your work out.
What sparked the idea for your novella "Iron Butterfly?" Did you expect it to be shortlisted in the 2011 Santa Fe Writer's Project?
I've always liked collecting butterflies. In 1995 I was asked to join a Rhode Island-based group studying the biodiversity of plants and animals in Hong Kong. I kept a field journal of what I caught, but also the beginnings of a short story set on my favorite Hong Kong island, Shek Kwu Chau. The story, "The Butterfly Lovers" became the center scene of the novella and the lead-off story in my collection. I didn't expect anything when I submitted the novella; I knew it was good based on prior comments. "Iron Butterfly" is one of my favorite pieces.
What is one of your strongest writing habits or ritual?
I love revision and like listening to music when I am deep into the revision process. I have a couple hundred CDs and a number of CD compilations I put together. Leonard Cohen has always been my favorite music I listen to. To be effective with revision, you must learn how to look at your manuscript through the eye of a very knowledgeable reader.
I had to cut over 5K words from my novel. Not an easy task and another lesson learned. Don't get too close to the words you write.
What is the hardest thing about being an author?
To keep focused. I always have projects to work on and stories to submit.
How do you feel about the rise in digital books in recent years?
Two of my five books were self-published. The other three were released through small presses. At the moment, I prefer to pursue that route because of the relationship between the author and the press. The digital platforms provide a place for writers to self-publish their books. I believe there are about one million books on Amazon and Kindle is quite a popular platform. The drawback is the general quality of those books and how they are marketed by the author. There are also many Publish on Demand presses that should be avoided. A writer never should pay to have their work published. For me this is like buying authorship. This was a lesson I learned many years ago and ended up with 250 copies of a book I couldn't even giveaway. I still have a copy or two around as a reminder.
Which is the next book you are working on? Tell us about it?
A Mature Adult novel called "The River" set in 1922. I've been working on it for several years.
Driven by forces over which she has no control, sixteen-year-old Alison Hood's hot-blooded hunger brings her up against a past from which there is no escape. A story of tormented love between cousins and a German-American farmer, THE RIVER is played out during the fateful summer of 1922 among the legends and mansions of the Assonet River Valley.
How has your experience with AllAuthor been?
The services like the chat for authors and sites such as Authors Helping Authors. For writers, this an excellent site to promote your books. I particularly love the ingenious mock-ups of the book cover of my collection.
Share Richard Lutman's interview
Brighton Walsh interview
JACINTA HOWARD interview