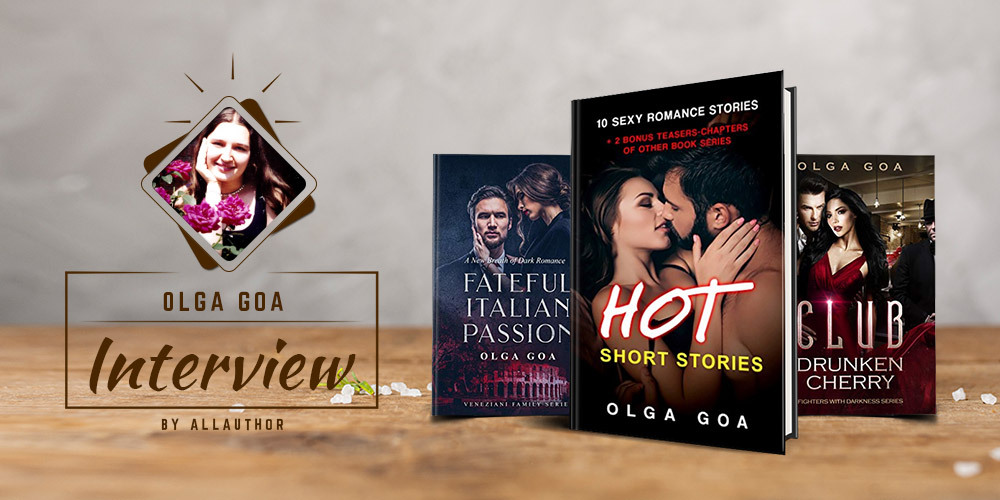 How did you develop your love for reading? Do you remember the first book you read?
Actually, I didn't enjoy reading much when I was in a high school. Perhaps because I was too preoccupied with homework and studying other subjects such as music. Add the fact that teachers demanded we read some fifty books by summer before the classes start, and it was a recipe for disaster. But I was a good pupil and I read at least thirty books. Ha-ha. However, time passed and when I became an adult and went to the university something changed. It happened when I read my first Historical Dark Romance book "The Devil's embrace" written by Catherine Coulter. I enjoyed it so much that reading soon became a hobby. I delved into the Dark Romance genre and ended up loving it, in particular the works of Sylvia Day, Pepper Winters, Erika James, and Katy Evans. I suppose I didn't read before because I hadn't found the right genre yet. That being said, the first ever book I read is an old, Russian fairytale, "The Mitten." It is an awesome story about how several animals wanted to get into the mitten to make it their own home, but they just tore the mitten apart.
Why did you choose "GOA" as pen name?
This pen name describes me as a person who loves the sea and the warm places of the Earth, and in particular it represents a beautiful place in India with mostly hot weather and beautiful nature. By the way, this pen name is a good hint to discover my initials as well. Wink. ;)
How did you get attached to literature in your young years?
As I mentioned before, adulthood changed my point of view and my vision about some things in my life pretty fast. I started rereading great books by Shakespeare, Tolstoy, Charlotte Bronte, Jane Eyre, and Thomas Hardy to forget about reality. Back then, I suffered from depression, like so many people, sadly. I felt like I needed to be distracted and immersed in the beautiful world of literature. And I am glad I did. I became a happy and calm girl, living in this fantastic dreamland. Later, I realized how reading sucked me in and I discovered not only classic authors, but modern ones as well. Such as Catherine Coulter, Lisa Kleypas, Helen Fielding, Christina Lauren, and many more.
What do you love the most about reading romance?
I love discovering the different types of the characters. I am curious about how they solve their problems, how they deal with them, how they fall in love, hate, revenge, cry, disappoint, and find their true soulmate. I adore reading books about a couple's psychology and learn something from them. This is so exciting and outstanding!
What inspired you to write your first dark romance novel FATEFUL ITALIAN PASSION?
The most scandalous book series written by the famous author in the Dark Romance genre, Erika James, inspired me. She is the first author who described the BDSM world in such a detailed and romantic way. This series made me think about lots of things, especially how a man can change himself for his beloved woman and how he can do everything for her despite his dark past and dark soul. I was pleasantly surprised to read such deep and emotional stories. Then I realized I must write my own romantic story about a broken and tortured soul, Milano, and another broken soul, Veronica. But I decided to make things longer and more adventurous for this extraordinary couple.
How much has the publishing industry changed since you published your first book in August 2017?
Well, it didn't change much: the same competition, the same eager desire to publish more books and earn more money. The main thing is the same struggle to find readers as well as a new audience. But I do not give up though. Our lives were not meant to be easy, and we must be fighters!
What was your reaction on FATEFUL ITALIAN PASSION winning NaNoWriMo 2015?
I was pleasantly surprised. I could never have imagined that my book would win. I felt honored and happy. It's the best feeling any author can experience! This feeling can be compared only with publishing my own books in paperback. I told my parents about NaNoWriMo and they congratulated me with smiles on their faces. That was my first victory, and it won't be my last.
How did you begin writing the "Fighters Against Darkness" series?
The book series "Indebted" by Pepper Winters inspired me to write this darkest story. It happened instantly, the whole plot sprung to mind, and I started writing. I thought about each scene I imagined and I made it original. I wanted to make a mix from the series "Indebted" and the dark movie "Eyes wide shut." I think I have done it well. What do you think? ;)
Who inspired the character of young Milano Veneziani in "FATEFUL ITALIAN PASSION"?
You caught me, ha-ha. Such a unique question, actually. Well, I think when I was creating Milano, I described myself and many other people I know who have such a bad and wild temper. Of course, time passes and people become older. But somehow I believe I won't become a lady who will bore anyone. I will try to be like Milano—make jokes, be naughty and protective of others! Who will be bored then? Ha-ha.
How did you come up with the title, "CLUB "DRUNKEN CHERRY"?
It just popped into my mind. I wanted to make my new story as original as I could. Plus, I prefer not to copy anyone or anything, especially book titles. I suppose the authors lose their originality and professionalism if they do not invent the original titles for their stories. But this is my opinion; do not judge me by my honesty.
What is your work schedule like when you are writing?
I don't sleep much—about 6-7 hours a day, working 16-18 hours including my work, writing, promotion, replying to my readers, conversing with my new editor, checking e-mails, etc. But I only write when I feel like it. If not, I just relax and think. I never force myself to write because I have to write… if I do not have any inspiration, I do not tell myself sit at the table and write like some madwoman. No. I suppose we have to write as soon as a scene pops up into our minds and is ready to be expressed.
What type of music do you like to listen to in your free time?
Thank you for this lovely question because I adore music. I listen to different genres from the classic to rock, including indie pop, chill-out, jazz, etc. The best music for me is the music that touches my heart.
Did you expect to win the first place as Best Online Author in The Writer Awards 2018?
Actually, no. I had a stiff competition, and there were several other authors that deserved to win as well. I was shocked to find out that it was me. I am so thankful to my readers who voted and supported me in this contest, and others as well. Without them I wouldn't have been able to reach the goals I achieved. Thanks a bunch to you, my lovely supporters! xo
What are some common traps that new authors tend to fall into? Any advice on how to avoid these traps?
Yes. Be persistent, be curious, be an explorer, be attentive, and save money for your books. If you are a beginning author and do not want to learn and study things like how to promote your books successfully, if, for example, you would like to publish your books without a publishing house, better not start. Otherwise, you won't reach your goals. Adding to that, it is better not to publish books without great professional editing. I think you do not want to get the bad reviews because of that and then be nervous because your rating fell on Amazon and Goodreads. I experienced that myself. Do not publish your books simply to publish them. Be creative and passionate towards your work, especially in terms of perfectionism. And great editing demands money.
How did you first come across AllAuthor? What are your honest thoughts on this website?
I came across AllAuthor through the cover competition other authors participated in and asked me to vote for their covers. Later, I heard that the winning books have a chance to get promoted FOR FREE on the Internet. I was like…"OMG, this is my chance!" Who wouldn't like to be promoted like that? I am glad I joined and won two times, both contests, and was promoted by your site 6 months for free. That is such an amazingly kind gesture from you! When I joined I also tried your PRO FEATURED program which is not so expensive to try. I like that this is very helpful for Indie authors since we all have money issues. But right now we can create our own 3D Mockups, promotional book reviews with gif format, videos, teasers, etc. I often wondered if such a site existed. I even discussed it with my friends. Then you guys came along and BAM! Now authors like me and my friends get help and a chance to shine. You just made dreams come true, guys! Thank you!
One thing I can suggest for your site—try to explore or maybe change some things for book commercial visibility on the Internet. Your promotions are amazing, but I think you can improve them further if you find the best way to impact more readers with ads on Twitter, Facebook, and Instagram, and encourage them to support their favorite stories with reviews and sharing. That would be superb!
Share Olga Goa's interview
Kelly Curtis interview
Janice Spina interview