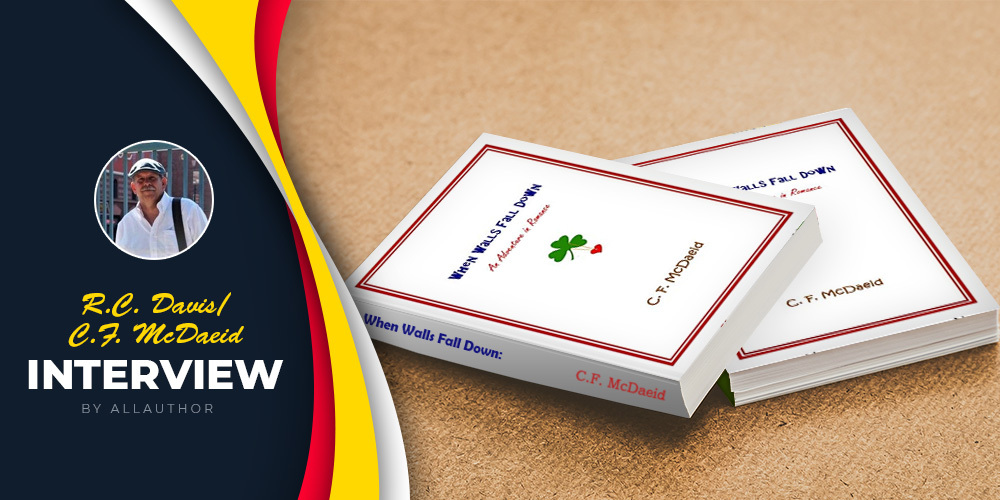 Which is your fondest memory from growing up in the rolling hills?
I was a big fan of Mark Twain and had read Tom Sawyer more times than I can remember. So, my family moving to Iowa in 1968 when I was eleven put me right in the middle of that story, and I began to live the the life I had only read about. I became enchanted.
Was being an author a childhood dream? What inspired you to write your first novel?
Yes, since my twelfth year.
There is a joy that comes with writing, if a short story could give me a spoonful--a novel could give me a shovel full. I don't write for the 'Market', I write for myself.
What made you decide to start writing romantic suspense? What is a common mistake many authors make when they try to write a suspense story?
Honestly... whatever it is categorized as--is out of my control. I write the story and other people call out the Genre. I think of my rendering as a story about a man who connects with a just as strong, or stronger woman, and they quest together.
Not truly grasping what suspense is, and not making their story suspenseful enough. But please keep in mind, there is always 'Relative Concept'.
Why do think writing and books hold such important meaning to you?
Hard question to answer... books and writing open up new worlds, you get to go places without ever leaving your desk or sofa.
What is your writing kryptonite? Inversely, what is something that never fails to inspire you?
A body needs to rest, eventually you run out of gas in a days time.
Love never fails to inspire me.
What were the key challenges you faced when writing "The Light In The Window?" Is there lots to do before you dive in and start writing a short story?
Trying to make an Editor/Publisher understand what I wanted to express to the world. I feel I failed with 'The Light In The Window'. Some day I will rewrite that one.
No, I'm a 'Pantser' not a Planner, I believe I am like Ernest Hemingway said, "I just sit down at the keyboard and bleed words" I have been labeled a natural story teller, I wouldn't disagree.
Why did you decide to write your book, 'When Walls Fall Down' as C.F. McDaeid?
I have been C.F. McDaeid for a long time. I, like a lot of authors, utilize Pseudonyms in order to write across genres.
What type of music do you love listening to the most?
Late 60's, early 70's Popular, and the Classic Rock and Folk of that time.
How do your poems develop? Please guide us through the stages of a poem.
Poems come out of the 'blue', a simple phrase of or scene being the trigger.
Such a 'Planner' question! Like S.T. Coleridge said: "Prose is words in their best order, but poetry is the best words in their best order." Poetry is written straight from the heart.
Who is the most supportive of your writing in your family? When you were young, did you ever see writing as a career or full-time profession?
My wife.
Yes, but the full time part had to wait until I first raised my children.
What was your hardest scene to write in 'Losing my Muse'? How long did it take you to write this story?
The ending, when Ulysses tells the reader he has left Ligeia behind.
6 Months.
Writing can be an emotionally draining and stressful pursuit. Any tips for aspiring writers?
If you write long, take a break every 90 minutes or so. We all need to resurface and take a breath--it doesn't matter how good you are.
Who inspired the character of twenty-three-year-old Ciarán McKay in "When Walls Fall Down"?
I suppose I make up about a fifth of Ciaran, but there are about four others in there as well. Simply people I have met in my research process who fit the bill of who I wanted Ciaran to be.
What book ideas are you currently working on?
A Post Apocalyptic love story, and a late 50's with supernatural elements, love story... and that's all I'll say.
How would you rate your experience with AllAuthor thus far? Is there anything you specifically like or dislike?
Good
I like that you exist, and honestly, I'm not much on disliking anything. I mean, I could... but I would have to dig, and that hole only reveals the petty.
Share R.C. Davis/C.F. McDaeid's interview
Elaine Spires interview
Kester James Finley interview