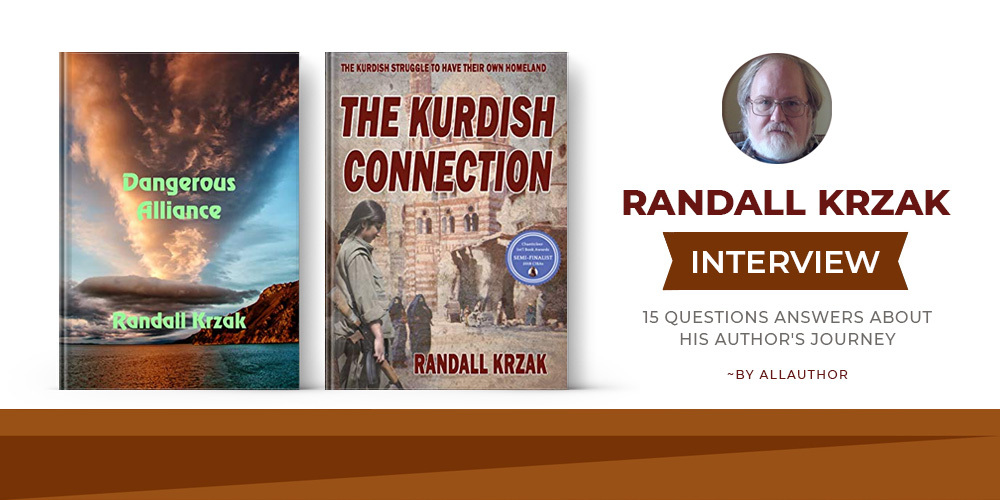 Having spent thirty years in Europe, Africa, Central America, and the Middle East, which is your favorite place to be? What is the most adventurous thing you have ever done?
My wife and I both enjoyed living in Turkey. It's a country full of history and the people were very friendly. The most adventurous thing I've done—perhaps jumping out of a perfectly good airplane—twice.
What made you plan to retire in 2011? Why did you choose to write a thriller?
I took advantage of the retirement requirements of 30+ years service and age 55 (I was 55 ½) . My writing has been influenced by the works of thriller writers I read, including: Tom Clancy, Robert Ludlum, Clive Cussler, Brad Thor, and David L. Golemon, to name a few.
What has your journey of being a U.S. Army veteran and retired senior civil servant taught you? Did you ever think of becoming a writer?
My journey strengthened my work ethic as well as opening up my eyes to different cultures. I never thought about becoming a writer until a long-time friend and work colleague suggested I try writing a novel after I retired.
How does your residency abroad help you to build rich worlds in your action-adventure novels and short stories? Why did you decide to set your novel, "The Kurdish Connection" in the Middle East?
Having lived in a number of countries, I've learned a lot about the people and their cultures. Despite the differences, there are also a number of similarities. I try to show some of this in "The Kurdish Connection."
What are some things to keep in mind while creating authentic characters and scenery?
Research is key—don't make assumptions and whenever possible use at least a couple of different sources for the same information. I use a variety of online name lists to help me create my characters. I also use online maps and reviews posted by visitors when creating some of my scenes. Others were created based on personal observation.
What inspired you to start writing "The Kurdish Connection?" What challenges did you face while publishing your first novel in the year 2017?
After my colleague suggested I try writing a novel, I had to decide what did I know enough about which could be the basis for a story. One of the biggest challenges is marketing. Unless you are one of the lucky ones, it takes a long time to get established and build up a following. In some ways, marketing is more difficult than writing.
Did you plan the sequel of The Kurdish Connection titled "Dangerous Alliance" in advance? Did you expect the two of your books to become semi-finalists for the 2018 Global Thriller Book Awards?
Yes, the sequel was planned in advance. In fact, I created the titles and synopses for the four novels I have planned in this series. There will be scope to add additional stories. I was absolutely delighted to find out both novels made it to the semi-finalist stage of he awards. I've now learned that Dangerous Alliance was selected as one of the first in category winners. Needless to say, I'm thrilled!
Which is your favorite memory of Heriot-Watt University, Edinburgh, Scotland?
I've never set foot on the campus, although this is something I want to do. My degrees from Heriot-Watt were earned totally through distance education, not an easy way to do so as it requires enormous dedication and hard work to keep moving forward.
What does Randall Krzak's Sunday look like? Having taken lessons from a golf pro near Lundin Links, Scotland in February 2013, do you wish to be back on the course?
As with most mornings, I begin with a cup of coffee before checking out the news from various online sources. Afterward, I spend some time with characters from current works in progress before we have brunch. The afternoons are spent on a variety of activities, depending upon the weather. I haven't been on a golf course for a long time but there's a course not far from where we live so it's on my list to check out.
What sparked the idea for "Dangerous Alliance?" Who inspired the character of Colonel Trevor Franklin?
When I made the decision to create a series, I looked at what other areas of the world I knew something about, Having lived in Somalia and visited Kenya several times, I thought this was a good setting. I came up with an idea and used online research to see what I could pull together. There wasn't any specific individual who inspired the creation of Colonel Trevor.
What is your blog, Writing by Randall about? How often do you write on your blog?
My blog covers whatever is on my mind when I begin typing, followed by a look at birthdays for people associated with the writing world. This is followed by sections on my published works (when I have something new to share) and about my current works in progress. I also include reviews of books I've been reading. When time permits I also will share interviews to introduce other authors. For the most part, my blog is only updated each Sunday.
How is your experience of being a proud member of International Thriller Writers? What advice do you have for young writers out there?
ITW is a great resource for learning and finding out what other thriller writers are up to. My advice for young writers—don't give up. Learn the craft and don't be afraid to have others read your work—before you think it's ready to publish. I use two online subscription writing sites, which have been a treasure trove of support: www.scribophile.com and www.thenextbigwriter.com. Between the two sites, my third novel received over 700 chapter reviews—an excellent means to determine how my writing is progressing and make corrections.
What is your third novel, Carnage in Singapore about? When can we expect its release?
Here's the synopsis: Terrorist groups such as Abu Sayyaf and Jemaah Islamiyah have flourished in recent years with new recruits joining them and ISIS-affiliates at an alarming rate. Blended operations by various Asian countries have forced the groups to work together to identify a new operational base.
They seek an island nation to call home, one where they can plot against countries who oppose their ideals. They found a target, a small nation-state, perfect for their needs: The Republic of Singapore.
Before anyone can respond, the ambassadors of the United States, Great Britain, and Australia are kidnapped from their residences in Singapore. Right index fingers of each victim are sent as a warning. Any attempt to recover the ambassadors will result in the removal of additional body parts.
Bedlam Charlie team leader, Evelyn Evinrude, leads the group to rescue the ambassadors and capture the local leaders of Abu Sayyaf and Jemaah Islamiyah. Can Bedlam succeed or will events escalate, resulting in more deaths?
The manuscript is ready to send to my publisher for consideration and I hope it'll be picked up and published in the fall of 2019.
Do you have anything you'd like to say to your readers? What do you hope they will take away from your books?
If you've been reading my work, I say thank you. And if you haven't, why not? What better way to immerse yourself in multi-plot stories set in distance locales? As with many novels, you'll meet people of good character and those who would like to cause as much mayhem as possible. In between, there are folks just trying to make a go at what life throws at them. I believe my books show this.
How would you rate your experience with AllAuthor thus far? Is there anything you specifically like or dislike?
I've found AllAuthor a very useful site and will continue to use it as one of my 'tools' in spreading the word about my writing. The ads make it easy to reach potential readers around the world.
Share Randall Krzak's interview
Kristy Centeno interview
Subject BGD interview