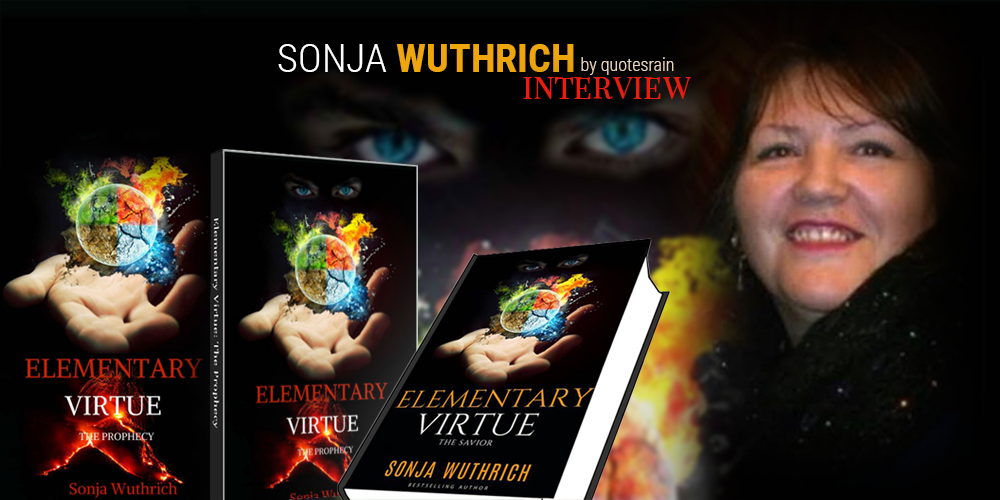 Tell us about your life, your struggles, your passion.
I live with my teenage daughter and my two cats in the urban area of Zurich, Switzerland and I am working part-time as a sales assistant in a small company. In my free time, I am teaching Step-Aerobic classes at a local gym and I write fantasy stories. I love good stories, reading books or watching movies, but free time is quite sparse these days with working and all other stuff that is going on in my life right now.
How long have you been writing and what inspired you to become a writer?
Books have always fascinated me from my early childhood. Above all fantasy stories. Writing as well as reading have been a way for me to dive into another world, especially when things in my life weren't as perfect as they were supposed to be. I wrote my first book in 1996 but it never got published, as I didn't have enough patience to go for it and back then, self-publishing wasn't an issue. It was a cheesy love story in which Canada, Italy and a Ghost were involved. Anyway, I put it aside for over a decade. Then all of a sudden in 2014 my teenage daughter heard about Wattpad and started to write a short story. That was when inspiration hit me, and I started writing again after all these years. My daughter got bored after a while, but I continued to write. Well and since then I keep on writing and I am loving it. Given the fact that I hear a lot of teenage stuff from my 'teenager' at home every day, it inspired me to start writing the sequel "Elementary Virtue" where my hero Gregory has to face all of a sudden, properties that frighten and fascinate him at the same time. But it is also about growing up in all its facets.
While choosing a name for your character, what aspects do you consider that determines what you finally call them?
This is a difficult question and I don't really know how I choose the names of my characters. They just come to me, sometimes because I like a name or someone crosses my path, that I particularly like or even dislike. In the sequel for example, I chose angelic names for very bad guys because I liked the imagination that beautiful people looking extremely attractive, having angel names can be still very self-centered and crazy.
Do authors in general and you in particular plan series beforehand or do they just happen?
I don't know about other authors, but for me it just happened. I didn't particularly plan the sequel. It just came to me out of nowhere. I never thought previously that I would be able to spin a story till the end, let alone a sequel. Even now, I can only plan very raw about what I am going to write, because each time I plan a chapter, I meet people, hear stories and end up taking them as inspiration for my characters and my story. Another thing about me, is that I love to write about places I've visited and felt at home during my stay.
How do you choose which stories to tell?
Being a Fantasy lover I really like to write in that Genre. The outside world or what happens in my everyday live inspires me as mentioned previously. I guess since I have started writing I am observing people a lot more than before and I get a lot of ideas from certain situation, in coffee shops, at work or wherever around people. So I told my friends and family that anything they say or do might end up eventually one way or another in a story…..
Do you have a "reader" in mind while writing?
The stories I write are for Young Adults or for people who like Fantasy stories, dramas, undying love, friendship and just a little bit of danger. In this aspect they are for most of the readers!
How do you get reviews? Which was the best review you ever got?
It is quite hard to get reviews, even if the books get downloaded a lot. Many readers don't leave a review after reading. It is up to the reader and as an author there is not much to do about it. There was one review that really touched me. It said: "Even if the characters in this book are teenager, it still is a great read for adults. Because it takes you back to the time when you were a teenager yourself. Not only I could easily empathize with the different characters, but also to being in love in general. I especially liked Aiden, I must say that I fell a bit in love with him myself!! The storyboard is contemporary and full of suspense. It kept me glued in front of my kindle until the end. It may remind a bit of the Twilight saga; but I can't get enough of books of that genre. Fortunately, it is a sequel and I am anticipating Volume 2."
What does the word "story" signifies for you?
For me a story is a fictional work. At first an idea that spreads into a story with characters and events. Diving into a fantasy world leaving the real world behind for a couple of hours. Forgetting stress and sorrows and enjoying some time in another world, place or time.
Are you currently working on anything?
I am working on the third book of the sequel Elementary Virtue. It is called "The Amulet". I just started some weeks ago and have written the first chapter so far. As I am writing in German and then translate into English it'll takes a while and a lot of time for editing as well of course until the third book is ready to be published.
Do you have a special time or place for writing?
As I am working part-time, I have to write whenever I get the chance, hoping inspiration hits me at that very moment. This is actually kind of funny, as I recently started to write the third book in the waiting room of my dentist. I had arrived too early because traffic wasn't as bad as I had expected. Another time while I was writing my first book, I wrote some chapters while hanging around at the hotel pool in Malta. So what I'd like to say is, that sometimes I don't have any idea what could happen next in my story, and then at times an idea just hits me and I almost can't stop writing anymore until the flow ceases. That's why there is no special time or place for writing, at least in my case.
How do you promote your work? How will QuotesRain help you in your book promotion and sales, would you like to refer this platform to your author friends?
I promote my work mostly through social media groups and my website swuw141.wix.com/sonja-wuthrich-books and sometimes through Fiverr.com. They offer a lot of affordable services for promotion, editing, covers and all kind of stuff. For example, I had a rap video created which suited a chapter of my second book "The Prophecy" and a Video Trailer for both of my books. As for QuotesRain, it is an amazing opportunity to promote my books. I am very happy with their services. I would definitely recommend Quoterain to any other author
Would you like to share something with your readers and fans?
I would like to thank my readers and I appreciate any email, comment, like or review. It really gives me a warm fuzzy feeling when somebody tells me that they fell in love with one of my characters, or that I should keep the villain away from Switzerland (which was actually very funny). I really love writing and it is an incredible feeling to hold the books in my hands, knowing that there are people out there that enjoy my stories. I love you all. Thank you so much.
Share Sonja Wuthrich's interview
Cheryl Matthynssens interview
Laine Faro interview