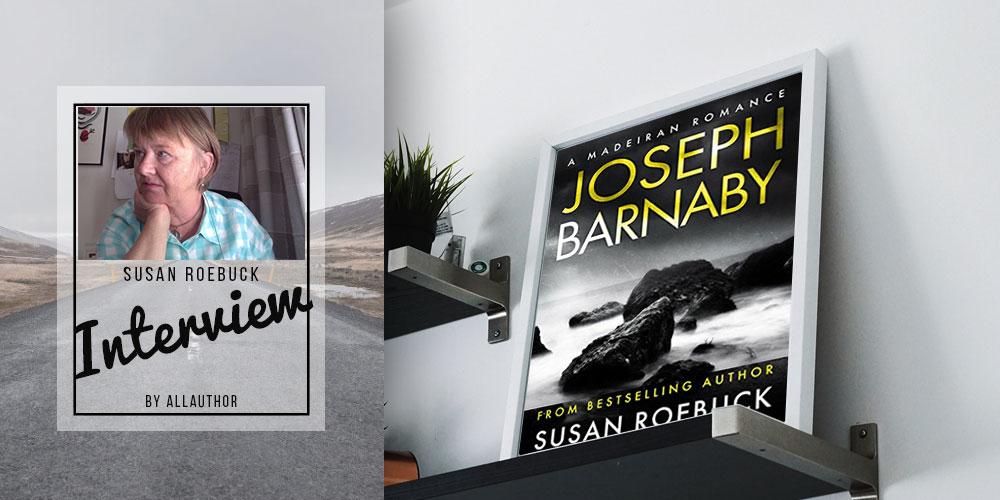 When did you first start writing?
I wrote a book for a school project and won a prize for it when I was fourteen. It is so funny to look at it now as I also illustrated it. The story was set in the Second World War in a small village in the UK whose inhabitants were against the army building a training barracks on their land. Goodness knows where I got my inspiration from – and it certainly goes against all the advice given to authors about "only write about what you know".
Who was someone you looked up to a lot as a child? Who are some of the biggest influences or inspirations as an author now?
That would be my older brother. We shared a birthday although we were four years apart. He could give me the basic idea which I was able to develop into a full blown novel. He was a wonderfully gifted artist – and there are some rather cruel sketches of me as a fat child.
What made you make the switch from teaching English to writing full-time? Do you think your time as a teacher has had any impact on your work?
I was ill and labeled "disabled" for a while so couldn't work. At last I found time to write. I think the only impact teaching had on me is that my grammar improved! (I taught English as a Foreign Language).
Which is your favorite restaurant in Portugal? How often do you go there with your husband?
It's part of Portuguese life to go out for dinner or lunch. If you can't be bothered to make dinner, there's always a "tasca" – a kind of tavern – around the corner where you can eat superb fresh fish at very reasonable prices. There's a huge choice of places to go to and they're very reasonable, so we don't usually just go to one. In the summer, though, I love to find a place overlooking the ocean, even if it is a little more pricey.
Do you remember the first contemporary romance/romantic suspense novel that made you think "Yes. This is what I want to do"? What are some differences between writing a women's fiction and a romantic suspense?
I think they are often cross-over genres. I write whatever comes to my mind and I don't think I've ever thought, "yes this is what I want to do". Mind you, having said that, my favourite book of all time is "Gormenghast" and "Titus Groan." Now THAT I'd like to write (Gothic noir). But they do say the author (Mervyn Peake) wasn't all that well mentally when he wrote the final book in the trilogy: "Titus Alone", so perhaps I'd better keep to romance. Romance/Suspense is a huge genre ranging from bordering on a thriller to a Mills & Boon light romance. I think the true romance genre has to have a happy ending, or a happily for now ending and that makes a darker romance different to a thriller which can kill everyone off at the end (now, there's a thought).
What were some fears that you had while publishing your debut novel, "Perfect Score"? What was your reaction when you got to know that your first book is a finalist in the 2012 EPIC e-book Awards in the Mainstream Category?
"Perfect Score" is an m/m romance/suspense and that worried me at first because when I was submitting the novel to agents and publishers in 2010, many of them refused outright to publish such a book. I also received weird comments from people I know ranging from, "I suppose this is another Brokeback Mountain" – the only thing they have in common is that both are set in the USA – and, "I don't know how you know about such things," from my mother. I was amazed it became a finalist in 2012 EPIC ebook awards, even though it had received good written reviews. The novel has so many levels running through it and so many issues (one character is dyslexic and the story includes corruption in the pharmaceutical industry) that I believe it touches the reader in different ways. Most people love Sam, anyway, so that was a plus.
Your second novel is a dark thriller/fantasy called "Hewhay Hall". Where did you get ideas from for most of the fantasies featured in the book?
It's funny how I changed genre with "Hewhay Hall" – the publisher categorised it as "dark fantasy". To tell you the truth, I'd not long been ill (mentioned above) and the doctor told me that, as I was a writer, I could come to terms with the illness by perhaps writing a journal of my feelings. I said I couldn't do that. But I did turn out (quite unwittingly) "Hewhay Hall" which, now I look back on it, IS the journal to my feelings! Here's a little secret: Hewhay is Yahweh backwards. Yahweh is the Hebrew name for God. I'm not sure many people got that.
Your book "Rising Tide" is set in a tiny fishing village that the world, and most of Portugal, has forgotten. Why did you choose this location? Have you ever visited the place?
I live in Portugal and know most of the country. I love the Alentejo (the large plains between Lisbon and the Algarve) – it's unspoilt and vast. The coast is wild with lots of fishing villages that are so different to those in the Algarve. I always change the name of the places I write about, just in case I make mistakes or because I want to shape them to my story. But, Luminosa is based on a village between Sines and Porto Covo, an area I like very much.
Your novels have been set in different locations like the ocean, the forests outside Lisbon and the island of Madeira. What inspires you to set your stories in several different locations every time you write? Where are you planning to set up your next novel?
I adore nature. I adore Portugal. So I pick my locations according to those aspects. Strangely enough I want to set my next novel in Lisbon but I'm going to have to take my characters out to the country – they have to breathe pure air or they'll suffocate.
Was it difficult writing the book "Forest Dancer" set in the forests outside Lisbon, Portugal? How was it trying to get into the head of and write from the point of view of Flora Gatehouse, who had no choice but to take a risk?
My poor characters always have to face huge obstacles, so Flora's wasn't difficult to think up and produce. What was difficult was the fact she's a ballet dancer – and I know very little about ballet, except the experience of a school ballet I was in once (and I based the children's ballet in the book on that). I needed to do quite a bit of research on ballet to write "Forest Dancer". By the way, Serra Glória in the book is really Sintra but…shhhhhh.
What are your thoughts about the LGBT community? What are some of your goals that you're trying to achieve through wiring books based on LGBT?
As mentioned in #6, "Perfect Score" is an LGBT novel and I'm just so happy that more books are being published now featuring same sex romances. It's normal and becoming widely accepted, unlike the time that the book was set: 1960s USA when being gay was considered an illness (one character is drugged to try and get him "straight"). I know the Romance Writers' Association now has an LGBT chapter and I cheer that on and wish it every success.
Where do you see yourself as a writer in five years? What are you currently working on?
My latest novel, "Joseph Barnaby" is just about to be published (5 th October) and I'm gearing up for that, trying to find as many marketing outlets as possible for it (thank you, All Author!). They do say you should submit a book and write a new one at the same time. I can't do that. I seem to need to concentrate on one thing at a time. Some authors can write several books at the same time which must be wonderful. Once "Joseph Barnaby" (set in Madeira) is out there, I'll seriously start thinking about my next book which should take place in Lisbon. That'll be my sixth novel and the fourth in the "Portuguese series". After that, I hope I'm more established as an author and can venture out into other areas. I'd dearly like to write an LGBT novel set in Victorian London – I have a fascination for that time period. Let's wait and see. If everyone will go and buy my book, then I'll be able to do that!
Share Susan Roebuck's interview
Charles W. Jones interview
Debbie Zello interview