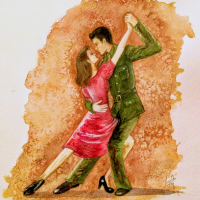 Alexa Kang
Historical Fiction
Alexa is the author of the novel series, the "Rose of Anzio", a WWII love story that begins in pre-war Chicago and chronicles the U.S. Army Third Division's heroic efforts in the Battle of Anzio and beyond.

Alexa grew up in New York City and is a graduate of the University of Pennsylvania. She has traveled to more than 170 cities, and she loves to explore new places and different cultures.

When not at work, she lives a second life as a novelist writing larger-than-life love stories, 20th historical fiction, and coming-of-age stories. Her own favorite romantic tales are "Romeo and Juliet", "Gone with the Wind", "Anna Karenina", "Titanic", "Love in the Fallen City" (by Eileen Chang), "Say Anything," and "The Lake House".
Video
Watch Rose of Anzio book Trailer Now!
Recommended Featured Books
""Last night, I loved you a lifetime and more." - Eternal Flame, a Rose of Anzio time travel love story."
""Tessa, I don't know how to swing dance, and I wouldn't be very good at it if I tried. But if you care, I'd like to do a different kind of dance with you." -- Rose of Anzio Book One~Moonlight"