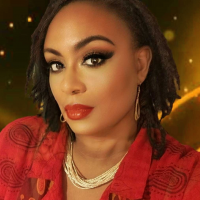 Mahogany SilverRain
Contemporary Romance, Paranormal Romance, Erotic Romance, African American Interest
Profession

Author and Teacher
Author of paranormal, interracial, diverse and contemporary romance.
I was born in New Orleans, LA, and raised by a single mom who taught me a lot and gave me a good foundation. My husband inspired me to write romance. He is truly a wonderful man who makes me laugh, taught me to love myself, stayed with me through hell and high water and has been the best friend I never knew I needed.

Besides being an author, I am also a personal trainer, a bodybuilder and I took 2nd place overall in my first Women's Bodybuilding competition in 2014, fulfilling a dream I had as a teenager. I completed it in my 40s! However, life happens and two years ago I needed back surgery and this year, neck surgery. I don't like taking pain pills, so I had my doctor put in permanent spine stimulation. I literally have to 'charge' my battery in my back every Friday!

I am also a licensed Zumba instructor, a yoga instructor, Tai Chi, and a group fitness trainer.
I am licensed and certified to teach ESL classes (English as a second language), to young students ages 5-12. I am working with students in Beijing, China, via the Internet.

I took a long break from writing for about 8 years, and I may write about that someday. I am so happy to get back to doing what I love!

Every so often, I reinvent myself. I never stop learning, growing, changing, all to become a better version of myself. I now live in Warner Robins, GA with my husband and two of our six kids, our pets, three cats and an 80 lb German Shepard, named Bella.
Video
Tell Me You Love Me
What matters is that you are doing what you think is right based on the standards which you hold.
Walter Annenberg