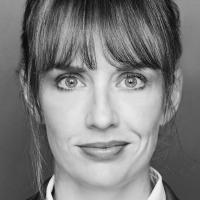 Christie Nicholls
Humor, Biographies & Memoirs
Profession

Writer, Actor, Comedian
Christie Nicholls is a Los Angeles based SAW (stand-up comedian, actor, and writer). After earning a PhD in Performance Studies at UCLA, Christie finally admitted that she wanted to perform herself. Whether in front of a camera, or a live audience, Christie will embody any role, from traditional leading lady, to Jane Fonda, to Richard Nixon, to her original characters, to your Mom (no really, she's excellent at impersonations). When Christie isn't writing, or performing, or prank calling, she's playing with her daughter Vickie, her husband Weasel, and their two rescue mutts Maverick and George Carlin. Or… she's probably in the hot tub. Yep, check the hot tub.
Christie is a splendid conversationalist.
I must be lean amp write amp make worlds beside this to live in.
Sylvia Plath