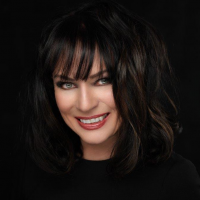 Diana Sobolewski
Contemporary Romance, Erotic Romance
Profession

Author, Wine Agent
DIANA SOBOLEWSKI LEADS A DOUBLE LIFE:
WINE AGENT AND AUTHOR OF SOPHISTICATED SEXY ROMANCE NOVELS
Diana, who resides in Montreal with her supportive husband and lovable dogs, has a B.A., Marketing Communications from Concordia University, was President of the Montreal Chapter of the Business/Professional Advertising Association and has worked in marketing communications on the corporate and agency side.
Passionate about fine wine, it was only natural that she would combine her education, skills and work experience with her knowledge and appreciation of luxury wine.
In 2004 Diana established Les Vins Aldi, an agency specializing in the sale and promotion of such wines in the province of Quebec. Her big break came when she turned her attention to the prestigious and rare wines of Bordeaux. In 2007 she was inducted into La Jurade de Saint-Émilion and became an ambassador for the wines of Saint-Émilion in her part of the world.
As an insider, Diana was afforded a front row seat to this fascinating world and the bigger than life individuals who pass through it.
Luxury wine is therefore the underlying theme of this provocative work of contemporary fiction. Like her main female characters, the author believes that great wine can take you on a hedonistic voyage.
Diana fulfills a long time dream with this upmarket series in which she introduces readers to a world of flamboyant seductive characters that dedicate themselves to the pursuit of pleasure. At the center of each well-developed story are two irresistible individuals destined to be together.
The Desire & Luxury Wine series comprises four books: Private Reserve, Maximum Yield, Master Class and Late Harvest. The author's stand-alone style novels in this series feature cosmopolitan locations, glamorous venues, luxury lifestyles, compelling characters, intriguing story lines, well-written steamy love scenes and happily-ever-after endings.
Diana is a member of Romance Writers of America and RWA Passionate Ink.
Take no heed of her.... She reads a lot of books.
Jasper Fforde