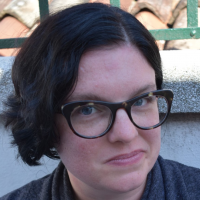 Danielle K. Roux
Historical Romance, New Adult Romance, Paranormal Romance, LGBT, Science Fiction, Fantasy, Horror, Teen & Young Adult
Profession

Author and Teacher
Danielle writes things that happen to her, but better: with more ghosts and less waiting in lines to buy burritos. Her first novel is August Prather is Not Dead Yet (August, 2018) through the amazing Parliament House Press. It is a supernatural road-trip epic adventure tale with a good bit of queer romance mixed in. She is currently working on other stories with queer protagonists and supernatural/fantasy/historical themes, so stay tuned!

She has cats and she is married to a nice lady. She teaches humans how to read and study history and art. Also, she travels places and looks at old things for fun. Sometimes she sleeps.
Video
August Prather Is Not Dead Yet by Danielle K. Roux - OFFICIAL BOOK TRAILER
A best-seller is the golden touch of mediocre talent.
Logan Pearsall Smith