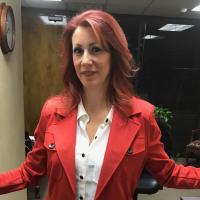 Dorothy F. Shaw
Contemporary Romance, Romantic Suspense, Paranormal Romance, Romance, Erotic Romance
Profession

Technology Director, Romance Author
Dorothy F. Shaw lives in Arizona where the weather is hot and the sunsets are always beautiful. She spends her days in the corporate world and her nights with her Mac on her lap.
Between her ever-open heart, her bright red hair and her many colorful tattoos, she truly lives and loves in Technicolor!
There is no heaven or afterlife for broken-down computers that is a fairy story for people afraid of the dark.
Stephen Hawking