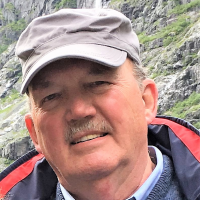 Daniel V. Meier, Jr.
Historical Fiction
Daniel Meier graduated from UNCW (University of North Carolina, Wilmington) with a major in History. He served in the United States Navy and later studied American Literature at The University of Maryland Graduate School and began writing.

Meanwhile, he taught English and History at a private high school for a couple of years, worked as a flight instructor and a pilot examiner for the FAA (Federal Aviation Administration).
In 1980, Leisure Books published a mystery/ thriller that he wrote under the 'nom de plume' Vince Daniels. In addition, he published a short story in a college literary magazine and worked, briefly, for the Washington Business Journal as a journalist. He was also a contributing editor to several aviation magazines and worked as a technical writer/editor for a U.S. government contractor.

For the past two decades he has served the FAA as an Aviation Safety Inspector for flight operations working mostly out of the Washington D.C. headquarters. He is now retired...
Daniel V. Meier, Jr. Books
Training is everything. The peach was once a bitter almond; the cauliflower is nothing but cabbage with a college education.
Mark Twain