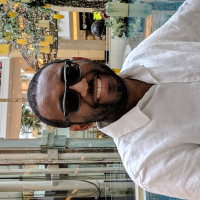 Gerald Dean Rice
Crime Fiction, Thrillers, Suspense, Supernatural Suspense, Action & Adventure, African American Interest, Science Fiction, Horror, Teen & Young Adult, Poetry
After years of watching and reading horror, I started making my own stories. I wanted my monsters to do stuff I hadn't seen before. I wanted to write really, really scary stuff. Turns out, I could only write weird in the beginning, but I've gradually turned the corner to some frightening ideas. I inject a lot of humor into my stories, sometimes over-the-top, but real life has humor too. Right now, I'm dancing between writing a sequel to "Dead 'til Dawn" and writing something REALLY unique.
Recommended Featured Books
"When you reach the end of your rope, tie a knot in it and hang on."
Ways to reach Gerald Dean Rice