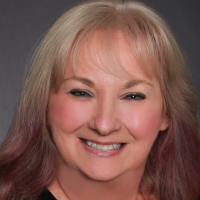 Gina Ardito
Contemporary Romance, Paranormal Romance
Profession

Author/Freelance Editor
Gina Ardito is the award-winning international author of more than twenty romances; a legendary singer in private, confined spaces (her car, the shower, her office cubicle); and a killer of houseplants. She hosts fun, informative workshops for writers around the country. In 2012, Gina was named a Woman of Outstanding Leadership by the International Women's Leadership Association.

To her everlasting shame, despite all her accomplishments, she'll never be more famous than her dog, who starred in commercials for 2015's Puppy Bowl. A native of Long Island, New York, she lives with her husband, two children, the aforementioned famous dog, and two cat overlords.
"It seemed the more I knew about people the more I knew about the strange magic hidden in their hearts. "