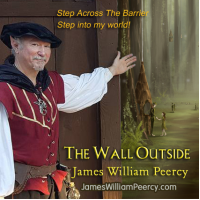 James William Peercy
Mysteries, Action & Adventure, Paranormal Romance, Historical Fiction, Literary Fiction, Science Fiction, Fantasy, Teen & Young Adult, Children's, Poetry
Profession

Author and Computer Technology
James William Peercy fell through a portal into the publishing biosphere in 2012. Previously, he had been observing his own world and recording it since the age of 10. James continued writing while attaining a degree in Computer Science, getting married, raising dogs, and starting a business. Since all worlds exist simultaneously, he has added two book series, the Cliff Fulton mystery series and the Xun Ove fantasy series. With a mind constantly moving, he devotes his downtime to writing, enjoying a bit of travel, and adoring his wife, Claudette.
James William Peercy Books
Recommended Featured Books
"A teacher will be frustrated if she is only motivated to teach what she has learned. Yet if she is motivated because of the students then she will learn from them how to teach. "