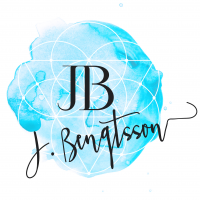 J. Bengtsson
Contemporary Romance, New Adult Romance
Hello! I'm J. Bengtsson and I write the popular Cake Series. I'm a fairly new author (two years) and stumbled upon this new path in life in the strangest of ways. After reading a bad romance, I was convinced I could do a better job and sat down to write a story of my own. I added everything I'd ever wanted to read in a romance (love, humor, witty dialogue and tragedy) then quietly released the book without telling a soul (not even my family). Much to my utter surprise, Cake took off right out of the gate and within a month was on its way to becoming a bestselling novel. Suddenly, I had a brand new career and a very shocked family (They were told a few weeks later).

The Cake Series is a group of four interwoven books centered on the McKallister family who endure a tragic happening in the past. The first book, Cake: A Love Story, focuses on Jake, a rock star with a painful past who, aside from his close-knit family, has sealed himself off from the rest of world. At a wedding, a vibrant young woman takes him by complete surprise and turns his colorless world upside down.

When I wrote, Cake, I didn't set out to create a romance novel as much as to create a sweeping love story. Romance is wonderful and exciting and intense (and in full display in Cake), but it's love that sustains a relationship. I wanted to show a couple that was strong in their commitment to one another, a couple who would not be brought apart by misunderstandings or outside forces. I wanted a couple who would fight every step of the way for their relationship. That's Casey and Jake. That's Cake.
Video
Cake: A Love Story Book Trailer
Recommended Featured Books
"You're my changing storyline. My favorite dream. My redemption."
Ways to reach J. Bengtsson