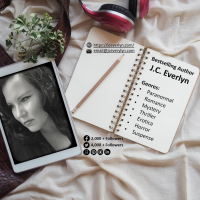 J.C. Everlyn
Thrillers, Suspense, Mysteries, Supernatural Suspense, Action & Adventure, Romantic Suspense, Paranormal Romance, Romance, Erotic Romance, Dark Romance & Erotica, Fantasy, Horror
Profession

Accountant by day, Author by night.
Best-selling author, J. C. Everlyn was born and raised in Minnesota, and is surrounded by what seems like endless winters. She enjoys curling up next to a warm fire while reading fiction novels. Inspired by authors like E.L. James, Lara Adrian, James Patterson, and Stephen King, she is now fulfilling her dream of sharing many imaginative stories of her own. Her first published book, Loved Ones Lost, hit Amazon's bestseller list in three categories within 9 days of its release date. The book has several 5-star reviews on Amazon, Facebook, and Goodreads. So far, each book she has published has become a best seller.

Also available at: http://www.lulu.com/spotlight/jceverlyn

#amazon #kindleunlimited #paranormal #erotica #romance #indiebooks #IARTG #ASMSG
Video
Amazon bestselling author J.C. Everlyn
Reading is a staple of life like bread or water. Or chocolate.
Rett MacPherson