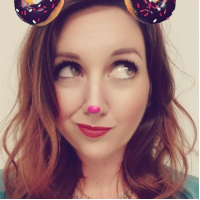 J. McSpadden
New Adult Romance, Romance, Women's Fiction, Fantasy, Teen & Young Adult
Who am I?

Writer. Reader. Lover of all things Harry Potter and LOTR. Obsessive over font kerning. Graphic design drop out. Writer by night, Film Producer by morning. Pug lover. Wine and Beer connoisseur. Avocado obsessed though so late to the game, bacon-lover, especially when paired with chocolate. Ice cream every day makes the smile always stay. Lover of making fun of my own wine and beer snobbery.

What's my Deal?

I am trying to figure out how to get the novel that's been in my head for years out to the masses in a way that is both professional, not overly expensive, and at least somewhat enjoyable. So far…I have the first two books of the series written, the first book Praetorian Rising PUBLISHED, and I am making headway on the third and fourth book outlines. Follow along to see where this one goes. I have big plans you see…big, HUGE!

Instagram: @jessie_grace137

Random Fun Facts…

I have a 6-year-old Pug named The Dude. My idol is J. K. Rowling because that women knows how to market and manage her product like no one I have ever seen. I am seriously obsessed with Harry Potter. I love red licorice but black licorice makes me sick. My favorite wine ever is called The Prisoner by Orwin Swift wineries. My second favorite wine is Angl Food by Cupcake Winery…and I haven't been able to find it ANYWHERE in like over a year. WTH??

I'm Married to my best friend and full-time roommate, he's a Viking and has the best damn smile in the whole world. I call him Bear. I live in Los Angeles, but my true home will always be San Diego. I have green eyes. My favorite movie is Love Me if You Dare. A favorite book (because I can't have just one of those) is The Martian by Andy Weir. Let's not forget how incredibly amazing The Outlander series is, Diana Gabaldon is also a hero in my heart. Such incredible writing.

So to wrap it up, I'm J. McSpadden and I'm an Author. I hope you enjoy what I have to share. If not…here's a picture of my pug, if you can't smile and enjoy that you are a crazy person.
Never bend your head. Always hold it high. Look the world straight in the eye.
Helen Keller
True happiness... is not attained through self-gratification, but through fidelity to a worthy purpose.
Helen Keller
Reading is a staple of life like bread or water. Or chocolate.
Rett MacPherson
All the world is full of suffering. It is also full of overcoming.
Helen Keller
...think of the solution not the problem. If your mind was filled only with thoughts of why you were going to lose then you couldnt think of how to win.
Terry Goodkind