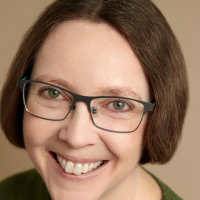 Joy Johnston
Biographies & Memoirs
Joy Johnston is an experienced digital journalist who has covered everything from terrorist attacks and Kardashian scandals to the cat that's Donald Trump's doppelgänger. Her first book, The Reluctant Caregiver, received a gold medal at the 2018 Independent Publisher Book Awards. She received the 2015 Rick Bragg Prize for Nonfiction from the Atlanta Writers Club. Her work has been published in Chicken Soup for the Soul and other anthologies. She writes about dementia and caregiving on her blog, The Memories Project, and is a featured author on The Caregiver Space.

Johnston lives in Atlanta, where she is a dedicated servant to a pair of cats with dueling god complexes. In her free time, she works on perfecting her resting bitch face while riding the subway. She is currently working on a project called Respite Care Share, an online campaign designed to encourage family caregivers to take a well-deserved break.
Recommended Featured Books
"If you just keep your head down and just try and do your thing, sometimes magic happens."