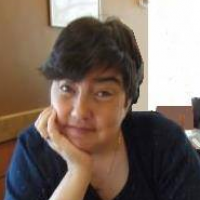 karen Vaughan
Mysteries, Women's Fiction, Humor
Profession

writer, reviewer,blogger and radio host
Fun, chaotic, writing is a passion and adventure. I write what comes to mind and to my heart. I love making people laugh.
Karen Vaughan lives in Peterborough, Ontario with her husband Jim and a cat named JJ who has plenty of catitude! Karen started her literary journey in 2005 when she was home on sick leave and was tired of starting at the four walls or twiddling her thumbs. An idea for what would become DEAD ON ARRIVAL popped in to her head and the feisty 30 something character Laura wouldn't leave her alone til her story was written. Laura took a break from pestering the poor author, so she could write a free-standing novel DEAD COMIC STANDING. Soon Laura was on the campaign to get Karen back to what would become the Laura and Gerry series. It now has 7 books, the latest being DEAD TO WRITES. Karen is the proud mom of one, step-mom of 4 grown kids, and 2 grandchildren. While not w writing her fingers to the bone she hosts WRITERS ROUND TABLE the second Tuesday of each month. She is also a partner with Viv Drewa in OWL & PUSSYCAT PROMOTIONS, promoting independent authors. Karen is a standup comedian who does her routine for local talent nights and loves reading, crafts and drawing.
Recommended Featured Books
"As authors, all our words matter! Even the ones we scrape off the editing room floor, as they were part of something huge"
"Ya mon time soon come to get the rubber on the road and smack dis baby out of de ballpark." "Gaylord, please can the sports metaphors and speak common English. I am not paying you to be cute."
"Bimbo 1 victim 0 =Murder"
"Check out my interview on VISION AND VERSE http://visionandverse.blogspot.ca/2016/06/interview-with-author-karen-vaughn.html"
Ways to reach karen Vaughan