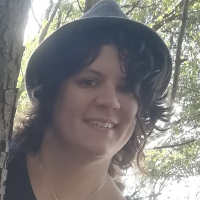 Kathryn Rossati
Fantasy, Teen & Young Adult, Children's, Poetry
I'm a writer of middle-grade and YA fiction, with fantasy being my speciality. I'm always working on something new.
My Half-Wizard Thordric trilogy and The Door Between Worlds are currently published by Creativia Publishing under the pseudonym Kathryn Wells, and my debut poetry book is also published by them under the name Kathryn Rossati.
The Origin Stone, my young adult speculative fiction adventure, has just been released by Nuff Said Publishing, so if you like parallel worlds, conspiracies, family secrets and a race against time, be sure to check it out!
Video
Publication Day Q&A - The Origin Stone by Kathryn Rossati
I can remember the frustration of not being able to talk. I knew what I wanted to say, but I could not get the words out, so I would just scream.
Temple Grandin
Most books on witchcraft will tell you that witches work naked. This is because most books on witchcraft were written by men.
Neil Gaiman
In ancient times cats were worshipped as gods; they have not forgotten this.
Terry Pratchett
Cats will amusingly tolerate humans only until someone comes up with a tin opener that can be operated with a paw.
Terry Pratchett
As you may know, some of the stereotyped behaviors exhibited by autistic children are also found in zoo animals who are raised in a barren environment.
Temple Grandin