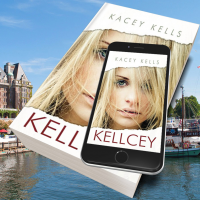 Kacey Kells
Biographies & Memoirs
"KELLCEY IS NOT JUST A BOOK. IT'S THE WOMEN'S RIGHTS BIBLE "

"A deeply moving book about rape culture and its consequences".

"This story not only bears witness to what countless other women have gone through, but also offers a message of hope. Kellcey is a resilient young woman who is brave enough to speak her truth, face it, & work to heal".

"A beautifully sad story of tragic circumstances-
-relationship abuse--rape. Heroes are non-gender specific".

"A brave memoir about finding hope after trauma".

"Kellcey by @KaceyKells was one of the best books I read Heartbreaking with all that happened but informational and hope it can help change people's views on equality for all. Women's rights is Human rights. If you have not read it I would HIGHLY suggest it".
Literature always anticipates life. It doesnt copy it but moulds it to its purpose.
Oscar Wilde