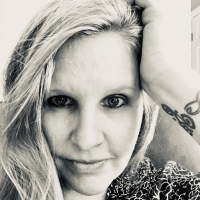 Kristin Ward
Science Fiction, Fantasy, Teen & Young Adult
Kristin Ward has loved writing since middle school but took thirty years to do something serious with it. The result is her Best Indie Book Award-winning debut novel, After the Green Withered, followed by the sequel, Burden of Truth. In her YA SciFi-Fantasy, Rise of Gaia, Kristin intertwines her environmental passions with fantasy elements, creating a world that holds a secret deep within its heart. She lives in a small town in Connecticut with her husband, three sons, and many furry and feathered friends. A SciFi geek to the core, she is fueled by dark chocolate and coffee and can be heard quoting eighties movies on a regular basis.
"To view life from the eyes of a writer is to see infinite worlds and endless possibilities."
"Doing adultish things is getting in the way of my writing."
"If it's Friday evening and there is no wine in the house, it is safe to declare DEFCON 1."