L. D. Colter
Fantasy
Due to a varied work background, Liz has harnessed, hitched, and worked draft horses, and worked in medicine, canoe expeditioning, and as a roller-skating waitress. She also knows more about concrete than you might suspect.

Liz is an active SFWA member with multiple short story publications spanning a wide range of science fiction and fantasy sub-genres. Her novels written under the name L. D. Colter explore contemporary fantasy and dark/weird/magic realism, and ones written as L. Deni Colter venture into the epic fantasy realms she grew up reading and loving. Her debut novel, A Borrowed Hell, won the 2018 Colorado Book Award for Science Fiction/Fantasy and While Gods Sleep won in 2019.
While Gods Sleep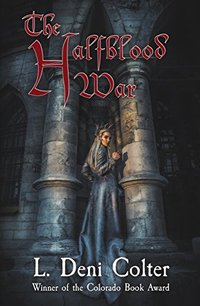 The Halfblood War
A Borrowed Hell
Recommended Featured Books
"I want to be in your arms, where you hold me tight and never let me go."