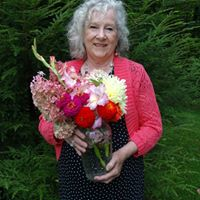 Lynda McKinney Lambert
Poetry, Biographies & Memoirs, General Nonfiction, Christian Nonfiction, Religion & Spirituality
Profession

Author, Artist, Professor, Educator
Pennsylvania Author, and Artist Lynda McKinney Lambert lives in The Village of Wurtemburg, in western PA.

You can find her THREE published books on Amazon.
Her first chapbook, first snow, is available on Finishing Line Press website.
https://www.finishinglinepress.com/product/first-snow-by-lynda-mckinney-lambert/


Lynda is a retired professor of fine arts and humanities; lectured in art history; taught studio art courses; taught English literature courses at Geneva College, Beaver Falls, PA.
Lynda McKinney Lambert Books
With a few flowers in my garden, half a dozen pictures and some books, I live without envy.
Lope de Vega