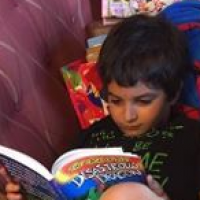 Mark H. Newhouse
Mysteries, Humor, Teen & Young Adult, Children's
Profession

Author, Publisher, Teacher
The world needs laughs and I write mysteries that have won many awards because I enjoy making children laugh while they learn. As a child, I wanted to be a lawyer, so the cases of Jasper Doofinch in Welcome to Monstrovia and its sequels, The Case of the Disastrous Dragon, and The Case of the Crazy Chickenscratches, (2018) introduce interesting facts about law in funny, fantasy cases that I love writing and keep kids laughing as they can't put them down. I want children to have heroes who solve problems with their brains and courage, and like Esme, in the Midnight Diet Club, are underdogs who overcome big problems that kids face. Thank you for reading my books and adding your kind reviews.
Recommended Featured Books
"Without knowledge action is useless and knowledge without action is futile."