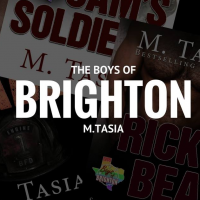 M. Tasia
Contemporary Romance
M. Tasia, is a paralegal and author who lives in Ontario, Canada. M. is a proud member of the Romance Writers of America and its chapters; Rainbow Romance Writers and Toronto Romance Writers. More than just an author, M. is a dedicated people watcher, lover of romance novels and 80's rock, who grew up with a love of reading. M. is a firm believer in happy endings and that love is meant to be celebrated and shared.
Recommended Featured Books
"God gave us free will so that we might choose our own destinies. He left it up to us to achieve them. "