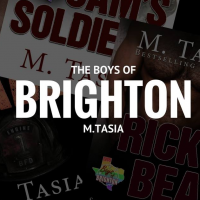 M. Tasia
Contemporary Romance
M. Tasia, is an author who lives in Ontario, Canada. Michelle is a proud member of the Romance Writers of America and its chapter; the Toronto Romance Writers. Michelle is a dedicated people watcher, lover of romance novels and 80's rock, who grew up with a love of reading. She is a firm believer in happy endings, romance, intrigue, and sizzling hot love stories, since love is meant to be celebrated and shared.
Recommended Featured Books
"You will have to make up for the smallness of your size by your courage and selfless devotion to duty for it is not life that matters but the courage fortitude and determination you bring to it. "