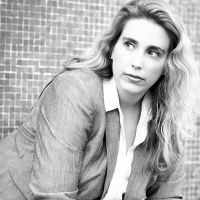 Natasha Bajema
Crime Fiction, Thrillers, Suspense, Mysteries
Profession

National Security Advisor
Natasha Bajema lives in Rockport, Texas with her two dogs, is an independent consultant on national security issues, and writes suspenseful, action-packed stories set in the future, featuring strong female protagonists, eclectic characters, and cutting-edge science and technology.

When studying international politics in a small town like Monterey, California, there's a significant risk of getting involved in WMD while hanging out at the local bar with friends. At least that's what happened to Natasha Bajema. And ultimately, that's where the story behind the Lara Kingsley Series begins--with a deep fascination in cutting-edge science and technology and a desire to understand how new technologies shape society and politics, and a determination to leave the world in a better place.

Truth be told, Natasha had set out to study something much more "normal" than the world's most devastating weapons and how to prevent them from going boom. But in the end, nuclear, chemical, and biological weapons checked all of her mandatory boxes--face danger (i.e., things that go boom), understand science and technology, navigate geopolitical complexities, and deal with matters of war and peace.

For the past twenty years, when Natasha tells people what she does for a living, she feels compelled to follow it up with a few scary musical notes--dun, dun, dun. Minus a few short stints at the United Nations and a number of think tanks, she has spent the majority of her career working for the Department of Defense at the National Defense University where she taught the next generation of senior military officers and civilian leaders about WMD, terrorism, and emerging technologies. Natasha also spent three years in the Pentagon where she advised senior government leaders on issues of national security. That's where the real danger comes in.

Thankfully, Natasha has a bunch of degrees to back up her recommendations--an M.A. in international policy from the Middlebury Institute of International Studies and a Ph.D. in International Relations from the Fletcher School of Law and Diplomacy at Tufts University.
Literature is the immortality of speech.
August Wilhelm Von Schlegel