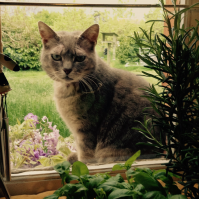 Olivia Swift
Mysteries, Romantic Suspense, Women's Fiction
Olivia Swift loves writing cozy mysteries! Her stories are inspired by her varied interests…gardening, spirits, crystals and so much more. Of course, there must be a romance or two in her books and a happily-ever-after ending!
Growing up in a small English village, Olivia is only too familiar with the various characters that make up a community. There is always an event, drama, or mystery among the village folk.
Only a few years ago, Olivia and her husband chose to take an early retirement and moved to the Aquitaine region of France. There, in her sun-filled study, she is able to sit and write her books. Of course, it doesn't hurt that the window overlooks her lovely French country garden.
"My love for you is like a mirror. You can break it into pieces but when you look closely, youre still in it."